As a global business pushing into new markets, languages, and geographies, you should do everything possible to "localize" yourself. In other words, you want to make your global business appear and communicate locally.
This means catering to your target audience in languages they are comfortable with.
Why is it Important to Support Multiple Languages in Your IVR?
Even with the inclusion of newer communication channels (like chatbots and text messaging), customers still largely prefer calling a business for support. This means a significant segment of your target audience expects good service when they call your business.
And if you plan to expand globally (or already have global support centers), you need to build trust with these customers. This is because excellent and responsive customer service experiences will retain at least 89% of your customers.
So, how do you build this trust and make your international customers comfortable?
Provide service and support in languages they understand. That's where a multilingual IVR comes in handy!
Create a hosted IVR with multilingual support options, so customers receive help in their preferred languages.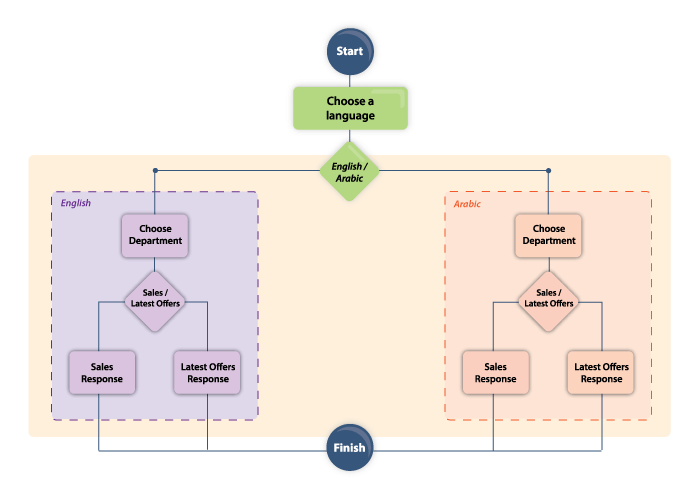 Quick Notes
Now, before we jump into different tips for creating a multilingual IVR, let's get some basics down.
1. Setup: You can get local or toll-free numbers for different countries and set up a single language IVR on each line. Or, you can have a single number with a multi-language IVR.

2. Don't translate on your own: You may be tempted to use Google translate or something similar to create your own translations. However, chances are you may not get it 100% right since there are many issues with machine translations. And that will only negatively affect your ability to provide reliable support. So, plan to work with professional translators.
3. Avoid robotic voices: In this day and age, people are tired of lousy support, specifically communicating with a robot that spins them around. So, whenever possible, use human agents to provide service.
How to Create a Multilingual IVR for Your Global Business: 8 Tips
We've divided the tips for every stage of the IVR-building process from preparation, setup, and testing. Here are 8 tips for creating a multilingual IVR:
1. Choose Target Countries and Dialects
The first step in the process is to decide (if you haven't already) the countries you want to provide service in. This is a good opportunity to consider global expansion. And since some languages are spoken in multiple countries, you can easily extend your operations to these countries.
When considering target countries, be sure to research different languages and dialects spoken in these areas. For example: Not all Spanish-speaking countries speak the same dialect of Spanish. Spanish spoken in Latin America differs from Castilian Spanish, which is spoken in northern and central Spain. Similarly, people in China use different dialects such as Mandarin, Cantonese, Hunanese, and more.
So, depending on your target areas, you will want to be regionally specific in your translations. If including too many dialects is an issue, then find the most commonly used languages.
Pro tip: Professional translators will help you identify the right dialects to go after.
2. Listen to Multiple Demos and Map Out Call Flows
Find other international businesses and listen to their multilingual IVRs. Consider:
What languages do they use?
How do they set up their IVR (multiple phone numbers vs single number with multiple IVRs)?
What menu options do they offer? And so on.
This will help you decide how to design your own IVR with multiple languages.
However, keep in mind that every business has different goals and expectations. In other words, what's important for your business may not be important for another.
So, when choosing your languages and menu options, keep your customers in mind. You want to create call flows that support their needs and questions.
What languages are helpful for them?
What support options do customers usually need when they call your business?
What departments need to be included in your IVR, and which of these need multilingual options? And so on.
Pro tip: Compare what other international businesses are doing with their IVRs to what your business needs. Then, create a solution that caters to your customers.
3. Decide Who Handles Multilingual Needs
So, what happens after you decide your IVR will offer multilingual menu options? It's important to consider who will help your customers calling in from different countries and those with different language requirements. Think about:
• Who records these messages (internal employees vs audio recording vendors vs translation services)
There are many parts to creating multilingual phone menus:
Deciding menu options
Writing and translating prompts
Recording voices
Editing sound, music, and audio files
Uploading files to your IVR platform
File storing and documenting (for future reference)
And finally, testing the IVR.
This means there's a lot of room for error. Your internal teams may handle some of the tasks on their own (writing and uploading prompts). But you may need to look for outside, professional help for other delicate tasks (translating, recording). So, it's a good idea to decide beforehand who will do what.
• Which departments or support centers offer multilingual support (global customer support teams)
Next, you want to consider which departments require multilingual support. For instance, sales and customer support deal with customers the most. So equipping these departments with diverse languages will improve caller and customer experience. But, does your billing or vendor management department need to provide multilingual support as well?
Similarly, if you have multiple support centers spread across different regions, not all centers may need a multilingual IVR. For instance, you may be able to get away with just English (and maybe Spanish) in your US office, while you may need Chinese, Thai, and Japanese in your APAC support center.
Pro tip: Take time to decide and plan out before jumping into translating and recording.
4. Find an IVR Platform that Works With Your Phone System
This largely depends on the type of business phone system you have. Most cloud phone systems come with their own IVR editor or call flow builder, where you can build out your call flow with different menu options and actions.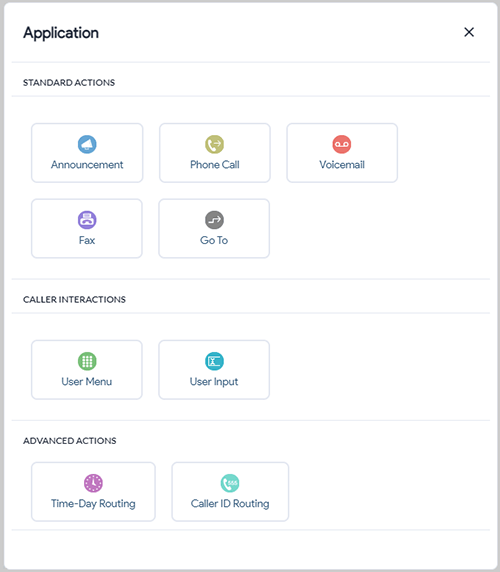 Using a cloud phone service provider will prove more useful as they often have various features and capabilities built into their IVR editor.
You then have control over how your calls flow and what multilingual options you want to offer. And you can expand your IVR as you see fit, all through an online dashboard.
If your phone system does not have its own editor, then you may need to work with your provider to change and update your IVR menu. This means you must find another voice/audio platform to handle all translating, recording, and editing needs.
Check out what you can do with the Global Call Forwarding call flow designer (templates included).
Pro tip: Research different cloud phone service providers to see what options are available for advanced IVR.
5. Use a Standardized Script Format
Now, for the IVR script itself. Whether you're translating in-house or through a professional translation service, a script document will streamline the process and ensure everyone is on the same page.
Plus, it becomes a standard document that you can share with everyone involved in the process: writers, translators, voice talent, post-production editors, and uploading the recordings.
Start with a default script in your main language (English, for example), and then add necessary menu options. In the same document, include different sections for each language you want to include. Your script could look something like this:
Recording 1 – Intro: Welcome to [Company Name].
This call may be recorded for quality and training purposes.
Please press 1 for English.
Por favor marquez dos para español. (Spanish)
Si vous parlez français, appuyez sur trois. (French)
Recording 2 – If caller presses 1:
If you know your party's extension, you may dial it at any time.
For sales, press 1.
For customer support, press 2.
For billing and accounts payable, press 3.
To go back to the main menu, press 9.
Recording 3 – If caller presses 2 (Spanish)
Si usted conoce la extensión de la persona con quien desea hablar, marque en cualquier momento;
Por favor marque uno para ventas y precios;
Marque dos para servicio al cliente;
Marque nueve para volver al menú principal.
Recording 4 – If caller presses 3 (French)
Si vous savez déjà l'extension de la personne que vous cherchez à joindre, vous pouvez composez le numéro à tous moment.
Pour le service de vente, appuyez sur 1
Pour le service client appuyez sur deux
Pour revenir au menu principale appuyez sur 9
You can also include other important information in this document, such as instructions on pronunciation, directions, special treatments, etc. Make sure to keep script and audio file names consistent to avoid any confusion during the production process.
We put together a list of IVR and auto-attendant scripts to help get you started.
Pro tip: Don't overcomplicate your IVR script with too many options and long sentences; Be concise and to the point.
6. Use Native Speakers, Consider Professional Services
As mentioned above, it may seem harmless to throw your script into Google translate and work off of that. But, if you want to appear credible and trustworthy to your global audience, you need to do more than that. Your translations must be grammatically and regionally accurate.
This means you should look at native speakers or professional translation or recording agencies for your multilingual IVR. Native speakers will get the words, accent, and cultural sensitivities correct and even guide the script-writing process.
You may come across certain English words or phrases – usually technical jargon – that may not translate well into the target language. Ask for help from native speakers in your company or with customers and business contacts in that region.
Now, your team may not have a native speaker for every language you want to target. In that case, you will benefit from hiring a translation service. Before signing on with an agency, however, read reviews about the agency.
Vinit Muralidharan, Head of Operations and Sales at Milestone Localization, says to specifically look for an agency that "works with native translators having domain expertise, supports multiple languages, and has an ISO 17100 certification."
As for recording services, again, check credentials and reviews. Ask for demos to evaluate audio recording quality. If you decide to record in-house with native speakers, then make sure you follow audio recording best practices.
Pro tip: It helps to work with 1 or 2 service providers instead of multiple. This way, you can better manage the quality of your multilingual IVR.
7. Keep it Smooth & Consistent
In many cases, this is the first interaction between your customers and your business, so you want to get it right. Common issues associated with IVR include:
Overcomplicated call flows and IVR menus
Confusing menu options
Low audio quality
Long hold times
Robotic voice; no human interaction
Thankfully, there are ways to avoid these issues. Once you have your translations and recordings in place, upload them to your phone system. As you do this, make sure the audio quality is strong.
If you're using different audio files, ensure the audio levels (volumes) are consistent without any interruptions. Similarly, aim for consistent style and pace, which professionals should be able to handle. Watch for mispronunciations, audio lags, jumbled words, and so on.
To provide your customers with a good caller experience, you must help them move through your IVR efficiently. This means clear and concise communication, easy navigation, and quick resolution. And always ensure there is a way for them to opt out and connect with an agent. Don't let them get trapped in the IVR-verse.
Pro tip: Conduct quality checks at various points of the process to make sure your multilingual IVR works effectively.
8. Test Your IVR, Gather Feedback, and Update
With everything set up, test your multilingual IVR multiple times. Remember that you want a simple and easy-to-follow IVR system. Make sure you go through each call flow and use case to evaluate the experience of all types of customers calling your business.
It's a good idea to ask a select few employees and customers to use the IVR and see how they respond to it. Specifically, ask if they are confused anywhere or if any necessary queries are missing. You may even ask customers in your target regions to navigate the IVR in their preferred language and offer their feedback.
Another way to gather feedback is through post-conversation surveys. This way, when your agent or employee finishes helping the customer, they quickly ask how the IVR experience was and where you could improve.
Then, based on these new caller insights and feedback, update your IVR system.
Pro tip: Test each call flow with its respective department (sales, customer service, or tech support). This way, they can provide contextual feedback that you may otherwise miss.
Create Your Own Multilingual IVR
Setting up a multilingual IVR for your global business does not have to be a daunting task. Yes, there are many different factors that contribute to its success, but it is a manageable task with the right vendors and providers.
For starters, you want a cloud phone service platform that can accommodate your advanced IVR needs. Then, you need a translation and/or audio recording service for the script itself. And before you know it, you'll have your multilingual IVR system ready to support customers across the globe.
Need to upgrade your current IVR system? Consider switching to Global Call Forwarding.
Our service comes with a cloud IVR manager where you can customize and design your own advanced IVR. Our tech support team is happy to help get you set up and provide recommendations to meet your multilingual needs. Call us at 1 (561) 908-6171 or chat with us online!