Related: How to Prevent Phone Numbers from Being Marked as Spam
These issues aside, telemarketing still exists largely because it has proven to be effective time and time again. And companies have been using outbound calling services to improve customer care and build strong relations with their clients.
So, How Does Outbound Calling Work Now?
The most common way to use this service is through a virtual phone service provider. First, you purchase virtual telephone numbers from a provider offering web-based communication solutions. Then, you use an outbound dialer and start calling customers and business connections. Some organizations use predictive dialers to connect with a high volume of prospects. Predictive dialers are automated software that dial a list of phone numbers and connect only answered calls to an agent. Other companies may use outbound calling to make robocalls that again use an autodialer to broadcast pre-recorded messages to a large group of people.
Uses of Outbound Calling
Outbound calling is used by corporations, businesses, and contact centers for cold-calling and warm-calling campaigns. Cold-calling is when you call new prospects to attract them towards your service, while warm-calling is getting in touch with clients your company has interacted with previously. Here are some different ways your small business or large corporation can benefit from outbound calling:
Lead Generation
Since outbound calling is generally sales-focused, it is used mostly for lead generation and brand awareness. Employees or representatives call a predetermined list of prospects and inform them of a company's products and services. This list is created through market research that identifies an ideal target audience. Through these calls, you can let potential buyers know that your business exists while sharing information about the products and services offered. You can pitch sales or set future appointments for a salesperson to call or visit the person at a more convenient time to discuss the product further. Read more about common appointment setter mistakes here.
Feedback and Surveys
Lastly, you can use this service to conduct local market research by collecting information about the market your product is entering and how customers are responding to it. Feedback is an important factor in the successful running of any corporation, so gathering feedback from users can help make improvements that better develop your service and enhance sales.
Customer Success and Follow-Ups
Outbound calling also contributes to the general area of customer service and care. You can use this service to initiate welcome calls to new customers to demonstrate that their business is valued. Or, to verify new accounts and sales for fraud identification. Additionally, you can also call to follow up on a previous purchase or visit, ask how their service was, and if there is anything else you can assist them with. Such calls are warm-calling tactics that let customers know you care and are making the necessary effort.
Most enterprises also use outbound calling to bring clients up to speed about new company policies or updates, to execute fundraising efforts, or to send out renewal and appointment reminders. E-commerce industries, specifically, can get in touch with "abandoned cart" customers to give them the extra push required to complete their purchases. An abandoned cart is a situation where the web visitor leaves the webpage without completing the desired action. For example, an individual on an online shopping site puts items in their cart, starts the checkout process, but then stops and abandons the cart. With outbound calling, you can connect with these potential customers, resolve any concerns or questions they may have, and possibly offer incentives to make the purchase.
Businesses and Industries That Benefit from Outbound Calling Services
Whether you are a B2B or B2C business, customer and client relations are paramount to your survival. Thankfully, outbound calling can be used by businesses across a variety of industries:
Angel investment networks
Business Management and Data Analysis
Commercial banking services
Conglomerates (universal banks)
Credit card networking
Debt resolution
Family investment and wealth management
Foreign exchange services
High-frequency trading
Investment services
Insurance services
Investment banking services
Private equity
Venture capital
Marketing agencies
Online marketing and web development
Business analytics
Outbound marketing
Customer support teams
Account-based, acquisition, affiliate marketing services (attracting new customers)
Customer marketing service (retaining present customers)
Lead generation services
Travel and tourism companies
Hotels, timeshares, and resorts
Cruise ship companies
Limo services
Tourism transport services
IT and Data services
Software and Tech companies
Online stores
Service-based online companies
Businesses offering digital products
Telecommunications
Call centers
Customer and appointment setting service
Healthcare
Clinics
Primary care
Patient care and wellness
Clinical research
Hospitals
Dental practices
Care centers
Pharmaceutical services
Medical services centers
Medical supply sales
Insurance and claim management
Therapy and rehabilitation
Successful Outbound Calling Strategies
An outbound calling service gives you the opportunity to make quality outgoing calls to increase your company's sales. However, we are living with fast-paced lifestyles where if you do not grab a customer's attention quickly, you may lose them. This is where a good calling strategy can go a long way.
When developing outbound calling strategies, make sure to define (or redefine) what the end goals are, so that everyone is on the same page. Then, use marketing and analytics to identify your ideal audience so that you are targeting them only and not wasting your time on individuals less likely to convert. You can also use metrics and call tracking to determine when is a good time to reach out to prospects. Are certain days or hours better than others? And so on.

Support your agents by creating good scripts and providing training. Recording and reviewing calls can point out successful and weak areas. Check out our article for more practical tips to keep in mind when creating effective outbound calling strategies.
Outbound Calling Additional Features:
Call Recording Software, Customized Caller ID, Outbound IVR
While outbound calling, by itself, proves to be an extremely useful business communication service, additional features that come along with this service can further boost it.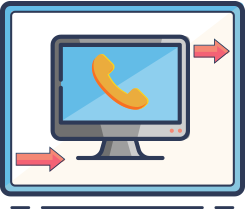 Call Recording Software
You can record outgoing calls for record-keeping and quality-assurance purposes. Review recordings and conduct performance analysis. Or, store customer data and transactions to maintain compliance and for protection against liabilities. Global Call Forwarding's Call Recording software lets you record up to 100% of incoming and outgoing calls. It then stores them as MP3 files for up to 6 years, as needed.
Customized Caller ID
Another perk of getting outbound calling from a virtual phone service provider is the ability to customize your caller ID when making long-distance and international calls. This is a useful feature if a company has customers and business contacts in different states and countries. You can purchase a bunch of 800, local, and international numbers and then display one of those numbers when calling a specific geographic location. This way, instead of seeming like a strange robocall or scam call to your customers, your call will seem like a local one. Customers are less likely to ignore such calls.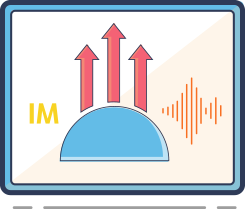 Outbound IVR
Outbound IVR allows organizations to engage customers through multiple communication channels via automation. These channels include voice calls, instant messaging, email, or social media engagement. But outbound IVR does this through the delivery of personalized customer experiences and by integrating with customer relationship management (CRM) systems.
Outbound Calling with Global Call Forwarding
Outbound calling can help you connect with new prospects while also giving you multiple ways to stay in touch with current customers. Even if you have reached the end of the pipeline, you still need to do the work to maintain and retain the customers you have while continuing the attempt to draw more in. It is easy to set up an international outbound calling service with Global Call Forwarding. Sign up today or call us at 1 (888) 908 6171 to learn more about how such a service can positively impact customer service as well as sales.