Looking for a way to streamline your team's outreach efforts? Then, an outbound dialer may be the solution for you, as it helps your employees place calls faster. This technology goes by many names, including web dialers, softphones, manual dialers, power dialers, predictive dialers, and so on. But, the goal remains the same among all these variations – to increase the efficiency of your outbound calls.
In this article, we will discuss the basics of outbound dialers, including different types, features, benefits, and where to get these tools. Let's jump in!
What are Outbound Dialers?
Outbound dialers are cloud-based solutions that enable users to make outgoing calls over an IP network. Since these dialers combine computer and telephone capabilities, they are a prime example of computer telephony integration (CTI).
Businesses and call centers typically use these web dialers for outreach purposes such as sales, telemarketing, market research, scheduling, and customer service tasks. This is because outbound dialers increase the efficiency of your outreach efforts by helping reps make more calls in less time. They also allow multiple agents to place calls simultaneously using the same phone line and outgoing caller ID.
Types of Outbound Dialers
When researching outbound dialers, you'll find many types available, each with different capabilities and use cases. Let's take a look at the 3 main types of outbound dialers; manual, power, and predictive dialers.
Type
How it Works
Benefits
Use Cases
Agents Needed
Manual
Place and receive calls from any location or device using a cloud-based dial pad.

Call contacts with just one click – saving your team's time by streamlining the dialing process.
Offers agents complete control over when and whom to call

Best for remote and distributed teams looking for an affordable and flexible solution
1 or more
Power

Sequentially dials every number on your list.
Continues on to the next number in the list when a rep is ready.

Automates calling process.
Best for warm calling campaigns (fundraising, event promotions, surveying, etc.) where less time is needed between calls for personalization or note-taking.
1 or more
Predictive
Automatically dials multiple numbers on your list and transfers answered calls to available agents.
Automates calling process while saving agent time.
Best for time-sensitive campaigns with large calling lists, cold calling, lead generation, etc.
Most effective with a team of 5 or more
It's important to note that using automatic and predictive dialers may get your business phone number marked as spam. This is because outbound dialers place several calls in a short timeframe, resulting in your number being flagged.
Moreover, predictive dialers include a high risk of abandoned calls. So, this solution might not be for you if you're trying to improve conversion rates.
For those reasons, determine which dialer is right for your outbound calling needs and conduct thorough research on each tool. Remember to always start slow with automatic dialers, pay attention to the FCC's call compliance regulations, and always use sound judgment when placing calls.
Additional Calling Features
Not only are there different types of outbound dialers, but some also include additional IP telephony features. These features will vary depending on your chosen provider and type of dialer. Here are the top outbound dialer features for businesses:
Make international outbound calls from any location or device
Advanced call routing
Call recording
Voicemail
Ability to call with one click
Assisted call transfers
Fully integrated contacts
Filter-based calling
Call reports and analytics
In-network calls
CRM integrations
Call monitoring
Campaign tracking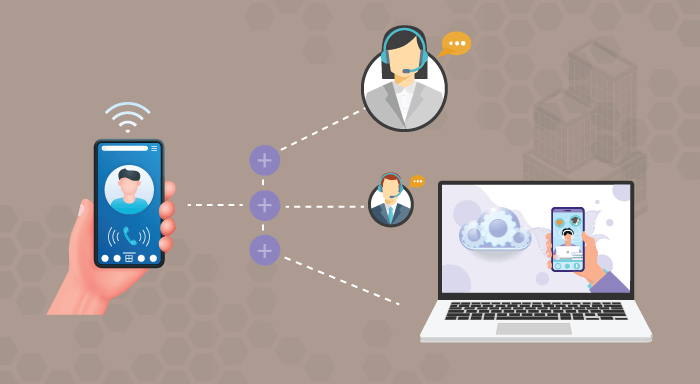 How Can Outbound Dialers Benefit Your Business?
It's easy to see the opportunity and benefits that outbound dialers offer businesses. At a basic level, these tools work to simplify your business' outreach efforts and enhance your team's performance. With that being said, let's review outbound dialers' 4 key benefits.
1. Increase Operational Efficiency
One of the biggest benefits of this technology is that it streamlines your calling processes by allowing reps to dial numbers faster. And since outbound dialers typically integrate with other business applications, there's no need for employees to switch between apps or devices to place calls. This means your teams can avoid unnecessary workflow disruptions and increase available time, leading to a more efficient call process.
2. Boost Employee Productivity Levels
By optimizing your agents' time, teams can connect with more prospects and customers daily, boosting their productivity levels. And since integrated web dialers minimize and, in some cases, eliminate menial tasks, your employees can focus on nurturing leads, driving conversions, and closing sales.
3. Work From Anywhere
Most outbound dialers are cloud-based. This means you can access them from any location or device. All you need is a stable internet connection and the proper login credentials to use these tools. This flexibility and mobility allow you to work from anywhere, making dialers a great solution for distributed and remote teams.
4. Craft a Better Caller Experience
Many providers offer users access to call detail records and call recording with their dialer software. These advanced communication features allow you to evaluate employee performance, caller experience, and overall service quality. This way, you can adjust your outbound services as needed to craft an even better experience for callers.
Where to Get an Outbound Dialer
To get started with this technology, you simply need to find a cloud communication provider that offers the type of outbound dialer you need.
Global Call Forwarding is a leading IP telephony provider. We deliver a multitude of cloud-based phone services, including our own outbound web dialer – the GCF softphone. You can get and use our softphone by signing up for an outbound calling plan with us.
Ready to get started? Call us at +1 (561) 908-6171 or sign up online!