Most customers still prefer using phone calls to resolve any service issues or questions. In fact, more than 40% of consumers favor calling a business over digital channels like email.
Since outbound and inbound phone calls aren't going anywhere anytime soon, it's helpful for service and support teams to know the basics of inbound calling. Without further ado, let's get into it.
The Fundamentals of Inbound Calling
So, what exactly is an inbound call? "Inbound" refers to the way the call travels.
An inbound call is an incoming call. They occur when your business receives a call from a prospect or customer. In contrast, an outbound call is when your business calls the customer.
Since consumers initiate inbound calls, your business and teams don't know the reason for the call until it is answered. So, your team has to react to the customer's request – often referred to as reactive support.
There are different reasons why customers may call a business. Common types of inbound calls include:
Product or tech support
Inquiries or general questions
Inbound sales
Renewals and upgrades
Complaints
Billing and order updates
Additionally, inbound call performance is typically measured through metrics like first call resolution, average handle time (AHT), hold times, abandonment rate, and, of course, caller experience.
Methods and Software for Handling Inbound Calls
Inbound calling is generally handled by call centers, receptionists, support teams, and so on. The way your business approaches incoming calls depends on your company's size, average number of calls, and your frequent call types.
Here are some options for handling inbound calls:
Inbound Call Handling Methods
In-house call centers – With this method, your staff directly handles all inbound calls on location. This may look different depending on your company's size. For example, small businesses use help desks, receptionists, or a small team of support reps. Larger corporations, however, have an entire team or in-house call centers for inbound services.
Outsourced contact centers – You can also choose to outsource your inbound services. In other words, a third-party contact center (outside of your business' location) handles your inbound calls for you.
Management Software for Inbound Calling
Call Routing Strategies – These strategies allow your business to route incoming calls to different numbers and locations based on your preset routing rules.
Advanced IVR (Auto-Attendant) – Interactive Voice Response (IVR) automatically answers incoming calls, greets callers, identifies their requests, and routes them to the appropriate destination.
Call Flow Builder – With this tool, you can build custom inbound call flows for your contact center, giving you complete control over the way calls travel through your system.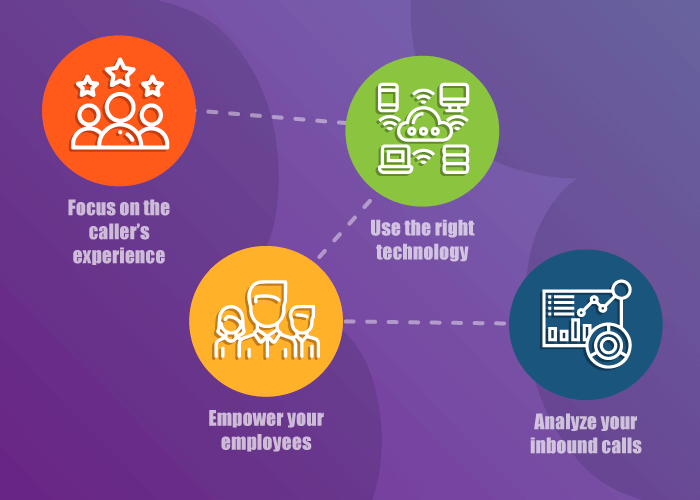 How to Build an Inbound Calling Strategy
You can maximize your system's efficiency and take caller experience to the next level with an effective strategy. But how does one build a strong inbound calling strategy? Let's take a look.
1. Focus on the caller's experience – A positive caller experience leads to increased sales, referrals, and consumer lifetime value (CLV). So, it's important to deliver customer-centric support through a well-designed and consistent system.
Start by considering the customers' pain points and conducting market research. Then, design your phone system to efficiently assist callers with their top requests and train employees to handle recurring issues.
2. Use the right technology – When choosing inbound calling tools, consider your communication goals, budget, and the number of concurrent calls.
Most inbound services use cloud telephony for their business calls. This is because cloud phone services deliver higher flexibility, better voice quality, and more cost savings. Many services also come with useful features like advanced IVR, auto-attendant, and call routing to streamline incoming call management and reduce wait times.
Other inbound teams use CRM software integrations to track the customer's history with the business. This way, you provide personalized support for each customer.
3. Empower your employees – An excellent inbound strategy all comes down to the service you provide callers. Sure, technology and customer-centric methods make it easier, but ultimately it is up to the support your team provides.
So, it's essential to train and empower your employees to make decisions and develop practical solutions. And you can use tools like call recording to train agents or for quality assurance.
4. Analyze your inbound calls – Once you've implemented your strategy, continue to track its progress and make changes where necessary. You can use features like inbound call detail records or call analytics to access vital call metrics.
Tips for an Effective Inbound Calling Service
In addition to a well-organized strategy, it's helpful to know some industry tips for a successful inbound calling service. Here are our top tips:
• Set up inbound phone numbers
With global inbound numbers like international toll-free services (ITFS), you provide customers with a simple and free way to call your business. This encourages consumers to contact your business and helps establish a professional image. You can get phone numbers in your company's target countries to provide support to international clientele.
• Provide omnichannel and 24/7 support
Although phone service remains a popular support channel, not all customers want to communicate over the phone. Some may prefer channels like live chats, text, or email. So, consider offering multiple contact methods for customers. Omnichannel support not only fulfills the customer's contact needs, but also allows your business to provide cost-effective, tailored support.
And with AI and call routing strategies, you can offer 24/7 customer support. For instance, chatbots provide quick answers at any time, while Follow-the-Sun routing models ensure callers receive support regardless of time. So, your business is always accessible to customers.
• Offer self-service options and resources
Help customers solve their own problems and save time by providing self-service options and resources. You can set up self-service options for callers using an advanced IVR. Using IVR, callers can find answers to questions, pay balances, sign up for renewals, and more – without the help of a live representative. Additionally, prepare online resources like FAQ pages or knowledge bases for those customers who prefer self-service.
• Track customer satisfaction
To evaluate your service and satisfaction levels, distribute surveys and ask for customer feedback. This way, you know exactly what's working and what's not, directly from the customer. With this data, you can improve your inbound service and further maximize the customer's experience.
9 Benefits of a Strong Inbound Strategy
With the strategies and tips listed above, your business ensures that customers get the best service possible when they call. As a matter of fact, a strong inbound calling strategy is just as beneficial for customers as it is for all businesses – small or large. So, let's dive into the benefits.
Strengthen customer satisfaction
Increase inbound sales
Drive business growth
Boost employee productivity
Reduce wait times
Offer accessible, 24/7 global support
Improve caller experience
Enhance customer lifetime value (CLV)
Inbound Calling with Global Call Forwarding
Global Call Forwarding provides high-quality inbound services and international business phone numbers in over 160 countries. With our cloud-based solutions, you can access advanced communication tools and features to support your inbound calling efforts.
To learn more about our inbound services and how we can help your business manage calls more effectively, chat with us online or call us at +1 (561) 908-6171.