Inbound marketing is a great tool that allows you to educate the public with regard to your business and your offerings. Depending on what you are selling (product or service), this strategy is one of the strongest to implement in building your brand and accumulating sales. Some people, however, are a little more difficult to reach. For that reason, a different type of campaign may be extremely helpful. Global call forwarding takes pride in providing excellent outbound calling for enterprises.
What is the Primary Focus of Outbound Calling?
The primary focus of an outbound call is to reach existing customers and potential customers. As a result, reasons for this may be to share information about new products or services, do follow up calls to see if anything additional is needed, get feedback, set appointments, and possibly prompt some referrals. Some of the terms you may hear in relation to outbound calling are cold calling, lead follow up, cross-selling, and in-depth market research. Outbound calls can be very beneficial to call centers and the recipients of calls if practiced correctly.
Points to Keep in Mind When Planning Outbound Call Campaigns
Thinking strategically when planning an outbound calling campaign is key. So, here are some points to keep in mind to ensure that your campaign is a success are:
Pay attention to the time of day you are calling
Make sure the information you are sharing is relevant
Keep a close watch on the length of calls
Outbound calls can be seen as intrusive, but if you keep the above points in mind then your sales agents will be able to best captivate your intended audience. Again, stick to key important facts at appropriate times of the day and be mindful as to not take up too much of the call recipient's time.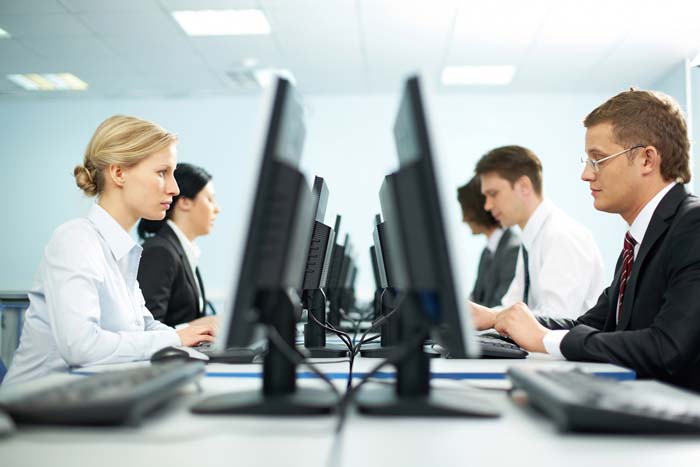 Setting up a Call Center
Setting up an outbound call system for enterprises can seem daunting at first. Therefore, keeping some key considerations in mind can help with the planning and ease some of the potential stress.
Will you have an onsite call center or outsource the outbound calls?
Choose technology that meets your business needs.
What kind of phone number(s) will you use?
Set aside an adequate amount of time and resources to get properly set up.
Identify the core purpose of your call center.
Ensure a sufficient amount of time and energy goes into hiring and training agents to manage calls.
Build a strong, positive culture in your work environment.
Keep a checklist and put tracking methods in place to track efforts.
Business Phone Numbers for Outbound Calls
Selecting the type of phone number you will use for your outbound call center is a big deal. Likewise, consider if you will use traditional phone lines or virtual phone numbers. Virtual numbers carry a lot of benefits when used as business phone numbers. As a result, for call centers, virtual phone numbers can prove to be particularly useful for their mobility and cost-savings.
Using Virtual Phone Numbers
Virtual numbers allow you to have calls automatically forwarded to pre-set phone numbers of your choice. For example, a company located in the United States can have a virtual local phone number in China or a virtual local phone number in India. So, this makes virtual phone numbers very popular for outbound calling for enterprises. Hence, with virtual numbers, you are also able to track call information for campaign analysis, easily and cost-efficiently purchase a different virtual number for each campaign, change the location of your call center without having to go through the trouble of moving landlines or bulky hardware, and more.
In Closing
Outbound calling for enterprises can be extremely beneficial to businesses of all sizes and sectors. Forming and strategically launching the call center is key and will help you to reach and exceed the full potential of your campaign. Consider the many options available from Global Call Forwarding for your communication needs. Above all, we have over two decades of experience in offering and setting up solutions for businesses. Customer service agents are available to find the solutions that are best for you and your business, 24 hours a day.