Digital transformation can help you modernize your business processes and improve overall efficiency. And one way to accelerate digital transformation within your organization is to utilize more low-code and no-code (LCNC) solutions.
According to research by Appian & Forrester, "84% of enterprises have turned toward low-code for its ability to reduce strain on IT resources, increase speed-to-market, and involve the business in digital asset development."
In this post, we will specifically look at low-code vs no-code IVR development and how you can build a better business phone system.
Understanding Low-Code vs No-Code Platforms
There has been a steady rise in the use of low-code and no-code (LCNC) platforms recently. The Appian & Forrester research explains that this is because:
Enterprises are under pressure to do more with what they have.
Developers struggle to deliver what the business needs on time and securely.
Low-code accelerates development, meeting enterprise needs for speed.
Enterprises can turn to low-code to build complex business logic.
Businesses use LCNC platforms to replace outdated enterprise software and add more functionality to applications and processes. And thanks to technological advancement, you can implement low-code and no-code solutions in multiple facets of your business — from contact centers to project management to marketing.
These solutions are designed to be quick to develop and require little-to-no coding. This means that you can upgrade your applications and increase productivity while reducing costs.
LCNC Communication Apps
Businesses can use low-code and no-code communication solutions – such as IVR – to modernize how teams communicate with each other and with customers. Similarly, call centers and contact centers can also use these solutions for improved communication functionality.
The best part — you can do this without costly development cycles.
No-code communication: These turnkey solutions are ready to use right out of the box. You simply "turn the key" and immediately implement these solutions. No coding knowledge required.
Popular no-code communication apps: Intelligent Call Routing, Interactive Voice Response (IVR), SMS, and voice auto-response.
Low-code communication: These customizable, advanced plug-ins enable your dev team to integrate applications into existing business workflows. You can deploy high-value and complex applications quickly. Some coding knowledge or an IT/dev team required.
Popular low-code communication apps: CPaaS use cases such as video integrations or voice APIs.
Comparing Low-Code vs No-Code IVR
More and more businesses use IVR systems to better manage incoming call flows. According to a 2022 IVR study, this is because of an "efficient implementation of IVR systems by telecommunication companies [and] improved network infrastructure," among other reasons.
So, can your business benefit from such an IVR solution?
Let's look, specifically, at low-code vs no-code IVR development and what you get with these applications.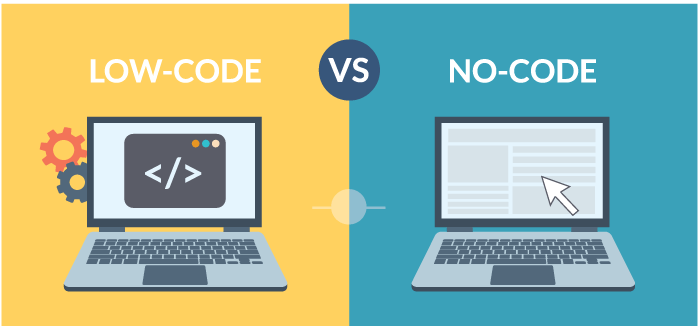 No-Code IVR
No-code is specifically designed for non-technical users who want to upgrade their business processes and applications. These individuals have little experience with coding and programming languages. So, they can build, update, maintain, and test applications with no-code tools. And they can add new functionality and capabilities to their applications.
A no-code IVR is usually an IVR editor or manager where you build custom call flows using pre-set rules and drag-and-drop options through an online interface. You don't require any help from IT. And you keep IVR costs low.
No-code IVR is most useful for marketers, sales, support, and small business owners who want to set up an auto-attendant, but don't have advanced technical skills.
No-code IVR key takeaways:

Improved experience and management for non-technical users
Build, test, and deploy applications without coding
Fewer dependencies on technical skills
Reduction in the backlog of IT tasks.
Low-Code IVR
Low-code solutions require some coding. However, it is significantly much less than traditional software development. If you have an in-house IT team with programmers and developers, then you may benefit from a low-code IVR solution. Your programmers can further develop applications and implement more complex solutions that add greater value to your business.
Because you require some level of coding, low-code IVR gives a bit more customization. For instance, no-code IVR can sometimes limit you to pre-designed options. But, you can create advanced rules with additional coding.
Most providers allow you to do this within the application, while others require you to connect to a voice API. In both cases, you will need coding and programming knowledge.
Low-code IVR key takeaways:

Some coding experience required
Develop applications quickly
Add more functionality to existing applications
Slight dependency on technical skills.
Low-Code vs No-Code IVR: Which is Better?
This depends on what you want to do with your IVR system and what your provider offers.
The key differences between low-code IVR and no-code IVR:
Level of coding required, and
Need for technical and programming skills.
So, based on your resources and needs, you can choose the right IVR solution for your business.
Most businesses function effectively with a no-code IVR. This is because, even at its basic level, this solution gives you everything you need. You can add users and departments, route calls to different locations automatically, add voice messages, and so on.
However, if you need a more complex auto-attendant solution – and you have a small team of developers to bank on – you may find a low-code IVR solution more useful. Here, you may be able to build more specific routing strategies for your business setup and integrate other advancements call features.
IVR Solutions from Global Call Forwarding
Cloud telephony providers, like Global Call Forwarding, create easy-to-use IVR systems that you can manage with little-to-no coding.
For example, you simply use and manage your IVR online through our call flow designer. In a few steps and with no code, you can set up call flows and routing strategies for different phone lines and office locations. And, if you have advanced requirements, you can use code to customize your solution or work with our API.
Call us at +1 (561) 908-6171 today to learn more about our advanced IVR solution for businesses and how you can use it! Or chat with our experts online!