Simple call routing strategies are a thing of the past in successful business phone networks. These strategies have become outdated as they often generated long wait times, multiple transfers, and overall caller frustration.
However, your business and teams can tackle these challenges head-on with an intelligent call routing solution. Smart call routing brings accuracy, responsiveness, and new functionality to your phone system. Let's look at what this service is, how it works, and what it can do for your company.
Intelligent Call Routing For Your Business
Effective communication between businesses and consumers is essential in a customer's lifetime. When customers contact your company, you want them to reach the best person or department to satisfy their needs. Smart call routing is an affordable cloud communication solution that helps direct callers to the right employee, leading to better call management.
In this short guide, we will go over:
Definition and Features
Benefits of Intelligent Call Routing
Common Use Cases
Smart Call Routing Best Practices
What is Smart Call Routing?
Smart or intelligent call routing systems receive incoming calls, gather information from or about the caller, and route them to the appropriate agent or department. Some intelligent routing services even help users complete simple tasks or answer frequently asked questions. This service feature helps streamline the caller's experience by eliminating unnecessary transfers.
Some providers have a smart call routing package ready to use upon activation. Others have call routing services with access to customizable, advanced features. When applied to your system, features like Interactive Voice Response (IVR) make your routing intelligent. This type of routing strategy is also known as IVR call routing.

How Does Intelligent Call Routing Work?
Intelligent phone call routing works alongside your cloud phone system to effectively manage inbound calls. Once a call comes in, the system automatically redirects callers to the correct department based on collected caller information.
The system gathers this information by asking callers to select an option from the preset menu concerning the intent of the call. Users make their desired selection by dialing the appropriate keypad number or speaking their answer. The caller's input then determines the routing destination.
In other cases, the system routes the caller based on the caller ID and the account attached to that phone number. There are a few different ways to employ intelligent call routing; you'll need to work with your cloud phone service provider to understand available options.
Specific destinations and how your incoming calls move through your phone system depend on the routing rules you create. You can easily input new rules and manage your call flow using your provider's online platform or contacting them directly. Your preset rules define your phone systems:
Menu prompts and options
Routing destinations based on caller input
Alternate routing destinations or failover forwarding
Ring times and strategies
Advanced routing strategies like holiday routing and more.
Advanced Features for Intelligent Call Routing
As mentioned earlier, some providers offer access to advanced features that transform your regular IVR call routing system into an intelligent one. This allows businesses with evolving needs to customize call management setups and scale as necessary. Or, if you have an existing system in place (such as PBX), this is an easy way to increase functionality.
So, what types of features contribute to a smart call routing system?
Here are a few that come in handy:
Advanced IVR (Auto-Attendant) – With this feature, an automated voice automatically answers inbound calls and communicates with callers. It provides general information, instructions, and menu options. Advanced IVR is capable of organizing, prioritizing, and transferring incoming calls to boost your system's proficiency. And, you can design your IVR system from the ground up to fit your business needs.
Customized Greetings, Voicemails, and Prompts – These customization tools allow you to upload greetings and personalize your phone system. It is useful for instructions, menu prompts, branding, and promotions. Even more so, it impacts the customer's initial impression of your company and your quality of service.
Ring Groups (also Hunt Groups) – This advanced feature lets you ring several lines among your departments, teams, or agents. With the ring group model, you can either ring all users at the same time (simultaneously) or in a specific order (sequentially). This strategy helps your teams never miss calls by distributing them effectively.
Call Flow Builder – A call flow designer is an interactive tool that allows you to create custom call flows. So, you have complete control over the call process and how it travels through your system. A well-structured call flow design helps improve caller experience and streamlines your communications.
Related: 6 Call Flow Templates for Efficient Business Communication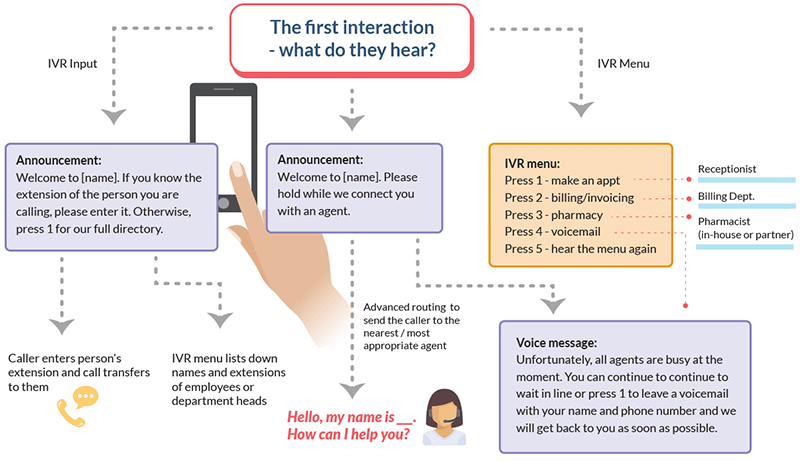 All of these features and more (like different routing strategies) help increase your network's functionality and make smart call routing possible.
11 Benefits of Using IVR Call Routing
Smart routing is a popular solution for companies of all sizes that want to improve their phone system's efficiency and overall performance. With a streamlined solution like IVR call routing, you can accurately distribute and route calls among your teams and deliver quick assistance to callers. This is beneficial for both your agents and customers, as it saves both parties time.
Let's dig into all the benefits this feature offers:
Decrease call duration and wait times
Improve caller experience
Improve first call resolution (FCR)
Boost employee productivity
Manage this feature from any location
Reduce costs
Increase customer satisfaction
Better call reliability
Enhance network proficiency and functionality
Easy to set up
Never miss an important call
Intelligent Call Routing Use Cases
All types of businesses and teams can use smart call routing to efficiently manage inbound calls. So, to give you a better understanding of how companies and teams use IVR call routing, let's go over some use cases:
• Businesses with high-call volumes – Intelligent routing helps businesses manage high-call volumes. It increases accuracy and handling capacity by routing callers to the correct agent or department. This way, callers avoid excessive wait times, multiple transfers, and repetitive explanations – which would otherwise lead to frustration and customer dissatisfaction. Instead, IVR call routing connects callers with the agent best-suited for their request the first time around. And in the process, it boosts your first call resolution rates and gradually reduces your call queue.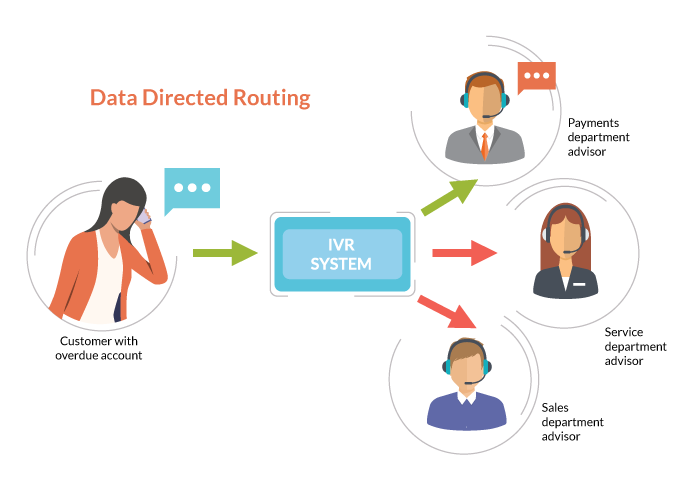 • Call centers – Maximizes a service center's efficiency through call center IVR strategies and automation. Auto-attendants route callers to their chosen agent or department, significantly reducing hold times. Agents can then solve the customer's issue and quickly move on to the next caller. So, your team's productivity and customer satisfaction increases while your call handling times decrease.
• Sales and support teams – Some intelligent phone routing systems give you access to caller information like demographics or previous call history. Your system can then match reps with callers based on this data, resulting in better customer service.
• Remote teams – Whether you have a remote branch or your team works from home, intelligent call routing helps connect your teams – no matter their location. This is because the feature uses remote call forwarding to automatically route calls to any device. You can also use this as a failover forwarding technique. All you have to do is set it up in your service's control panel.
Best Practices for IVR Call Routing
Here are some things to pay attention to when implementing IVR call routing into your phone system:
Map out your call flow or phone tree before inputting it into your system.
Keep IVR menu options short and simple. Avoid overloading callers with options.
Prioritize menu options based on common call topics or requests.
Consider your caller's intent when creating your routing rules and call flow.
Don't rely too heavily on phone system automation. Leave room for personalization.
Opt for a human voice when creating your menu, prompts, greetings, etc.
Monitor your network's progress using system analytics.
Ask for customer feedback with phone surveys.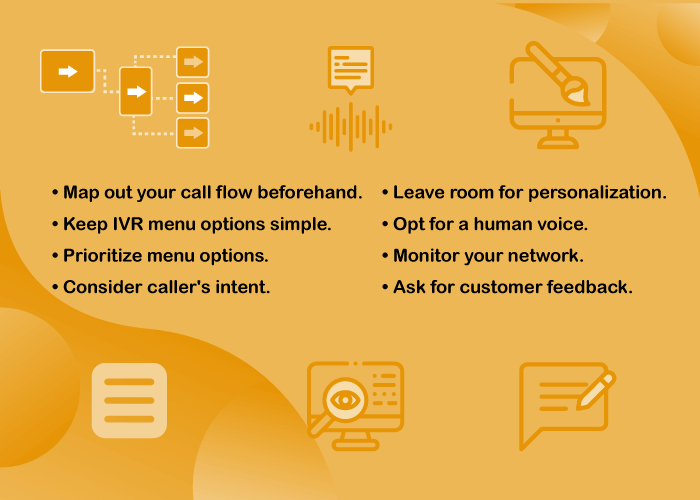 Ready to Add Smart Call Routing to Your Setup?
Global Call Forwarding offers intelligent call routing features with each of our phone number plans. To learn more about the benefits of advanced call routing or how to set up this service, call us at (561) 908-6171. Want to see it in action? Request a demo or chat with us online.