E-commerce businesses are more accessible than ever before. They've spread to a wide variety of platforms and even modified themselves to different devices. If you have an online business of your own, you know it's a very saturated market. So, figuring out how to build a memorable brand can be difficult. That's where e-commerce marketing strategies come in. These tactics help online businesses boost and sustain their growth.
The Growing Need for E-Commerce Marketing Strategies
Whether you're starting up an online business or you've been running one for years, it's vital to invest in e-commerce marketing strategies. These online marketing tactics and trends are constantly evolving to better suit users. If you want to see even more sales come through your business, following these digital marketing techniques is critical.
What is E-Commerce Marketing?
E-commerce marketing is a strategy that helps businesses sell products and services online. These strategies drive up e-commerce sales by promoting brand awareness and directing attention to the products. A good digital business marketing strategy informs and engages the business' customer base. Some examples of e-commerce marketing include:
Blogs and content marketing
Banners and pop-ups
Digital ads
Social media posts
E-commerce marketing is equally as important to business growth as order fulfillment and other aspects of doing business.
Challenges of E-Commerce Marketing
E-commerce is an extremely competitive space for businesses. Since other online businesses use e-commerce marketing strategies to increase their sales, it is hard to stand out. To successfully build brand awareness, businesses need multiple marketing channels and approaches. Although this leads to more staff and time spent, it is required to drive business growth.
Developing a Successful Marketing Strategy for E-Commerce
Before you jump right into creating a growth marketing plan, there are some foundational elements to consider. Defining these fundamental components is vital to creating a successful e-commerce marketing strategy. Here are some key points to keep in mind:
Identify your target market – Your target audience influences brand voice, messaging, communication methods, platforms, and more. With a key target audience in mind, you'll draw the right customers to your company. But if you don't understand your target market, you'll end up with a weak campaign that doesn't drive profitable customer action.
Establish goals and objectives – Outline what you want to achieve with your e-commerce marketing strategies. Goals keep your strategy focused on the bigger picture. Objectives break down your goals and strategies into smaller, achievable steps. Clearly identifying goals and objectives will also help you measure success down the line.
Analyze your business journey so far – Take a close look at your business' evolution and current progress. In what areas are you struggling or succeeding? What types of strategies or campaigns worked for you in the past? Your business' journey will help highlight the areas to focus on in your strategies to increase business growth. Additionally, you can recycle strategies that previously worked, saving your business both time and money.
9 E-Commerce Marketing Strategies for Your Business
After you've developed your foundational elements, it's time to begin planning your e-commerce marketing approach. Here are some e-commerce marketing strategies to help get you started:
1. Create & Promote Original Content
Original, quality content attracts and retains your target customers and, if successful, leads to profitable consumer action. This e-commerce marketing strategy focuses on the production and circulation of consistent, timely, and valuable materials.
Your content should deliver messages, inform, and, of course, entertain to keep the audience coming back for more. Use your content to support different departments (i.e., marketing, sales, production, etc.) in their goals. Additionally, use web pages, blog posts, and guides to further amplify your business' products, services, brand, and more. This establishes your company as an industry expert and a trustful source.
So what kind of content should you create? There is so much freedom when it comes to creating your content. For example, here are a few different types of content you could develop:
Blog posts
Frequently Asked Questions (FAQs)
Newsletters
Knowledge bases
Videos
Podcasts
Social media
It may be obvious to state, but different types of content provide different types of value to consumers. But, all should work together to guide users through their customer journey.
Now, let's discuss promoting content. If you don't market your content, there's a chance no one will see it. Marketing is just as important as content creation. The most popular technique for content marketing is search engine optimization (SEO). A strong content marketing method and e-commerce SEO strategy help increase brand visibility and awareness.
Overall, content creation and marketing will make your brand stand out from your online competitors. They also cultivate a loyal audience, establishing trust between brand and consumer.
2. Optimize Your Website
Up to 100 percent of your business is probably done on your website. So, making sure it's fully optimized will ensure customers navigate your website seamlessly and feel encouraged to make purchases. There are a few different elements that go into creating a fully optimized website. Let's take a look.
Website Design – Your website's layout and design should be simple and attractive. You want to draw customers in, convince them to stay, and ultimately, make a purchase. Here are some tips for creating a well-designed website:

Grab your user's attention with high-quality photographs, graphics, and color choice.
Make sure important information like return policies are clear and easy to find.
Present products and services in an unforgettable way.
Offer easy access to significant content that will help them in their buying journey.

User Experience – User experience (UX) is the most important element to consider when building your website. Good UX occurs when you understand what users want to see and access and help them do that effectively. Make their experience as smooth as possible by creating an easy-to-use website. Avoid complicated site navigation, slow transitions, unnecessary content, or complex designs.
Conversion Rates – A responsive site contributes to better UX and website design. It keeps visitors on your website and reduces bounce rate. A responsive website includes the following:

Quick loading times
Mobile conversion
Good page-to-page connectivity

Checkout Process – A smooth checkout process can single-handedly boost your e-commerce sales. It doesn't take much to create a great cart and checkout design. The key is to be as transparent as possible with shipping costs, taxes, and other fees. This ensures the customer doesn't encounter any surprises that scare them away when purchasing. Additionally, provide multiple payment options such as PayPal and major credit cards.
A fully optimized website aims to remove as many roadblocks as possible in every design element.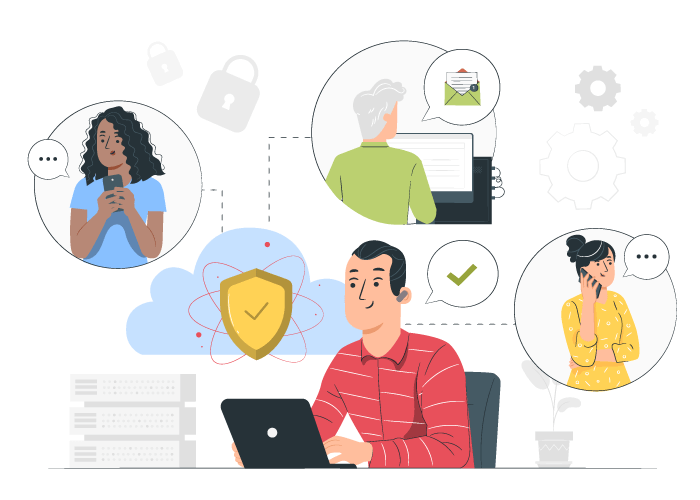 3. Communicate & Interact with Your Customers
Customers expect responsive support. So, when they want to get in touch with your business, you must make it easy for them to contact you. Consider adding a contact page to your website with omnichannel options like email, business phone number, chat, social media, and more. This way, your customers can reach out to you through their preferred method of communication.
Having omnichannel communication methods is also a great strategy for reaching out to your customers. Take a look at these 3:
On-Platform Messaging – Providing a way to communicate on your e-commerce platform removes all roadblocks for you and your customer. This method transforms your online store to literally a one-stop shop for both sales and support. With everything on the same platform, you can access customers' purchase histories. This means you can quickly update users on order status and return policies, without searching through your archives. For example, Etsy allows buyers and customers to message each other.
Outbound Calling Service — Increase both sales and brand awareness with outbound calling for your online business. Adding outbound calling to your e-commerce marketing strategy gives you the opportunity to welcome new users, send out reminders, collect feedback, and much more. Through this method, you'll receive valuable insight into your consumers and services. And, you'll also craft a more personalized experience for customers in the process.
Email – Email gives you the opportunity to follow up on abandoned orders, send promotional coupons, direct users to onboarding info, and more. You can personalize each email to different target audience segments. This method allows you to generate leads, boost traffic to your website, and drive sales.
If you can only use one of these methods, consider your business needs, target audience's preferences, platform's capabilities, and overall budget.
4. Craft a Personalized Experience
A personalized experience creates a lasting impression on customers, bringing them back to your business. This e-commerce marketing strategy helps increase consumer loyalty, brand reputation, and revenue. Most of all, it separates you from your competition. A tailored service encourages consumers to stay with your brand instead of switching to another. That is so important in such a competitive marketplace.
With personalized service, you eliminate irrelevant options for users and direct them to products they need. This establishes a relationship between your business and the customer. You can incorporate personalization into your e-commerce marketing strategy through:
Personalized emails
Recommended products
Targeted ads and pop-ups
Websites and pages customized to users' interests
Targeted strategies like these make the consumer feel understood and boost loyalty towards your business.
5. Offer Incentives & Rewards
Who doesn't love a good reward? This is a sure-fire way to drive sales up. Incentives motivate consumers to interact with your brand. Incentive marketing for e-commerce grabs a user's attention with unique offers, discounts, sales, and more. It gives consumers who are on your website an extra push to make a purchase. Here are some incentives to offer:
Coupons
Promo Codes
Loyalty Programs
These incentives and rewards encourage repeat clients and repeat purchases, while promoting consumer retention and loyalty.
6. Enhance Customer Service
Customer support and service are parts of any business, whether it's online or in person. Support methods are always adapting to the consumer. But, here's an opportunity to expand your e-commerce marketing strategies past traditional avenues. Delivering high-quality customer service starts with these methods:
Omnichannel Communication – Multiple channels of communication such as over-the-phone service or chatbots provide customers with options. This way, they can choose their ideal method of communication.
Accessibility and Reachability – Being easily accessible is the minimum requirement for a high-quality service. Customers want to immediately reach you when they need help. Local and toll-free numbers come in handy for global businesses or businesses looking to expand internationally. These numbers provide an easy, free way for callers to get a hold of you. Make sure to advertise your toll-free number to your customers, if they need it.
Round the Clock Support – 24/7, real-time support builds reliable and quality customer service. Consumers always know you're available if they require assistance no matter what. To provide constant support service via phone, consider time-based or follow-the-sun routing models. This way, you are always available to all your consumers around the world.
Personalization – (Surprise, surprise) Personalization goes a long way in customer service too! Consumers want to know you're going to solve their problems according to their individual needs.
Successful, high-quality customer service results in delighting the consumer and establishing loyalty. Happy customers increase brand reputation and can even lead to great publicity through word-of-mouth.
7. Expand to Social Media
Social media works not only as an e-commerce marketing strategy, but also as another opportunity to sell. Social media is a powerful tool for attracting new customers and boosting sales. You can increase your exposure by using social media for marketing purposes. A social media proposal is a great way to show off the products you offer, connect with potential clients and build awareness about what exactly makes up an excellent customer experience.
There are so many options when it comes to social media marketing. Starting with platforms, there's a variety to choose from, with a different target demographic tied to each. For example, Facebook has a different user base than TikTok. Select the platform that fits your target audience and brand identity.
Additionally, you can pick from paid or organic posts, depending on your business needs. Influencers also bring visibility to your brand and showcase your products to a wide audience.
Social media gives your consumers another opportunity to interact with your brand. Consumer engagement increases through likes, shares, comments, hashtags, and more. It's easy for users to share information between different platforms, which helps your business reach an even wider audience. Trending hashtags work as an attention-grabbing strategy. You can use these hashtags to measure your campaign's success.
8. Keep Up with Your Competitors
Always keep an eye on your business rivals. This means looking at their e-commerce marketing strategies. Consider these questions:
What type of content are they producing?
What services do they offer that you don't?
Are they using any incentives or reward programs?
What social and digital platforms are they on?
By reviewing your competitors, you get an outside perspective on what's working and what can be improved. Then, you can incorporate the successful tactics into your own marketing strategies. A failed campaign gives you the opportunity to learn from their mistakes and make an even better version!
9. Create a Community & Following
Building a community around your brand adds another level of value for your consumers. A community gives your consumers a space to interact with you and each other. Here are some examples:
Comment sections
Forums like Reddit, Quora
Social media groups like Facebook groups or Slack channels
Community building is a great e-commerce marketing strategy as it gives customers a sense of belonging.
Real-World Benefits
Although your business and these e-commerce marketing strategies happen mainly online, they have real-world benefits. Your business will build brand awareness, increase revenue, establish a loyal customer base, and so much more. We've discussed many different strategies here but your next steps depend on what you need. So, choose the ones that work best for your business!
Want to learn more about cloud telephony solutions for e-commerce? We can help with that! Call us at +1 (561) 908-6171 or chat with our reps online!