It's no secret that collaboration and communication are two driving forces behind any well-functioning sales or customer support team. Your reps need to be able to communicate with others (co-workers, supervisors, managers, etc.) when the time arises. And in some cases, they may need to collaborate with others during a call with a customer. The ability to quickly add someone to the call saves time and moves the process (closing the sale or trouble ticket) along smoothly. That's when having 3-way calling within your cloud phone system comes in handy.
What is 3-Way Calling?
3-way calling is a call management feature that allows you to add another person to an ongoing call. Other common terms for 3-way calling include call merging, conference calling, or call conferencing. To do this, you will have to initiate the second call and then merge the two calls together.
There have traditionally been a few different ways to add another person to a call:
Conference call numbers or codes
3rd-party services
Call waiting, and so on.
But these resulted in reduced call quality and confusing mechanisms. It sometimes even led to the first call being dropped.
To solve these issues, phone service providers have made it easier to merge calls, leading to the birth of the 3-way calling feature.
Benefits of 3-Way Conference Calls
So, how can your business use 3-way calling? When conferencing with others, you can:
Collaborate internally on projects within customer service and sales teams
Conduct quick virtual meetings with important decision-makers
Offer more responsive service by getting help and support quickly
Save time on having two separate calls or meetings by having just one
Train new employees by showing them how to respond in certain situations
Boost customer satisfaction and caller experience by cutting down wait times and long transfers
Have faster and more efficient meetings and conversations
Increase first call resolution rates
Converse and collaborate across different departments, locations, and devices.
Call merging helps your teams connect and work together towards a common goal: improving your business' sales and customer support initiatives. And with a cloud phone service provider, your teams can do this even during remote work periods.
How to Get 3-Way Calling with Global Call Forwarding?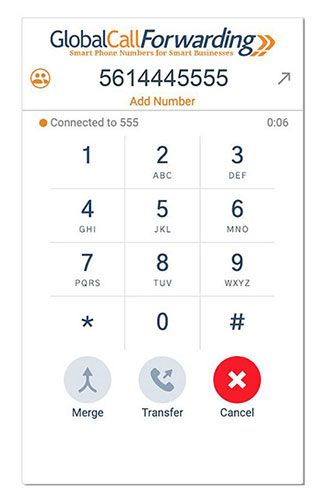 You can get 3-way calling with any phone service provider. Global Call Forwarding offers a variety of call management features and services along with our virtual phone number plans.
If you are a Global Call Forwarding customer, you don't need conferencing numbers or codes to engage in a three-way call conference. You simply need an Outbound Calling plan. Then, you can download the GCF softphone and use the Merge feature to add another person to your ongoing call.
Get Outbound Calling and other advanced business communication features with Global Call Forwarding. Call us at +1 (561) 908-6171 or chat with our telecom experts today!