What are some of the best ways to set up your business' IVR system to make the most of it? This depends on what you are trying to accomplish with the automated voice system. Here we will look at some different IVR routing strategies to help you get started.
IVR System Routing Strategies
An IVR system or interactive voice response is an automated voice solution offered by virtual phone service providers such as Global Call Forwarding. This system interacts with callers through pre-recorded messages and menu options. It helps callers navigate through a series of menus to assist them in completing an action or resolving a concern. Some common ways an IVR is used to:
Transfer calls to the right department
Provide company information and updates
Process payments and renewals
Direct callers to voicemails, etc
By performing these actions or assisting callers in resolving their concerns, IVR systems can increase office efficiency and help you offer a better customer experience. Such systems do not necessarily replace agents but help agents do their jobs better by taking some of the load off.
Here are some IVR routing strategies to consider when designing and setting up your own IVR application.
1. Direct Routing
This type of IVR routing lets callers select their requirements. They can do so via voice commands or by pressing certain numbers on their keypad. Upon selection, the system will route them to the appropriate agent or department.
Example: "Press 1 for the company directory. Press 2 for sales. Press 3 for marketing." To speak with someone in sales, the caller will press 2 on their phone's dial pad.

2. Self-Service
In this routing option, callers complete tasks or resolve their issues by themselves and without the help or interference of an agent. The IVR system is well-equipped with self-service instructions and menu options that are easy to follow. Such a system is preferable due to low wait times and higher first call resolution rates.
Example: "Press 1 to activate a new account. Press 2 to renew a subscription. Press 3 to make a payment." The caller will press a number based on what action they need to complete. They will then be instructed on how to complete that action by themselves or through the IVR system.

3. Skill-Based Routing
Skill-based routing forwards calls based on specific skills, needs, or preferences. This is to ensure that every caller is provided with the most useful service. The most common example of skill-based routing is language preferences. These options can also be narrated in the language they highlight so that callers can identify the language, select it, and be directed to an agent who can help them in that language.
Example: "Press 1 for English. Press 2 for Hindi."

4. Time-Based Routing
This routing strategy programs your IVR system to route or forward incoming calls to different numbers or lines during certain times of the day. This ensures that calls are always answered and no customer has to call multiple times to get a hold of an agent.
Example: Calls made after-hours can "
follow-the-sun
" to a remote support office in a different time zone.

5. Location-Based Routing
With location-based routing, calls will be routed based on the caller ID. This will help the IVR system route them to an agent in the closest location. Call centers with multiple offices or remote employees can greatly benefit from geo routing.
Example: Calls will be routed based on geographical location of the caller.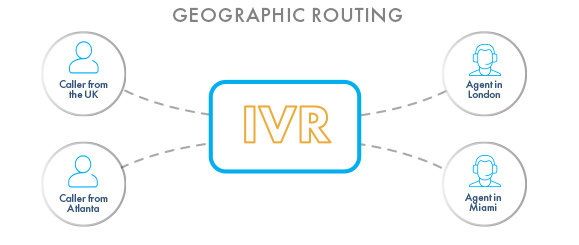 6. Round Robin Call Routing
This type of routing technique sends incoming calls evenly down a predetermined list of agents and reps. For example, when a call comes in, the IVR system determines which agent is next in line and sends the call to them. Round robin call routing enables equal distribution of calls so that no one agent is overburdened.
7. Least-Occupied Agent
Part of running an effective call center is ensuring that all of your agents are doing their job well. And so, you want to distribute incoming calls in such a way that no agents are overwhelmed while another waits for minutes and hours on end to receive a call. This type of IVR routing forwards or directs calls to the rep who has answered the least amount of calls that day. It does so to ensure the proper distribution of incoming calls.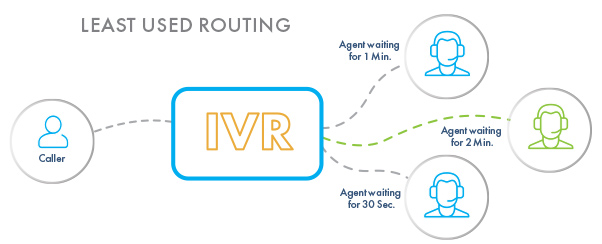 Purchase IVR with Global Call Forwarding
Global Call Forwarding's IVR service is highly customizable. You can map the system out to serve your needs, upload voice messages, instructions, menu options, greetings, and more. Call us and speak with an expert to learn more about how this versatile service can improve the performance of your call center!