Looking for a way to bring in new communication tools and functionalities to your existing business system? When you identify problems or gaps in your business communication system, you might need to bring in additional features and tools. That's where CPaaS comes in.
Let's look at 8 CPaaS use cases, so you can explore the different ways your business can use CPaaS to improve its communication system.
What is CPaaS?
CPaaS or Communications Platform as a Service is an industry category of tools that helps companies add communication features and tools to their existing phone system and applications. Your business can bring additional functionality to its internal business setup via a communication API. This is a great opportunity to combine desired communication tools and features and create a customized business phone solution.
Related: What's the Difference Between CCaaS and CPaaS?
CPaaS as an API
CPaaS, at its core, works as an Application Programming Interface (API) to let you integrate different tools and features into existing systems. By connecting the API to your system, you can access new features and tools within one cohesive platform instead of juggling multiple providers and services.
For example, Global Call Forwarding offers a phone and communication API that gives our customers an interface to access our network and control different aspects of our services. In some cases, you can go in and purchase numbers or create custom call management rules with our API. At your end, you will need a developer to successfully integrate our API within your system.
Communications Platform as a Service (CPaaS) is a cloud solution that allows you to incorporate real-time communication features into your existing business phone setup. Instead of building a backend infrastructure from the ground up, CPaaS uses APIs, or a few lines of code, to help fill in any gaps in your business network. This means you can add functionality and enhance the overall effectiveness of your infrastructure. Many companies use CPaaS to customize their business communication stack.
What is CPaaS Used for?
CPaaS is a set of communication tools meant to help you solve business and communication problems. In general, most CPaaS use cases include:
Voice call handling
Call management
Advanced routing (IVR / ACD)
Call records and history
Number/call masking
Call recording
Notifications and alerts
Status updates
Reminders and confirmations, and so on.
8 CPaaS Use Cases
While there are many ways you can use CPaaS solutions, let's look at these 8 common CPaaS use cases:
Inbound and Outbound Voice Call Handling
Phone Number Management
Interactive Voice Response (IVR)
Trigger Callbacks
Sync Call Detail Records
Sync Call Recordings
Call Masking (Number Masking)
Notifications and Alerts
1. Inbound and Outbound Voice Call Handling
Managing inbound and outbound calls is crucial to assisting customers and prospects in completing their purchases or resolving an issue. Call management generally involves call routing, callback triggers, reviewing records, and using IVR to distribute incoming calls. How you handle your call volume determines how easy it is for customers to make purchases and get support.
2. Phone Number Management
You can also get CPaaS solutions to manage your business phone numbers. For example, with the Global Call Forwarding API, you can:
a) View available numbers
View a list of all countries and cities for which numbers are currently available within the Global Call Forwarding network, including the country ID and the country code.
b) Order numbers
Purchase or add a Global Call Forwarding service line (number) on the Standard Plan through the API.
3. Interactive Voice Response (IVR)
An automated voice response system like an IVR answers the call, determines the purpose of the call, and assists the caller with predefined rules set by you. These rules are usually routing rules to assist callers in reaching the right department and getting responsive support.
Set up an IVR system to route callers or help them navigate your phone system on their own with self-service options.
4. Trigger Callbacks
Trigger callbacks when communicating with customers in remote or rural regions, where affordable calling and internet connectivity is hard to come by. Global Call Forwarding offers this service in our Toll Free FlexDial solution.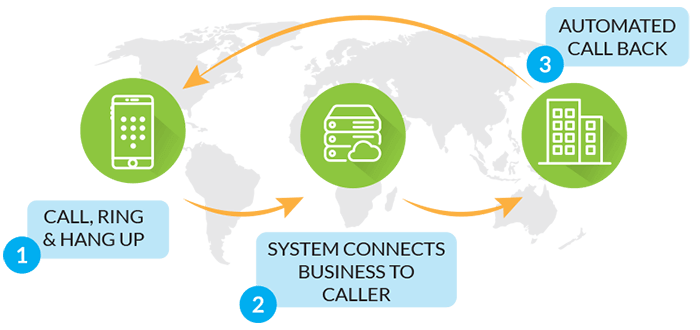 5. Sync Call Detail Records
You can sync call detail records for a specific account, service line, or date range with your business systems. When you do this, you can view call detail records (CDRs) to understand your call flow, where customers are calling from, and other relevant customer interaction KPIs.
6. Sync Call Recordings
You can also sync call recordings with your system. When you use a cloud call recording service, you can record inbound and outbound calls and then review or store recordings within your system for future reference.
7. Call Masking (Number Masking)
Here, you can mask your caller ID and phone number by displaying a different number instead, such as a toll-free or local number from that region. Call masking lets you override your outgoing caller ID so that it does not feature an international or private number, which may deter customers from answering.

8. Notifications and Alerts
Lastly, you can also get notifications and alerts of a specific event within an account, such as a call or voicemail. In advanced CPaaS solutions, you can even send notifications and alerts to your customers for appointment reminders, status updates, and so on.
What CPaaS Solution Do You Need?
With these CPaaS use cases demonstrating how a business can use CPaaS, the next step is to identify what business communication you need to solve. Do you need to route calls more effectively? Do you want to have control over your business phone numbers? Will notifications and alerts optimize your processes? And so on.
Once you identify the issue, you can look for solutions to improve your business communication and overall efficiency. Want to learn more about CPaaS? Call us at +1 (561) 908-6171 or chat with us online!