No-code platforms have grown in popularity as they let businesses adopt new services and features without the hassle of hiring a full-fledged IT team and coding software from scratch. This lets businesses improve productivity and efficiency while reducing costs. So, what no-code solutions are available for business communication and why should you consider them?
Here's a quick overview of low-code and no-code contact center and its features and benefits to businesses looking to upgrade their business phone system.
Low-Code/No-Code Platforms
Low-code or no-code platforms offer exactly that: little or no code needed for software development. This means that you can use the software without coding it in-house. The software provider takes care of the coding process and gives you a final product that you can use without the extra time or cost of hiring engineers to set the platform up for your needs.
Using No Code in a Contact Center
So, what is a no-code contact center solution? A no-code contact center is a type of CCaaS solution where you get access to ready-to-use contact center features and services. These features are designed to offer an alternative to complex processes and markup.
You can use and adjust these features as you like without worrying about fixing them up in the backend. This means that you can access advanced features and personalize your communication system as needed — all within an easy-to-use interface.
No-Code Contact Center Features
What makes a no-code contact center solution attractive is the set of features and services included that give your teams essential tools to effectively manage business communications. Check out the complete set of features available with Global Call Forwarding.
Here are the top no-code contact center features:
1. Business Phone Number Management
Depending on your business needs and reach, you may work with multiple business phone numbers for different regions and countries. As such, you will need a platform to easily manage your phone numbers and ensure they are working properly.
For example, your US-based customer may have clients across the UK. You might use country-specific phone numbers to communicate with these clients without either of you paying high international calling rates. And you might choose to route all incoming calls from those countries to your main US office. Additionally, you may want to forward calls that come in after-hours to your remote agents who are available during those hours. You can set all this up with a no-code contact center solution.
2. Manage Call Groups and Hunt Groups
Hunt groups and call groups are part of a line hunting, a common business phone system strategy. In line hunting, you set up incoming calls to connect to multiple phone lines or numbers in a call group. Calls can ring simultaneously on all lines or one at a time within this group. Such call management aims to ensure that someone is always available to answer the call and the caller does not have a long wait period.
You can create multiple groups in advance and add/remove users from a group as needed. Then, when you route calls or set up your IVR system, you can make use of these predetermined groups.
Examples: The US sales team may include salespeople in your US office(s). The UK customer service team may include customer service reps across UK office(s). You may even include remote agents or your BPO in this group during high call traffic periods, like the holidays.
3. IVR Menus and Trees
Most businesses that offer a variety of services use cloud IVR systems to manage incoming calls and transfer them to the most appropriate department or agent. A cloud IVR is an automated voice response system that answers the call, provides the caller with menu options, and then directs the caller to the desired department based on their input.
This complex process is made accessible in a no-code contact center solution. You can simply log into your dashboard, go to the IVR manager for the desired line, and create an IVR menu for each department or individual within a few clicks. For example, you can set it up to work as:
Upon connecting, play "welcome message"

Then play "IVR voice menu":
For company hours and address, press 1
To speak with an account representative, press 2
For customer service, press 3
For billing, press 4
To hear the menu again, press 9
To leave a voicemail, press 0

Upon keypad input, send the caller to the next step:

1 → play "update company hours message"
2 → transfer call to "sales team" [sales team call group]
3 → transfer call to "customer center" [customer service team call group, outsourced call center, or remote teams]
4 → transfer call to "billing" [billing team call group]
9 → play "IVR voice menu"
0 → play "voicemail message" and send voicemail to inbox.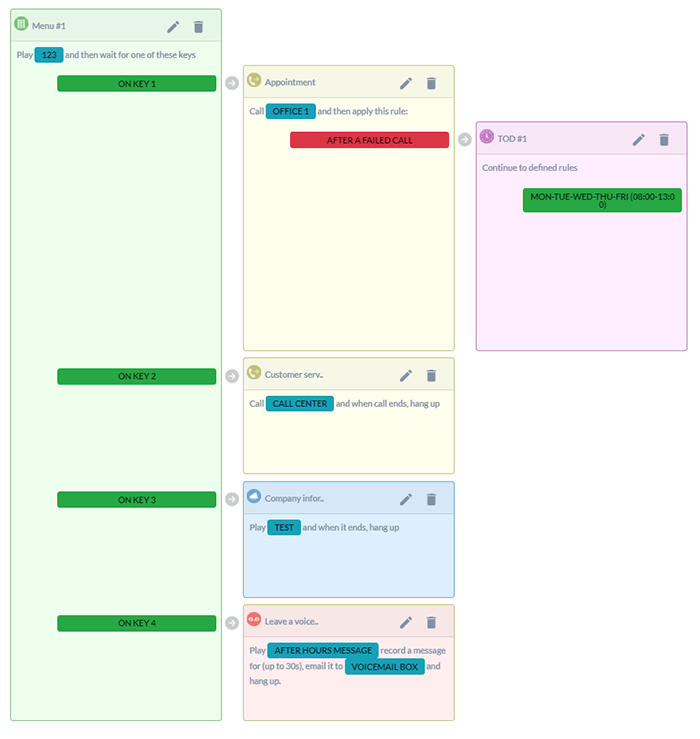 4. Call Flow Builder
A call flow builder is an interactive designer where you create custom call flows for your incoming calls. Basically, you get to map out what happens to a call when it comes in — Will callers hear a welcome message? Does the call get routed to a call group based on the time of the call or location of the caller? And so on.
When you intentionally set up call flows, you can control how the caller interacts with your business. This leads to responsive service, less turnaround, reduced wait/hold times, faster resolution, and happier customers.
Check out the popular call flow templates businesses use to efficiently manage their calls and improve caller experience.
5. Advanced Call Routing
Based on how your business operates and where your customers call from, you might need advanced and automated call routing to ensure someone is available to answer the call in the right time zone and language.
This is where call routing strategies and features come in handy. For example, Global Call Forwarding offers the following automated call routing options:
Time-based routing — routes calls to specific locations or lines based on the time of the call
Geographic call routing — routes calls to specific locations or lines based on the callers location
Simultaneous ring — rings calls on multiple lines simultaneously
Round robin call routing — sends calls down a line of agents within a call group
Sequential routing — sends calls down a particular sequence of agents in a call group
Holiday routing and schedules — custom routing schedules for holiday(s).
You can quickly set up rules and adjust as your needs and teams change. This flexibility makes advanced call routing a scalable no-code contact center solution as it adapts to a growing business.
6. Softphone App
Softphones are web-based phone apps that can be accessed as web extensions, desktop apps, or smartphone apps. You simply download the softphone to your device, enter your VoIP credentials (provided by your no-code contact center provider), and start placing calls via your business phone service.
Softphones come with their own set of features that let you save/update contact info, transfer calls to other departments and individuals, make in-network calls, and so on. Plus, since most softphones work with Android, Windows, and Apple, you can connect from any location and with any device, giving your teams unlimited flexibility.
Get No-Code Contact Center Solutions
Global Call Forwarding offers no-code business voice solutions for companies looking to upgrade their phone system and add VoIP functionality. Want to learn more about what we can do for your business? Chat with us today or call us at +1 (561) 908-6171.