Call transfer is a cloud telephony feature that lets you place a call on hold and immediately transfer it to another department, agent, or call center.
In other words, you connect a phone call from one user (original receiver) to another (the desired department or employee).
Now, there are a few different ways you can transfer calls — manually, automatically, via a receptionist, and so on.
In this article, we will look specifically at cold and warm transfers.
Types of Call Transfers: Cold vs Warm Transfers
Call transfers are an important part of any business communication system. It enables your employees to send callers to the right person efficiently and accurately — without the caller having to hang up and call again.
There are many reasons why you may need to transfer calls, such as:
When callers arrive at the wrong department
If they need additional help or services
To collaborate with another expert or colleague
To address regional or culture-specific needs (language, location, time zone, etc.)
By connecting callers with the right department or agent faster, you can provide more responsive support and a better caller experience.
What is a Warm Call Transfer?
A warm call transfer – live transfer or attended transfer – is the process of one employee answering the call and transferring it to a different employee.
The first employee (who most likely is a receptionist) also passes on any relevant information beforehand. This means that the next employee is up to speed and the caller doesn't have to repeat themselves.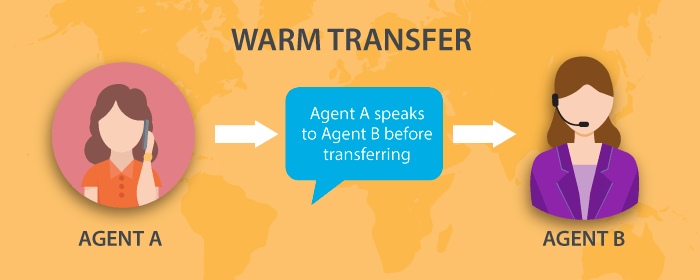 Example of warm transfer:
An existing customer calls your business looking for a specific query (US billing).
Your receptionist screens the call by answering it and identifying the customer's needs.
The receptionist then puts the caller on hold and determines the best employee to help the customer (customer service or accountant in charge of US billing).
After iterating the query to the employee, the receptionist transfers the call to that employee.
Benefits of warm call transfers:
Transfers are personalized to every caller's needs
Agents are better prepared to help customers
Callers don't have to repeat their request
What is a Cold Call Transfer?
A cold call transfer – automated transfer or unattended transfer – is the process of a call being transferred to another agent without a receptionist or live agent speaking with them first.
In this case, the automated IVR or auto-attendant answers the call. This cloud telephony feature presents the caller with a set of menu options (through pre-recorded messages) or the opportunity to enter an extension. The caller selects an option or inputs an extension, upon which they are automatically transferred to their desired destination. In this option, the end agent is not briefed on the call.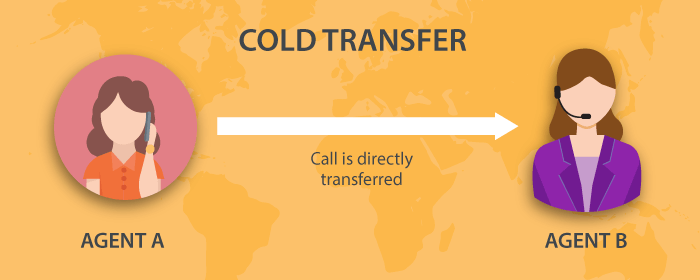 Example of cold transfer:
An existing customer from Mexico calls your main business phone number looking for a specific query.
Your auto-attendant automatically transfers the caller to your South American customer support center.
Another example of a cold transfer with an IVR:
An existing customer calls your main business phone number looking for a specific query.
Your IVR answers the call, greets the customer, plays an announcement (if needed), and presents the caller with menu options – such as Press 1 for English, Press 2 for Spanish.
Depending on the caller's input, the IVR transfers the call to the appropriate agent OR presents the next set of menu options – such as Press 1 for Customer Support, Press 2 for Account Activation, Press 3 for Billing.
Then, based on caller input, the IVR transfers the caller to the next available agent in the selected department.
Benefits of cold call transfers:
Quick, automatic, and accurate transfers
Can handle multi-level transfers
Round-the-clock and after-hours support
Offers self-service options
How to Transfer Calls
Most phone service providers will offer this ability – both cold and warm transfers – with their phone service. So, check with your existing provider. If you can't transfer calls the way you want, you can always look for a VoIP provider who offers it along with other cloud calling features.
Providers like Global Call Forwarding include Attended Call Transfer and Advanced IVR with our phone number plans. Once subscribed to our service, you can use our IVR manager to set up automatic transfers or use our Softphone to transfer calls within your network.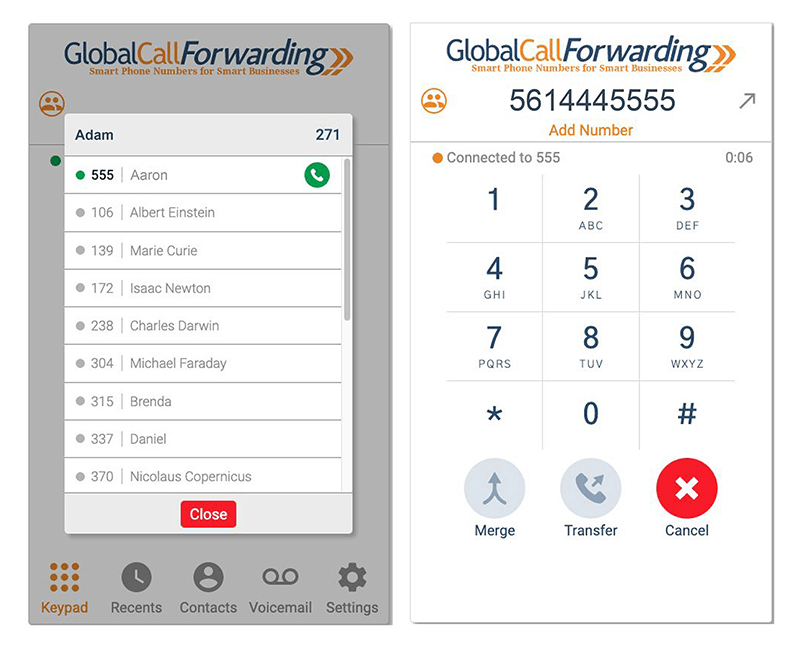 See how easy it is to transfer calls with the GCF softphone.
Want to see it in action and decide between cold vs warm transfer for your business phone system? Our telecom experts are here to help! Request a demo or sign up for a free trial.