The growth rate for call centers and contact centers continues to rise, with more businesses looking to outsource their sales and customer service. And with advancements in telecommunications and global telephony, it is easier than ever to increase profits and revenue with a contact center.
But this is harder to achieve with outdated and vulnerable technology. With the right legacy contact center modernization, you can transform your contact center into a customer experience center.
What is Legacy Contact Center Transformation?
Legacy contact center transformation or modernization is the process of replacing or modernizing legacy phone systems and contact center technologies with new, modern ones. For most businesses, this might mean switching over to a cloud-based contact center software or using contact center as a service (CCaaS).
When you upgrade or transform your contact center, you set your company and your employees up for success. This is because you use modern technology to improve quality and scalability. And you pay for the contact center tech you need with flexible terms.
Need for Legacy Contact Center Transformation
The primary purpose of a contact center is to offer customer service and sales support to different businesses. As your contact center adds on new clients and companies, you will need advanced technology to support your teams.
For example, you may onboard clients from different countries or who have customers spread across globally. In this circumstance, you will need to provide customer service and sales globally. Legacy systems may support global coverage, but they are not as cost-effective as cloud-based solutions built for virtual and global scalability. The same goes for contact centers that want to offer remote or hybrid work capabilities. Cloud-based solutions are easier to manage than traditional legacy systems.
With legacy systems, you will:
Need to purchase, install, and maintain heavy-duty hardware
Run your contact center on outdated technology
Enter long-term contracts and overpay for basic, essential services
Lack flexibility and scalability to support your remote, flexible, and global teams
This is why many businesses are gradually switching to cloud communications solutions.
What Does Contact Center Modernization Look Like
With legacy contact center transformation, you open up new avenues of growth and modernization within your business.
Advanced and cloud-based technology
Cloud contact center solutions come equipped with modern features and tools to help your teams do their jobs well. Use SIP trunking to make high-quality voice calls and route calls automatically to the correct department or employee based on preset rules. Forward calls internationally without paying high international calling rates.
Local, remote, and global teams
You have the opportunity to bring in advanced technology and features to support your local, remote, and global teams. You can offer services in neighboring countries as well as remote locations without increasing your budget. This lets you offer your customers more varied solutions.
Benefits of Contact Center Modernization
So, why do you need to transform your contact center? Here are some key benefits of investing in legacy contact center transformation for your company:
1. Newer systems come with advanced features and improved functionality
Use fast and updated technology to offer high-quality service. Gain access to multiple advanced and premium features and functionality to manage your contact center as you want to.
2. Easier to install and maintain
A cloud-based contact center is quick to set up and does not require additional hardware or software to run. You can, therefore, get your teams up and running with little to no downtime, whether they work in-office or remotely. Additionally, you do not have to worry about maintaining and updating your contact center tech as the provider takes care of those factors.
3. Enterprise-grade security and reliability
Since they are not always updated with modern security measures, legacy systems have security vulnerabilities that leave them prone to cyberattacks. But with new technology and software, you can expect improved security and encryption that will keep your contact center and customer data safe.
4. Unlimited scalability to let your contact center grow efficiently
Modern contact center solutions are designed to help your business grow easily without incurring more expenses. This means that you do not need to buy additional services or equipment to add new lines, support larger call volumes, or offer services in different regions. You simply add them to your existing system and not worry about downtime. Adding them to the existing system lets you control all communications in one place through one provider instead of dealing with multiple service providers.
5. Reduce contact center costs
By bundling contact center technologies, you can save on hardware and software costs. Additionally, your business can save on the high cost of dealing with cyberattacks and retrieving lost data with increased security.
Cloud contact center providers will also help you expand your reach beyond geographic borders with low-cost local and international toll free numbers and international call forwarding. This means you can scale your business easily without crossing your budget.
6. Access to integrations
In the name of efficiency, modern phone system solutions let you integrate your business communication system with other business tools so that your users can access all important information in one place. This enables them to be more productive and efficient and leads your contact center to drive desired results.
7. Set your staff up for success
Your teams can use various features to create a custom phone system that works best for your needs. Modern contact center solutions help them do their jobs without any hiccups or issues. Through this, you can support your local, remote, and international team with the right technology and resources.
How to Transition from a Legacy Contact Center
According to a recent report, nearly all IT buyers and decision-makers plan to modernize IT infrastructure to increase operational efficiency. However, IT teams face increased pressure to strike the perfect balance between supporting key services, aligning with the budget, and setting up a foundation that is forever-scalable. And so, a lot goes into deciding how to modernize your legacy infrastructure.
To transform your contact center into one that supports your employees and customers effectively, you first need to develop a plan of action. This entails how you will modernize your system, what provider you choose, and when you will begin the process.
1. Consider Important Factors
Before you set out to transform your legacy contact center, you first need to consider a few key factors:
1. Workload and IT architecture — What is your current communication infrastructure? What areas can benefit from modernization? Audit existing technologies, software, hardware, location of teams, and so on. This will help you determine each department's value and functionality and how you can use modernization to improve ROI.
2. Operational changes — Next, look at your existing workflow. Where can you optimize processes and productivity? What new technology do you need to achieve these changes? Get feedback from your teams and employees to determine how you can use modernization to help them become more efficient.
3. Finances — Then, evaluate your budget. How much can you spend on this upgrade? You will notice that upgrading your contact center will prove cost-effective in the long run, when compared to using legacy systems. But it is a good idea to keep track of what needs to be updated and what takes priority within the budget.
4. Security and reliability — Next, what security measures do you want your communication infrastructure to have? How does your new provider protect from data loss and cyberattacks? Discuss with your internal IT team to understand what to expect from your new contact center technology.
5. Prepare for possible downtime — Finally, you will need to plan for possible costly downtime and impacts on business continuity. You can discuss a timeline of the upgrade with your IT team and contact center provider to get an idea of how long the process will take and how you can prepare for any disasters and upgrade smoothly.
2. Choose a Cloud Contact Center Provider
The next step is to research and find a cloud contact center provider to help you achieve your modernization goals. Use your audit to identify the changes, features, and technology you need from your new contact center.
Then shop around to see what most providers offer. Compare different providers based on:
Features and services they offer,
Extent of global reach,
Pricing options and flexibility,
Contact center migration process,
Responsive customer service and technical support,
Customer reviews and testimonials.
Then, analyze each provider and decide on one that fits your needs and budget.
3. Weigh Your Options
Next, consider how you will conduct the digital transformation. Will you switch over entirely or in parts? This again warrants a conversation with your provider and internal IT team; together, you will have to determine the best solution for your setup.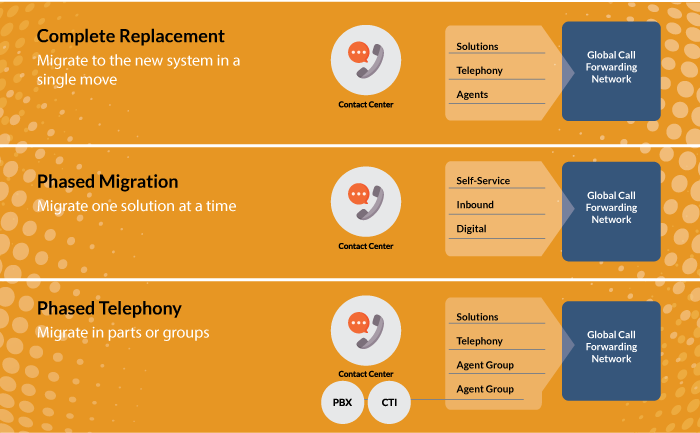 1. Complete Replacement
Migrate in a single move. All solutions, telephony, and agents are moved over to the new system at the same time.
Pro tip: Use this solution if your current systems need an urgent upgrade or you want to consolidate multiple vendors into one platform.
2. Phased Migration
Migrate one solution at a time. You may first migrate telephony (inbound and outbound voice), then digital services (email and live chat), and then self-service (knowledge base and automation), or in an order that works for you.
3. Phased Telephony
Switch in parts. Some agents continue to use the legacy system and solutions while others switch over to the new setup. Then, once the others have successfully switched over, the rest of the agents can switch over too.
Pro tip: Use phased migration if you are not ready to switch over completely and don't want to risk costly downtime or losing data.
4. Begin Your Contact Center Migration
Once you've settled on a provider and a migration plan, you can start the process of transforming your contact center. Prepare your employees by informing them of upcoming changes and training that may be required. Create guides and tutorials that will help them onboard quickly. Let them know what the disaster and backup plan entails and who to reach out to if something fails.
Transforming Legacy Systems with Global Call Forwarding
Global Call Forwarding is a cloud-based global telephony provider that provides businesses with phone system solutions. We can help you get cloud contact center solutions and create a phone system that is flexible, scalable, and efficient. Want to learn more? Speak with our telecom experts today, or chat with us online!