Looking to transition to cloud communications? Cloud contact center solutions are designed to help businesses with effective call management, call monitoring and analytics, global expansion, and more.
Understand what a cloud contact center solution is, how it works, and how it can benefit your business.
How Do Cloud Contact Centers Work?
First, what is a cloud contact center?
What is a Cloud Contact Center? A cloud contact center is a comprehensive set of cloud-based tools and services for business communication. These tools can be used by contact centers and service teams in medium-large organizations that need multiple communication channels, advanced call management, remote communication management, reports and analytics.
They are also known as cloud-based contact centers, virtual call centers, and cloud call centers.
A cloud contact center offers various cloud-based solutions for phone service that offer more control over business communications. With these solutions, you can manage your calls and agents, conduct performance analysis by tracking data and metrics, and improve overall customer satisfaction.
These contact centers work over the cloud; that is, they need an internet connection. This allows businesses to access and use cloud contact center features from any location, enabling remote work and global expansion.
Choosing Between Cloud-Based Contact Centers and Traditional Contact Centers
Which is more suitable for your business call center software? To make a decision, you first need to understand what each type entails and the service and costs of each. Let's look at the difference between a cloud-based contact center and on-premise software:
| | |
| --- | --- |
| Cloud Contact Center | Traditional Contact Center (On-Premise) |
| Low monthly costs; no set-up or installation fees | Low-medium monthly costs; high set-up and installation fees |
| Wide range of cloud communication features and services | Limited call management features |
| Hosted by the provider | Operated on-site, in-house by your IT team |
| No physical space, hardware, or equipment needed | Physical space and equipment needed |
| No installation or maintenance needed | Needs to be installed and maintained regularly |
| Provider is in charge of system updates and maintenance | Your in-house teams are in charge of system updates and maintenance |
| No professional IT experience needed | Professional IT team needed to run the system |
| Uses VoIP tech; Needs a broadband connection | May use VoIP tech |
| Scale as needed | Limited scalability |
| Recommended for small, medium, and large businesses | Recommended for large businesses |
Cloud Contact Center: Top Features
Cloud-based contact centers come with various features, tools, and services designed for call management and customer support. You can customize and personalize these features to meet your business' exact needs. Here are the top features of a cloud-based contact center:
Access to Cloud Phone Numbers
Choose from a large inventory of cloud phone numbers available from around the world. These numbers give callers (your customers) a chance to call for free or local calling rates, even if they are located in different countries. This is because of international call forwarding (more on that below).
Global Call Forwarding offers virtual phone numbers from more than 160 countries around the world. You can get:
Toll-free numbers
International toll-free numbers (ITFS numbers)
Local phone numbers
Mobile numbers (for certain countries).
Buy cloud phone numbers for your contact center and offer global customer support over the phone. Customers from other countries can call your business without worrying about paying high long-distance calling fees.
International Call Forwarding
An international call forwarding service lets businesses forward or re-route incoming international calls to any location in the world. For example, your company is headquartered in New York, but you have a large client base in Mexico. Your Mexican customers can call your Mexico toll-free number, and you can have these calls forwarded to headquarters in the US. This way, customers get to contact you for free, and you get the call where your customer support teams are located. And no one pays international calling rates!
Advanced Call Routing
An advanced call routing feature offers you multiple ways and strategies to forward inbound calls. You can set rules beforehand to manage incoming calls during specific times or heavy traffic periods. You can have calls routed to different locations, offices, and employees. Or have calls ring on multiple devices simultaneously or run through a set sequence. There is a lot to play around with—the key is to identify what routing strategy works best for your business. Here are some key call routing strategies:
Time-based routing
Skill-based routing
Sequential forwarding
Holiday rules
Learn about the benefits of advanced call routing for your contact center.
Hosted Call Recording
Use a cloud call center recording software to record incoming and outgoing calls. No additional recording software or equipment is needed. You can save these recordings on your computer or in the cloud for future reference. There are many benefits of recording business calls; these include:
Easy record-keeping
Monitoring quality assurance
Studying customer preferences and behaviors
Protecting from liabilities and misunderstandings
Recording important transactions
Conducting employee or agent performance analysis
Adhering to compliance requirements in specific industries and sectors, and so on.
Cloud IVR System
An interactive voice response system or IVR lets you introduce automation within your customer service efforts. The automated voice system answers incoming calls, identifies the purpose of the call, and proceeds to assist the caller. It may provide the caller with a menu of options, pre-recorded messages packed with helpful information, or transfer the caller to the correct department or agent.
You can get a highly customizable IVR system — like the one at Global Call Forwarding — to manage and route calls effectively. Set up rules for routing and forwarding. Add custom greetings and messages to highlight company updates, new hours, new products, service issues, etc.
Outbound Calling
Customers are less likely to answer out-of-state or international calls with caller IDs they don't recognize. You can use an outbound calling service to increase global coverage and make your customers comfortable answering your call. This is a turnkey solution to help businesses make long-distance and international calls with custom caller IDs.
Softphone Apps
A softphone — also known as a contact center dialer — is an app you can download on your phone or desktop and use as a dialer. You can make and receive business calls with your business phone number instead of your personal number. Softphones are designed to help you make calls, update contact history, access voicemail, transfer calls to other employees, and more, all from the comfort of your devices.
Check out our GCF softphone and how it can help your employees connect from any location and maintain business continuity.
Automated Callback Options
Automated callback options make it easy for your business to connect with customers who cannot easily reach you. These may be customers in remote locations or web visitors who would benefit from your business calling them instead of waiting in long call queues.
Global Call Forwarding offers two types of automated callback services — CallMe Click and CallMe Trigger — to help you connect with your international customers. Customers either submit a short form on your website (CallMe Click) or call a trigger number (CallMe Trigger) to receive an immediate callback from your business.
With our high-availability network and global coverage, you can convert more prospects and web visitors into customers. Reduce friction and improve customer experience by making your business more accessible to interested customers.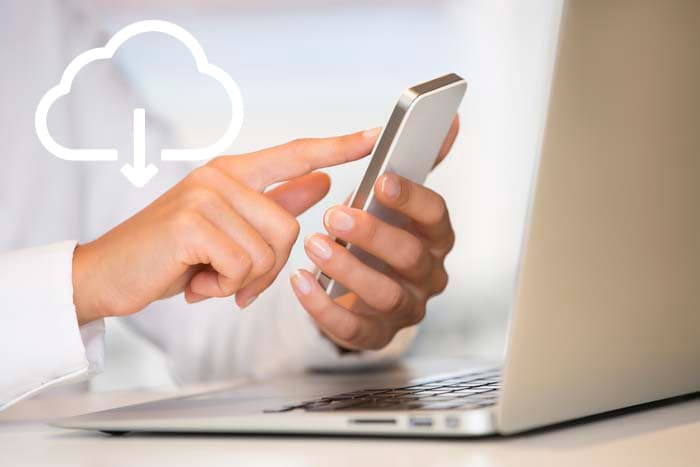 5 Benefits of Cloud Contact Centers
There are reasons why companies (small and large) are moving their communications to the cloud — from reducing costs to getting access to better and more advanced services. So, how can your business benefit from a cloud contact center solution?
1. Improved Call Management
With various cloud communication tools, you can design and control the way incoming calls come into your business. You can route calls in a way that works best for your needs. During high traffic periods, you can set up call forwarding rules as backups if your main office is busy.
Or, you may route calls to specific locations and regions to meet your customers' preferences (language, time zone, culture, etc). Try out different routing strategies to find one that supports your business' call needs.
2. Increased Global Coverage
Virtual phone numbers make it easy to connect with global customers for low calling rates. By getting access to cloud phone numbers from more than 160 countries worldwide, you can take your business to new markets and increase your global coverage. And your business does not need to be in these regions to do business in them.
Additionally, when you use local and toll-free numbers, you allow customers to call your business for free or local calling rates, even if your business is located internationally. All of this makes your business more reachable to global customers and increases your international sales.
3. Workforce Flexibility
By using cloud contact center solutions, your business can open up to remote working and telecommuting options. You don't need to stick to hiring and working within your geographical boundaries. Look for and hire talent in other countries and keep remote teams connected efficiently with virtual communication tools.
4. Scalability and Growth Support
The best part about cloud contact center solutions is that you can grow your business at your own pace. As you grow, you can add or remove additional lines and services to meet your needs. Get new numbers for new markets. Adjust call forwarding and routing rules to align with your customer support goals. Pay only for what you need and when you need it.
4. Uninterrupted Business Continuity
When you experience a power or internet outage or your office is affected by a disaster, a cloud phone system can prove useful. You can route calls to another office location, remote employees, or to your smartphone instead. This way, business can continue without interruption.
5. Low Costs for High Quality
Finally, by switching to the cloud, your company can cut down tremendously on communication-related costs. This is because you don't need additional or special equipment to run a cloud contact center software. And since you can enter new countries and regions virtually, you do not need to open multiple office locations.
Another advantage is that you can access multiple communication tools within this one software. So, you do not need to subscribe to multiple services for your business communication needs.
Need Cloud-Based Phone Solutions?
Get cloud contact center solutions for your business today! Speak with our experts to understand how our features and services can support your communication needs. Call us at 1 (888) 908 6171 or chat with us online!