Many businesses use a suite of call center technologies ranging from basic to cutting-edge. This technology helps companies achieve big benefits like increased efficiency and enhanced customer experiences. But, how do you know which call center technologies are right for you?
In this article, we will walk you through the top call center technologies and how they help optimize your business.
Call Center Technologies [Definition + Benefits]
Call center technology refers to all the software and communication features a call center uses to support and improve its service. This technology is typically used by sales, support, and IT teams to streamline business communication efforts.
So, what are the overall benefits of using call center technologies? Let's take a look.
Enhance customer experiences and increase satisfaction
Automate and streamline business processes
Decrease operating costs
Improve team productivity
Boost system efficiency
Increase sales and revenue
Drive business growth and more
Choosing the Right Call Center Technologies For Your Business
With so many call center technologies on the market, it's difficult to determine which solution is right for your business. It's important to note that there is not a universal or "one size fits all" solution. As such, try focusing on your company's unique needs and goals. Then, select software and tools that meet your requirements.
To get started, consider the following questions:
What type of call center do you run? (inbound or outbound)
What's your budget?
What technologies are your competitors using?
What platforms or channels are your customers using?
Is it easy to use, set up, and scale?
Is the tech reliable and secure?
With these questions answered, you can start identifying what call center tools and features your business needs.
11 Call Center Technologies Business Leaders Must Know
Now, let's dive into the top call center technologies:
11 Call Center Technologies Business Leaders Must Know
1. International Phone Numbers
One of the most overlooked call center technologies is international virtual numbers.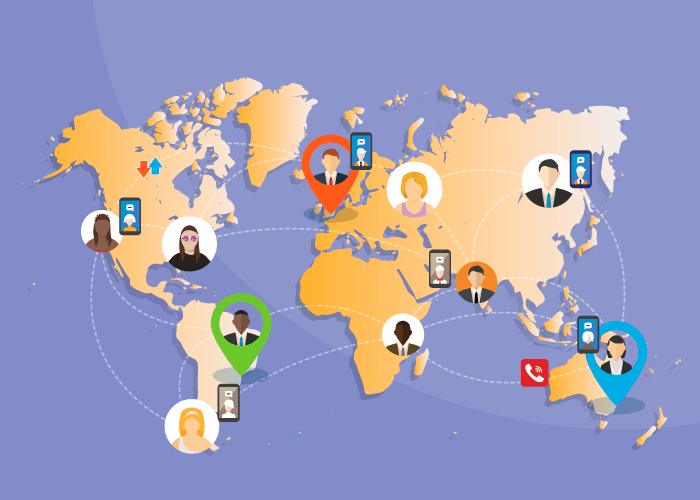 These numbers make it easy for your business to connect with customers worldwide. You can get international phone numbers in your target countries to reach your desired markets or access a broader customer base. And with a virtual number provider, you'll save on excessive international and long-distance calling fees.
When looking to get an international phone number for your business, consider the following number types:
• Local Phone Numbers
Local numbers help your business establish a local, authentic presence in your target markets. As such, these phone numbers provide companies with an easy way to expand internationally without raising overhead costs.
Customers can also call these numbers for affordable local calling rates. So, they boost your brand's accessibility to those customers in local and international locations. And since local phone numbers are familiar to locals, it encourages them to answer your brand's calls and connect.
• International Toll-Free Numbers
Similar to local numbers, you can use toll-free numbers to establish an international business network cost-effectively. International toll-free numbers (ITFNs) allow your business to test and emerge in global markets with minimal risk or investment.
Most importantly, these numbers give your customers and business contacts a simple way to contact your business – at no cost to them. You can even use ITFNs to track marketing campaigns, increase brand awareness, boost your professional image, and more.
Great for:
Connecting with international clients and customers
Expanding to new markets and countries cost-effectively
Improving the accessibility of your brand
Scaling business globally
Establishing a local presence in target markets
Developing a professional image
2. International Call Forwarding
With this call center technology, your business can route calls from one destination to another. So, if a call comes into one of your international phone numbers, you can forward it to your main headquarters. International call forwarding works hand in hand with local and international toll-free numbers. It allows you to scale your business globally and establish a local presence – without being physically present or in your target countries.
International call forwarding lets your company affordably extend its services globally and connect teams across multiple locations. It also brings more mobility and flexibility to businesses and teams, as you can forward calls to any device or location. Finally, international call forwarding makes it possible to provide 24/7 global customer support to your customers – increasing customer satisfaction.
Great for:
Expanding businesses and services globally
Connecting remote, distributed, or internationally-based teams
Providing 24/7 worldwide customer support
Establishing a local presence in target markets without being physically present
3. Advanced IVR and Call Flow Builders
One of the most popular call center technologies is Interactive Voice Response (IVR). Advanced IVR answers your inbound calls and assists callers. This cloud feature acts as a virtual receptionist by forwarding callers to the correct department, providing information, or helping them complete simple self-service tasks.
With IVR, you control how incoming callers move through your system and arrive at their desired destination. You can completely customize this cloud-based call center technology and even design your contact center call flow using a call flow builder.
Great for:
Increasing first call resolution
Optimizing team workloads
Avoiding missed calls
Reducing business costs
Improving caller experience
Managing high call volume more efficiently
Decreasing hold times and average handling time (AHT)
4. Automatic Call Distribution (ACD)
This call center technology automatically routes or "distributes" calls to different extensions, departments, or offices. For this reason, automatic call distribution (ACD) often works alongside an IVR to efficiently route callers to the appropriate destination.
An ACD system directs callers according to your preset rules. You can set up and customize rules to route calls based on time of day, caller location, team member availability, and more.

Great for:
Managing fluctuating call volumes
Lowering business costs and saving time by routing calls automatically and effectively
Reducing wait times and missed calls
Increasing first call resolution
Improving team productivity and optimizing workloads
Offering 24/7 global customer support
5. Call Recording and Real-Time Transcription
Since business calls contain valuable information, it's easy to see why call center recording is among the most common call center technologies. With call recording, you can automatically save important business conversations for future use. Record 100% of your voice traffic or just a percentage, depending on your needs. These recordings are accessible at any time, usually through your provider's online portal.
Similarly, real-time transcription records your conversations, but in written words. It automatically translates business voice calls into text – letting you reference them in real-time and after the call ends. This means you don't have to replay long recordings and voicemails or spend time note-taking. Some real-time transcription software highlights keywords, phrases, and action terms – allowing you to quickly scan transcriptions for a summary.
Great for:
Quality assurance
Automating record-keeping processes
Training new employees
Performance reviews
Protection against liabilities
Analyzing your service for improvements
6. Outbound Calling and Caller ID Management
Another must-have among the long list of call center technologies is outbound calling –especially if you're running an outbound or blended call center. Businesses use outbound calling for lead generation, gathering feedback, follow-ups, appointment setting, reminders, and more. With a good provider and solid outbound calling strategy, you can make high-quality outgoing calls, drive conversions, and improve customer satisfaction.
Getting a call center solution that includes caller ID management is also a worthwhile investment. This feature allows you to hide or mask your outgoing caller ID. So, customers see your business phone number instead of an unknown private or international number – leading to higher response rates. And this applies even if you're calling from different devices, lines, or locations.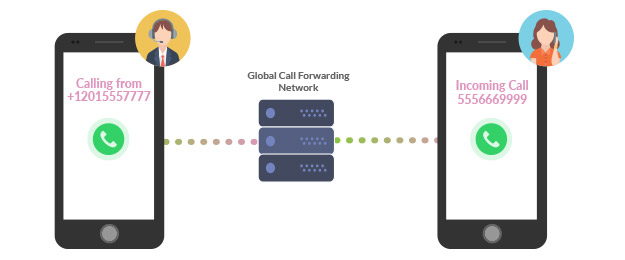 Great for:
Generating leads
Gathering customer feedback
Driving conversions
Improving customer satisfaction
Increasing response rates
Protecting staff member's personal numbers
7. Computer Telephony Integration (CTI)
A CTI connects your computer and phone, allowing them to interact. You can use this call center technology to easily manage phone calls on your computer. CTI also enables you to access valuable communication features. Let's take a look:
• Softphone
A softphone makes it possible to make and receive VoIP calls on any IP-enabled device. Whether it's through smartphones, laptops, tablets, or desktops, you can easily connect with your widespread teams or customers from any location. It also includes key communication features like voicemail and attended call transfer.
• Click-to-call
Click-to-call lets you make outbound calls simply by clicking on a phone number from your web browser or CRM. It's commonly used by sales or support teams to make the calling process more efficient. It helps cut down time spent looking up and manually dialing phone numbers, allowing you to make more calls.
• Call pop
Call pop instantly displays caller information and details on your computer screen. This allows reps to see the caller's past interactions to assist them better and build a stronger relationship.
Great for:
Improving employee productivity
Boosting communication efficiency
Increasing collaboration
Enhanced customer service
Streamlining call process
Connecting remote and widespread teams
8. CPaaS Tools
Communication Platform as a Service (CPaaS) allows developers to integrate real-time communication features directly into existing applications. With many CPaaS use cases for a variety of industries, all types of businesses can adopt these tools to improve internal and external communication.
CPaaS is a highly scalable cloud solution that lets your business pick and choose communication tools such as video, messaging, and, most notably for call centers, voice APIs. But, it's important to note that CPaaS solutions and APIs vary depending on your selected provider.
With a voice API, developers can program voice calling and add full VoIP functionality to your current system. And they don't need specialized telecom knowledge or have to build a backend infrastructure to access these capabilities.
Great for:
Customizing to meet your specific needs
Scaling up or down when necessary
Enhancing systems already in place
Easy integrations
9. Workforce Management Software
As the name suggests, this call center technology helps you manage your teams and employees. Workforce management software helps automate daily tasks like managing schedules, balancing workloads, completing data entry tasks, analyzing KPIs to forecast customer behaviors or trends, managing call center agent performance, and so on.
Most importantly, workforce management ensures that your call center or business is properly staffed with qualified teams at all times. So, you're never caught over or understaffed. And since it also balances workloads and assigns tasks, this helps keep top-performing agents from burning out.
Great for:
Optimizing workforce
Streamlining and automating daily tasks
Increasing team productivity
Operating at maximum efficiency
Distributing workloads equally
Tracking and improving agent performance
10. Omnichannel Support Solutions
One of the top call center technologies over the past couple of years is omnichannel support solutions. This is because more and more customers look for their preferred method of communication when reaching out to your business. So, providing multiple communication channels like a business phone number, web chat, email, social media, and more allows customers to reach you how they want.
Additionally, virtual support options — such as a web chat with conversational AI capabilities — enable your business to reduce your team's workload and provide 24/7 global support. Some omnichannel solutions even save and update all customer conversation history across all channels, giving the customer a seamless service experience.
Great for:
Improving customer experience
Providing seamless and consistent customer service
Offering 24/7 global support
Encouraging consumers to connect
11. Reports and Analytics
Call center reporting and analytics remains one of the most essential call center technologies. Call analytics gives you a bird's eye view of the quality of your service and where improvements are necessary. With a call center analytics solution, you can measure metrics like call volume, retention rates, first call resolution rates, average handling time (AHT), abandonment rate, and more. Then, use the analytic reports to coach staff, create new goals, or confirm you're meeting your current goals.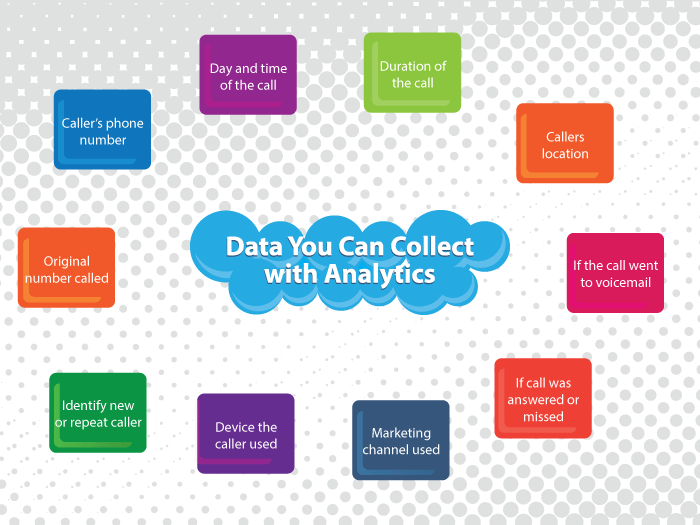 Great for:
Improving service quality
Creating new goals
Training or retraining staff
Identifying areas of improvement
Ensuring you're meeting your goals
Measuring key call center metrics
Call Center Technologies with Global Call Forwarding
As you can see, there are tons of options when it comes to call center technologies. They are designed to make your business more organized, efficient, manageable, and better overall. Upgrading your setup and improving your system's functionality offers many benefits, especially when you do this with the right provider.
We provide one of the largest inventories of international phone numbers from over 150 countries. With our service, you also gain access to 30+ call management features and add-ons. Build a better cloud contact center with a reliable provider like Global Call Forwarding.
Sign up online or speak with our customer service representatives today at +1 (561) 908-6171.