There's a stage in every small-to-medium-sized business' life where you ask: is it time to take the next step and pursue international expansion? And while many companies have achieved global expansion successfully — and many have failed as well — there is a general tendency of doubt whether it is worth the gamble.
Especially now, after the global pandemic and with so many businesses having to shut down or halt operations.
But while expanding your business after COVID-19 may seem challenging, it is a worthwhile and beneficial avenue to consider with the support of the right resources and people.
Why Should Businesses Go Global?
So then, what really is the benefit of entering your business in the global market and taking the risk? Besides opening up a whole new revenue stream, international growth allows your business to establish a global reputation. Such a reputation will help you attract and retain more high-quality customers. And it will open up more investment opportunities that will help your business further scale.
What is the Cost of Global Expansion?
But is it worth the risk? The short answer: it depends on your business and the demand for your products and services.
Not every business is suited for the global stage. Maybe your industry is too niche, or your services are useful only to a specific group. In that case, international expansion may not be for you.
It also depends on which stage of growth your business is in right now. If you are a start-up still trying to find your footing, then it's better to put off global plans. But if you are an established business gearing up to release new products and features that might appeal to a broader audience, then you might benefit from taking them global.
You need to consider international expansion costs when looking at the best countries to expand to in 2023. Important factors to consider include:
State of the region's economy post-COVID-19
Demand for the product and service
Overhead costs — office space, supplies, and equipment
Moving costs
Cost of labor and materials
Logistics and shipping costs
Country's rules and regulations regarding foreign businesses, and so on.
Thankfully, careful budgeting and a clear expansion plan can help you keep costs low. You can use one of these various types of international expansion strategies to expand globally efficiently while staying within your budget. Additionally, instead of jumping right in and investing everything in your expansion plan, start slow with a light footprint, and grow gradually.
Learn more about global expansion strategies and best practices in our global expansion guide.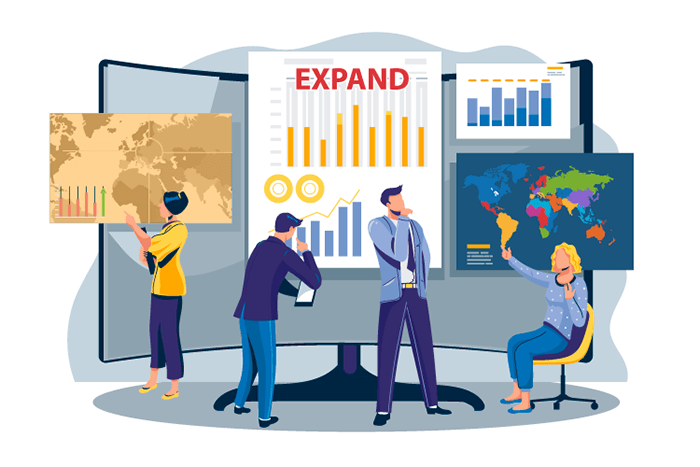 8 Benefits of International Expansion
That said, what can your business achieve by growing internationally and why should you consider it? Here are the main reasons to consider international expansion:
1. Increased Revenue Potential
Most businesses look outside when they have exhausted growth opportunities at home. But even for companies that are relatively new (7+ years in business), there's much to gain by entering new markets. You can explore new markets, market to new demographics, offer diversified products, and increase sales as a result of all this.
2. Entry into New Markets
International expansion also means access to more markets means more customers and more sales. Part of successfully entering a new market is researching the region and its demographics to ensure your business provides valuable and relevant products and services. This means working close to the ground to understand the needs and desires of the locals in these markets.
By doing that, you would create products and services they want to purchase and invest in. This is yet another way of showing your customers and prospects that you care about how they use your service. And that is crucial to building customer loyalty and responsiveness.
Side note: Entering new markets also means exposure to new investment opportunities but more on that later.
3. Access to Diverse Audience and Customer Base
With our heavily globalized world, your business is probably already catering to a diverse audience. Yet, you are limited when you stick to just one market or region. Instead of putting all your eggs in one basket, it is a good practice to diversify and spread them across multiple target markets. This way, if one market changes or slows down, you can rely on revenue streams from other markets.
Additionally, by catering to a diverse customer base, you will be required to create new products and services to meet their needs. This gives your business the opportunity to establish itself as a local entity or local-supporting business. A broader and diverse customer base always helps generate more business and sales.
4. Foreign Investment Opportunities
New markets mean new investment opportunities and access to new materials and talent. The main benefits of foreign direct investments include economic growth, access to greater resources, job creation, innovation and R&D, and support for developing countries. Foreign investments give your business the opportunity to not only access resources in other countries but also support developing and growing economies.
5. Opportunity to Diversify Your Business Portfolio
Another significant benefit of international expansion is the ability to diversify your business portfolio. Entering a new market allows you to invest locally. You can support other local businesses, and regional sustainability efforts, and partner with local organizations that align with your mission. This further lends to your business's reputation and brand personality.
6. Offer Global Customer Support
When you open your business to international sales, you may find customers and prospects from different parts of the world. This means you will need global sales and support teams to nurture these customers.
While running global customer support may seem expensive and difficult to manage, you can adopt a follow-the-sun support model to manage your teams efficiently and cost-effectively. A follow-the-sun model uses advanced call forwarding to route incoming calls from one location to another. For example, you can route calls coming in from Europe to your remote team in London. Or, you can forward calls made between 9-5 within the Eastern Standard time zone to your team in New York. Or, you could just forward all calls, from anywhere in the world, to your main office in Mexico.
Some common routing strategies include:
Time-based routing – route calls based on the time of the call
Georouting – route calls based on the location of the caller
Skill-based routing – route calls based on the skills needed, such as language preferences or technical skills.
With such routing strategies available by cloud phone service providers, you do not need to have multiple offices globally. You can offer global care and support from your headquarters or through remote agents.
7. Access to Diverse and Skilled Talent
Next, you get to build a diverse workforce by accessing a large pool of skilled talent. Hiring global talent means variety in language skills and educational background. In fact, certain countries are known to excel in certain industries — like India with engineers and technologists. And so, you can attract high-quality talent from these regions as you expand internationally.
There are many benefits of having a diverse workforce:
Variety in skills and talent
Employing local workers and building local trust
Supporting locals
Reduced turnover rates, to name a few.
8. Gain a Competitive Edge and Improved Business Reputation
Together, all of these factors only add to your business' diverse portfolio, helping you gain an edge over your competitors. By being accessible globally, your brand can develop an international presence and reliability. Customers will be familiar with your business and service, leading to more sales, partnerships, and profits.
Is Internal Expansion the Future for Your Business?
Expanding globally is a big step, but thankfully, there are countless resources and support centers to help businesses take this step confidently. If you need a global telephony provider to support your global business communications, consider Global Call Forwarding.
We can provide you with local and international toll-free numbers from more than 160 countries worldwide. We also offer cloud communication solutions for remote countries so that you can communicate with your customers no matter where they are located. Want to learn more? Browse through our features and services, or speak with our representatives today.