The holidays are just around the corner. In many countries, they've already begun! As we move into the second half of the year filled with celebrations and festivals, you need to prepare your business for the holidays in a way that keeps both customers and employees happy.
How to Make Your Business Holiday-Ready
The holiday season makes for the most profitable time of the year (for most businesses) and brings you the opportunity to bring new customers on board. As we move into the holiday season, it helps to prepare beforehand and get your affairs in order.
Here are 6 ways to prepare your business for the holidays:
Plan your marketing and promotions
Establish vacation policies
Create call flows with holiday schedules
Hire and train seasonal workers
Take care of things you've been putting off
Update your website for the holidays
1. Plan Your Marketing and Promotions
The first step is to get your marketing plans and promotions in place. Use data gathered over the last year to determine what worked best for your customer profiles and what they now expect from your business. Some areas to get started:
Holiday content marketing — Put out relevant content for your customers about how they might use your product or service during the holidays (knowledge base, how-to guides, etc.)
Holiday promotions — Run special offers and deals for the holidays to bring in more customers
Updated company contact information — Reassure existing customers that your business will be reachable during the holidays and provide them with resources for off-hours assistance (chatbots, online ticketing and support center, etc.)
Plan your holiday marketing strategy to keep customers happy and maintain business continuity during the holidays.
2. Establish Vacation Policies
This is one of the most important policies to have in the workplace. If you don't have one, now is the time to write it. And if you do have one, it might be worth reviewing and/or updating it, if necessary.
A vacation policy guides employees and teams on how to take time off during major national holidays. You may base your vacation policy on a first-come, first-served or seniority basis, and you can even offer employees who choose to work on the holidays a reward for their time.
Establishing these guidelines beforehand will ensure you offer a fair vacation policy with clear expectations.
3. Create Call Flows With Holiday Schedules
Your business might have specific holiday schedules not just during the holiday season but throughout the year. It could be employees taking vacation and time off or your whole business taking a day or two off for national and public holidays.
It's a good idea to create call flows for your holiday schedules to determine what happens to incoming calls during these days. Holiday call routing lets you route incoming calls during specific holiday schedules to different phone numbers or locations. You can add special holiday greetings and voice messages with updated company information that callers will hear before they are routed to a satellite office, remote workers, or voicemail.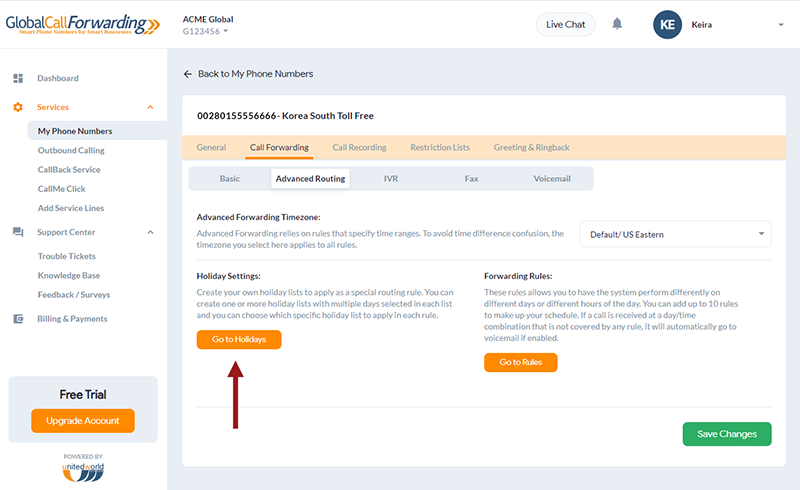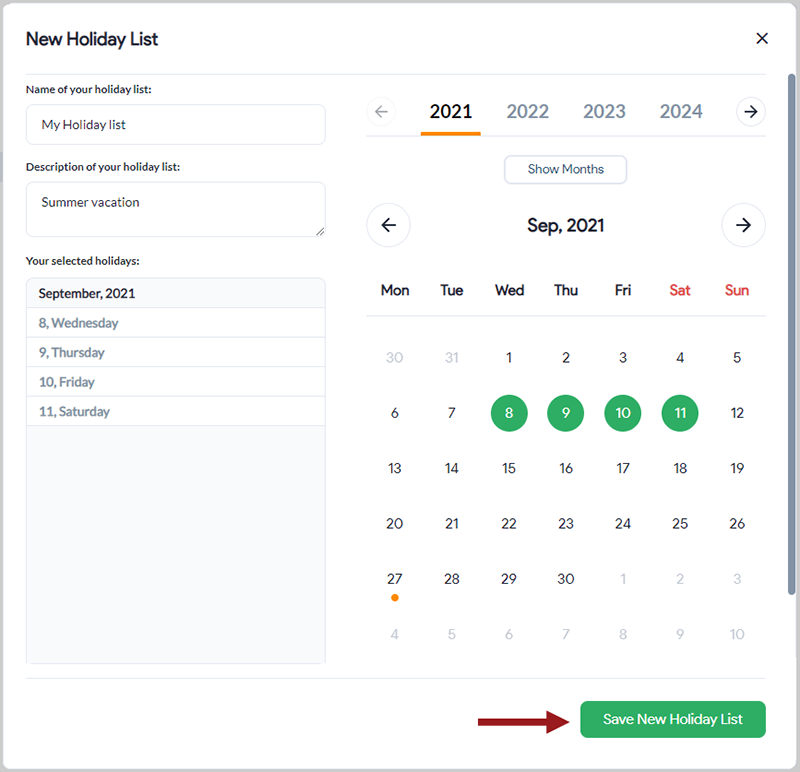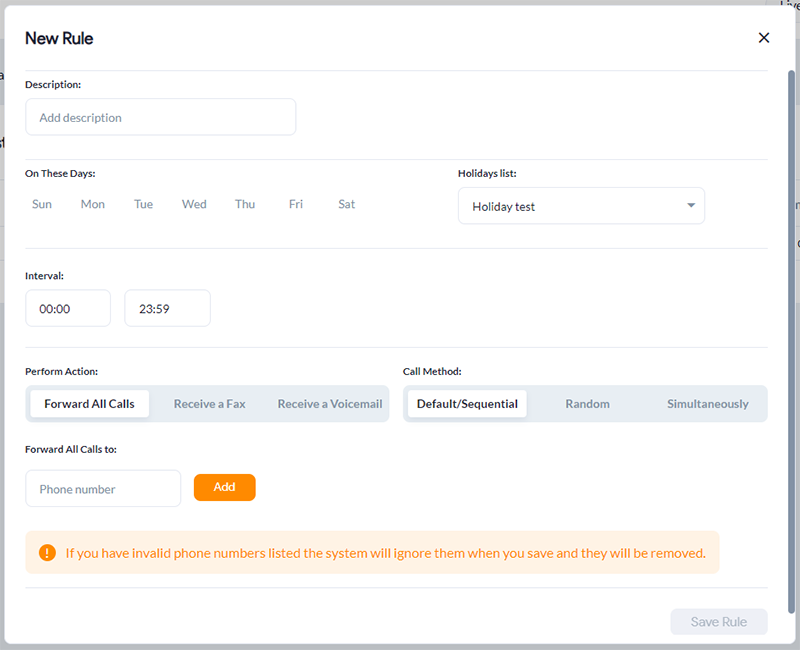 Check out our guide on how to set up holiday routing with Global Call Forwarding.
4. Hire and Train Seasonal Workers
You may need to hire extra staff to work during the holidays. This could be on-site seasonal staff or remote customer service staff to ease the burden on full-time employees. Without proper training, your seasonal team may prove more burdensome than helpful. This is why it's essential to hire early and spend enough time training them properly.
5. Take Care of Things You've Been Putting Off
At the beginning of every year, we think of new ways to improve how customers interact with our business to increase sales and customer satisfaction. If your teams drew up such plans but haven't implemented them yet, now is a good time to get things moving. As they say, "just in time for the holiday rush!"
6. Update Your Website for the Holidays
Lastly, make necessary updates and changes to your website and test to make sure it functions properly. Your website should run smoothly — especially the product, pricing, checkout, and payment pages — so that it can properly handle existing and new customer traffic.
Getting in the Holiday Spirit
As you prepare your business for the holidays, don't forget to get into the holiday spirit and celebrate with your teams, in whatever capacity is appropriate. This is a time to take a step back after weeks of preparing and be present in the moment.
Need a call routing solution for the upcoming holiday season? Chat with our representatives online or call us at +1 (561) 908-6171. Happy holidays!