The holidays have come and gone, and for the rest of the world, they are ready to get back to work. But for retail companies that means it's finally time for some rest. How did your company do during this holiday season? Were you able to keep up with all of your consumers' demands?
If you were caught off guard this time, you could always prepare for next season. The holidays bring with them a lot of customers looking to spend a massive influx of cash. In order to keep those customers coming back year after year, and of course during the year, too, you want to be sure that your customer service is running at peak performance. Here are a few tips to consider to make things run smoothly all year long, in addition to the holiday season.
Hire a Seasonal Staff
Since you are going to see a spike in your sales around the holiday season, you need to be prepared with the workforce to handle these new customers and large orders. During September you should begin to start thinking about where in your company you could use a few more hands. That way by October you can start interviewing and hiring more people so that your new staff will be fully trained and ready for the busy season by November. Your current customer service staff won't be prepared for the influx of queries from your clientele, so make sure that you stack your call center or customer service team with temporary support staff. You should also have a training plan in place and ready-to-go so you can get your seasonal staff on par with protocol and your seasoned team.
Motivate Your Staff
The holidays can be rough for people who work in the retail industry. While most of us take time off to spend with our friends and family, those in customer service positions don't have that option. While others are out shopping for presents, customer service associates and call center representatives are at the busiest point in their careers. This can be because of added stress and unhappiness over the holidays. Make it a point to keep your staff motivated and upbeat. This can be done in many ways, such as by offering special snacks, giving bonuses, reminding them of your gratitude for their hard work, and taking the time to speak with each representative one-on-one.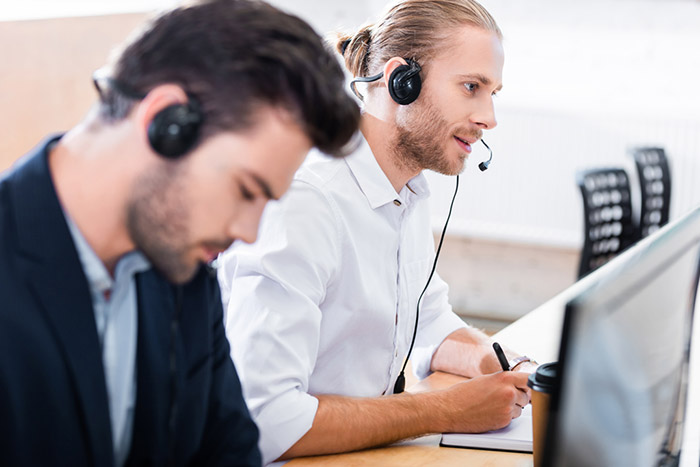 Automate Responses
If your staff is overworked, one way to lighten the load is to use technology. Your customers probably want to hear a live voice at the other end of a phone, but that doesn't mean you can't greet every caller with an automated greeting. This helps to make sure that every phone call is received. You can even set up an automatic email that responds to a customer once an inquiry is received.
This message can be to let them know that their email was received and your company is working hard on a solution to their problem, and you will get back to them as soon as you can.
Try a Self-Service Portal
Self-service portals are an excellent way for your customer service staff to become more efficient. Instead of answering the same questions all day long, their time could be better spent dealing with more complex issues. Set up an FAQ page on your website that customers can read instead of having to call customer service. This can work in tandem with your automated services. For example, if you set up an automated email account, you can send them a message stating that you received their message while also providing a link to the FAQ page. That way they can be routed there automatically to see if their question can be answered right away. This allows your call center staff to free up more time to deal with more pressing issues.
Since you will be dealing with more sales than you would usually be used to on a daily basis, be sure that you do not overwhelm your current customer service staff. Since you will be making extra money, you will be able to hire a seasonal staff that can take some pressure off of your current team. Be sure that you have a training manager ready and prepared to train all new incoming personnel, and you can also lessen workloads by creating FAQ pages and setting up automated messages. When you combine all four of these ideas, your company will be ready to take on the next holiday season.