The customer service representative is one of the most critical pieces of your business. They are the face of your company and the people who you trust to speak one-on-one with your customers.
We may sometimes forget how important a customer service representative's role truly is. They are given the duty to treat customers with respect and find solutions for a myriad of issues that can arise. An angry customer is not an easy challenge to overcome, and your staff needs to be adequately trained in customer service skills and must be talented enough to know how to handle various situations. Read on to learn how each customer service representative should handle every single call.
1. Swift Responses
Timing is a very crucial part of customer service. The response time to every inquiry should be dealt with quickly and accurately. Customers do not want to wait on the phone all day to ask an agent a question. They also do not want to wait for extremely long periods for a delivery or an email response. Your representatives must be trained properly to reduce hold times. Call center agents must understand the importance of timeliness in business.
2. Patience Is A Virtue
Many customers make calls to customer service lines because there is some issue with the product, whether it be damaged, missing pieces, or something else. This can undoubtedly frustrate some people, and therefore some people may come off as combative at first. A customer service representative that is patient, however, can easily diffuse situations with a negative customer. You might like this resource from Barbara Khozam about how to practice patience.
3. Positivity
Agents who can maintain a positive attitude despite dealing with a negative customer will be the most successful. Those with a positive attitude are aware that they do not need to bring their jobs home with them and become more successful overall. While positivity may be a mindset, there is training that you can cover. For example, you can train your agents on positive language to use over the phone and in person, such as "I can see how that would upset you, let's try to find the solution." Plus, a happy brain performs better.
4. Communicative
Customer service representatives spend their time interacting with customers. Therefore they need to excel in business communication skills. If they are not professional and conversational, perhaps they're not right for this particular job. Agents need to be concise, but they also know when to make a little small talk. This adds a human touch, but your agents should not be overly conversational, merely adding a personal comment to the situation your customer is describing is enough. Do not interrupt people and resolve their issue as fast as possible without being robotic.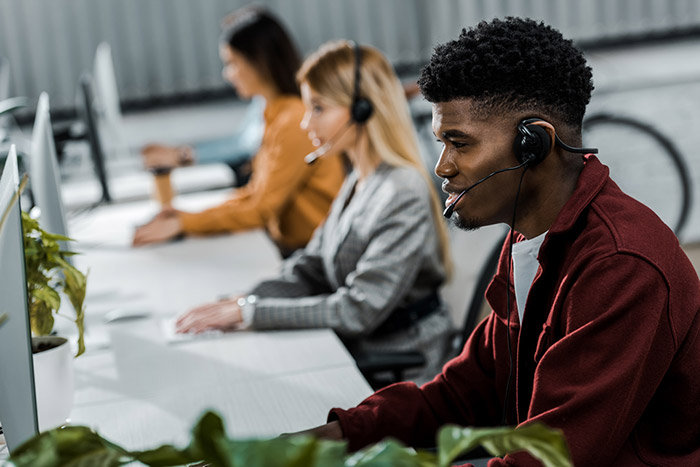 5. Empathetic
Empathy is an essential trait in any customer service agent. The ability to understand a customer's feelings and being able to relate yourself to their situation can turn a bad situation around. When customers call customer service, they're usually unhappy with something, and it is important that your customer service representatives apply empathy to every story they hear.
6. Knowledgeable
Being knowledgeable about the business whom these agents are representing is key in delivering excellent service. Be sure that all of your agents undergo a proper amount of training so that they are equipped with all the tools they need to be successful in this position. Training should happen regularly, not just at the time of hire. Agents should always be knowledgeable about current promotions, new products or services, and on technology updates to the systems they regularly use.
7. Attentive
All agents should possess excellent listening skills. Sometimes customers need to explain their issues in greater detail, and an agent needs to listen during the entire explanation actively. Also, when an agent offers solutions frequently, the customer is not interested in all of them, and an agent must be able to understand their customers' opinions and come up with more flexible solutions to suit the person.
Along with all of these skills, customer service representatives should always try to go above and beyond for their customers when possible. The best customer service representatives display all of these skills in each and every phone call. But that is not all, they also should be undergoing training, and it is important that your customer service agents stay motivated so that they can excel for your company and turn your customers into loyal brand followers.
If you like this article, you should check out this ultimate list of customer service tips for 2020.