In today's digital age, traditional phone numbers are no longer the only or best option on the market. An internet phone number offers businesses a cost-effective, flexible, and reliable way to communicate. So, let's break it down:
What is an Internet Phone Number?
An internet phone number is a number that uses an internet connection to transmit your business calls.
Other names for this service include:
These phone numbers look exactly like traditional phone numbers, as they include the same numerals and formatting. But, instead of using physical phone lines, they use the digital pathways of an IP network to deliver calls. So, these cloud numbers remove the physical limitations of traditional numbers.
Just like with traditional numbers, there are also different types of virtual numbers available including: Local or geographic, toll-free, national or non-geographic, and mobile. Don't want to read? We got you; we explain the differences in the below vid:
How Does it Work?
Internet phone numbers use voice over IP technology and a broadband network to transmit real-time voice calls between two or more parties.
Here's what the cloud calling process looks like:
When you place a call, VoIP takes your conversation and breaks down the voice data into digital packets. Then, these packets efficiently travel to the recipient using the internet as a pathway. And this process is called packet switching. Once the digital packets reach the final destination, they reassemble into audio, allowing you to communicate seamlessly.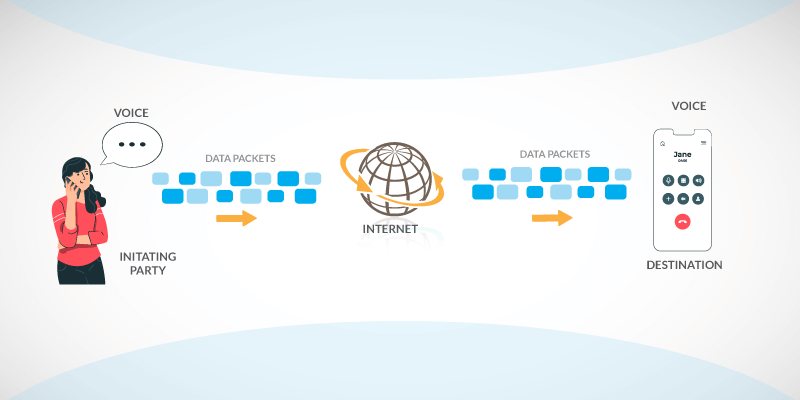 Why Use an Internet Phone Number For Your Business? [Benefits]
So, why should businesses get an internet phone number over a traditional one? Let's dig into the key benefits of getting a cloud number.
• Save on communication costs with lower long-distance and international calling fees.
• Tap into the flexibility and mobility that internet numbers offer by using the service from any location and device.
• Make and receive higher quality voice calls with IP-based calling, as these calls travel faster while delivering a clearer sound.
• Expand to new markets and localize your business using a cloud number in your target markets while avoiding relocation or an increase in your overhead costs.
• Experience improved network reliability with VoIP's built-in redundancy and failover capabilities.
• Scale your cloud phone service as needed. Add new lines and users or downgrade, all without changing your entire system.
• Increase the functionality and repurpose your existing equipment by plugging this service into your current setup.
• Connect global and remote teams with a centralized service that's accessible from anywhere in the world.
Advanced Business Calling Features
Most VoIP providers, like Global Call Forwarding, offer additional cloud communication features and add-on services with an internet phone number. With these tools, you can improve your call management strategies and modernize your business phone system.
Here are some top internet phone number features:
How to Get an Internet Phone Number
Getting an internet phone number is straightforward. Simply find a reliable cloud communications provider, like Global Call Forwarding.
There are many solutions available on the market. So to ensure you find one that fits your communication needs, make sure to research each provider's:
After you select a provider, choose your internet phone number country, type, prefix, etc. Then, sign up for the service and wait for your number to be activated.
For a more detailed guide, check out our resource on choosing a global telephony provider.
Internet Phone Numbers with Global Call Forwarding
If you're ready to get an internet phone number for your business, Global Call Forwarding can help you get started!
We offer a variety of cloud communication solutions including IP-based phone numbers from over 150 countries and a suite of telephony features. And we deliver 24/7 customer support and a 99.999% uptime guarantee.
It's quick and easy to sign up with us. Simply, select one of these options to get started:
Sign up for internet phone numbers through our website's pricing page.
Call us and speak with our experts at +1 (561) 908-6171. You can get custom plans that match your specific needs.
No matter which option you choose, we are here to help you get the best communication solution for your business. Sign up with us today!