Looking for a new business phone number or interested in upgrading your current phone system? Enter: SIP numbers.
Everyone – from small businesses to large corporations – can use SIP to build a more effective phone system. In this article, we'll cover the basics of these numbers, the benefits, use cases, how to get this solution, and more. This way, you know if this solution is right for your needs.
In this guide, we'll cover:
What Are SIP Numbers and How do they Differ from Traditional Ones?
SIP numbers use IP telephony technology to deliver voice calls between two or more parties over a network. In other words, these cloud-based phone numbers allow your business to make and receive calls through an internet connection.
So, how are SIP numbers different from traditional ones?
Instead of using physical phone lines – like traditional numbers do – SIP numbers use digital pathways to transmit voice. Although these phone numbers differ from traditional ones, they look the same. Both number types feature the same numerals and formatting. And this is why you're able to port your existing phone number to a new cloud-based provider.
Other names for this service include:
SIP lines
SIP trunks
SIP addresses
VoIP numbers
Cloud phone numbers
Virtual numbers and so on.
How Do These Numbers Work?
SIP stands for Session Initiation Protocol. It's a signaling protocol that powers SIP numbers and makes real-time IP-based calling possible.
When you place a call, this technology breaks down your voice into data packets and sends them to the receiver via a network connection. Once these packets arrive at your desired destination, they reassemble into voice. And this process happens in a matter of seconds for a seamless calling experience.
For a more in-depth look at how this technology works, check out our guide on how SIP trunking works.
Benefits of SIP Numbers
From its cost-effectiveness to its scalability, SIP has no shortage of benefits for your business. Let's take a closer look.
• Affordability
SIP numbers are one of the most affordable communication solutions on the market, especially when compared to traditional numbers. This is because they use the internet, allowing you to make local, long-distance, and international calls at inexpensive rates.
• Reliable High-Quality Calls
These phone numbers do not rely on physical landlines. This means that you not only experience higher call quality but also improved reliability.
For instance — If a call goes unanswered at its initial destination, this technology has failover capabilities that automatically reroute calls from one location to another. So with SIP's built-in redundancy, you can rest assured that you'll never miss a call, even during a power outage.
• Global Coverage
Global SIP services allow you to connect with prospects and customers around the world from your current headquarters. With Global Call Forwarding, you gain access to over 160 countries worldwide, making it easy to expand your business to new markets with minimal risk.
• PBX-Compatible
SIP numbers are compatible with most existing PBX systems. Simply plug this service into your current PBX to increase functionality and modernize your legacy business communication, without replacing your entire setup.
• Mobility & Flexibility
With a cloud-based SIP number, you're not tied to one geographic location or device. In other words, you can place calls using any IP-enabled device and from anywhere in the world.
• Advanced Communication Tools
Most providers offer users access to a suite of advanced call features that boost your system's performance. Some popular features include international call forwarding, caller ID management, softphones, IVR, and more.
• Scalability
You can modify and scale your SIP service as needed. Add, manage, or remove lines and users based on your business' growth.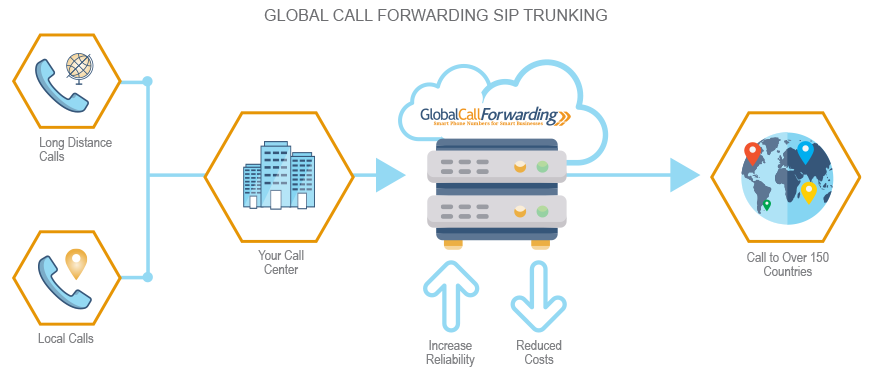 How to Use SIP Numbers [4 Use Cases]
Businesses of all sizes and industries can use SIP numbers to improve their service and drive growth. For a better idea of how your teams can use this tech, here are 4 examples of popular use cases:
1. Provide 24/7 customer support
With access to communication features only available through the cloud, you can offer 24/7 support to customers around the world. Simply set up location-based and time-based routing strategies or adopt a Follow the Sun model. So, when customers call your main SIP phone number, your system automatically routes them to the best available location.
2. Expand to new global markets
SIP numbers provide you with an easy and cost-effective way to enter new markets and expand globally without relocating your teams or offices. Get SIP phone numbers for each of your target countries and then forward incoming calls to your main headquarters. This allows you to access new customer bases with minimal risk while keeping overhead costs low.
3. Connect local, remote, and international teams
Since this technology provides mobility, flexibility, and centralized call management, you can use these numbers to connect teams across multiple locations (including remote and distributed employees) and encourage collaboration. Make sure to select a provider that delivers all your desired features and services in a single platform. Or, use APIs and integrations instead to develop your current system.
4. Localize your business
With a local phone number, your business can easily establish a local presence in target markets and boost connection rates with local customers. Get SIP numbers with recognizable area codes or use caller ID features to display a local number.
The great thing about cloud phone numbers is that they can be used in a number of ways because they are adaptable to your specific needs and business goals.
How to Get SIP Numbers (& Set Up Requirements)
To get SIP numbers for your business, you must find a reliable cloud phone number or SIP trunking provider such as Global Call Forwarding.
When researching different solutions on the market, make sure to review each provider's:
Pricing plans
Setup or hidden fees
Available services and features
Country coverage
Network reliability and uptime guarantee
Activation times and documentation requirements
Customer support offerings, and so on.
Once you choose a provider that's right for your business, sign up for their service and wait for the number to be activated.
Learn how to find the right telephony provider in our step-by-step guide.
While waiting, you can pass the time by making sure your setup meets the basic requirements to power SIP.
All you need to get started is:
Stable internet connection – we recommend using Ethernet cables instead of a WiFi connection, as it's more reliable.
Adequate bandwidth – allot at least 100 kbps for each call and consider configuring QoS settings for voice traffic prioritization.
Any device with an internet connection – this includes IP phones, softphones, computers, laptops, smartphones, tablets, etc.
As you can see, these numbers do not require complex setups or additional equipment to work properly. And while these are industry standard requirements to run SIP and avoid common problems, talk to your chosen provider about their recommended specifications. This way, you experience the reliability and high-quality voice SIP is known for.
Related: How to Set up SIP Trunking in the Cloud
Get SIP Numbers from Global Call Forwarding
Ready to get SIP numbers for your business? Global Call Forwarding can help you get set up, so you can start reaping the benefits.
We offer a variety of cloud communication services for businesses of all sizes including cloud-based phone numbers and SIP Trunking.
And we make it quick and easy for you to get started with these options:
Sign up for cloud phone numbers or SIP trunks through our website's pricing page.
Call us and speak with our experts at +1 (561) 908-6171. You can get custom plans that match your specific needs.
Fill out our contact form and request a demo.
Whatever option you decide, we are here to help you every step of the way with dedicated account managers and a wonderful support team that's available 24/7. Get started today!