Modern business communication continues to move away from traditional, on-premise PBX systems in favor of cloud-based ones. As a result, SIP trunking is standard practice in most business networks. SIP trunking in the cloud offers businesses more reliability, flexibility, and control. For instance, you can self-manage and set up cloud SIP trunks on your own. This allows you to quickly port new numbers and make changes to your service according to your business needs.
Configuring Cloud SIP Trunks
More and more companies choose cloud-based services like VoIP for their communication network. And VoIP cannot work without a SIP trunk configuration. To set up trunks, you can either collaborate with your service provider. Or, do it yourself. In this article, we will embrace the do-it-yourself mentality and help you get started with SIP trunking in the cloud.
SIP Trunking Recap
If you're new to cloud SIP trunks or need a refresher, let's review the basics of how SIP trunking works.
SIP, or Session Initiation Protocol, is a signaling protocol that makes SIP trunking and VoIP calling possible. SIP trunking uses this protocol to deliver calls over the internet. It doesn't require a physical connection, unlike traditional phone systems. So, you can easily integrate cloud SIP trunks into your IP-PBX or VoIP systems.
A cloud SIP trunk acts as a virtual phone line and includes multiple channels. One SIP channel is equal to one inbound or outbound call. SIP trunks with multiple channels will enable you to make and receive multiple calls simultaneously.
5 Cloud SIP Trunking Prerequisites
Before we dive into setting up SIP trunking in the cloud, there are a few factors to consider for a smooth integration:
Internet access – Since this service needs a network connection to function, it's no surprise that internet access is a top priority. Check that your internet is strong and stable. If you have business applications adding to network traffic, try dedicating a circuit or separate virtual LAN (VLAN) solely for your SIP traffic. This allows your cloud SIP trunks to operate at peak performance by receiving uninterrupted internet.
Proper bandwidth – Insufficient bandwidth contributes to many common SIP problems. Bandwidth affects your internet upload and download speeds – which in turn affects your SIP call quality. The minimum bandwidth speed for one SIP channel should be 100 kbps.
SIP compatible device – You may have a PBX system already in place at your office. But, SIP trunks cannot connect to a legacy PBX without needing extra hardware or IP capabilities. Before setting up, ensure you have the proper hardware (IP-PBX, VoIP devices, softphones, etc.).
Total SIP channels needed – Since one SIP trunk holds unlimited channels, you can conduct business using only one trunk. But, you'll need to add SIP channels for all calls happening at any given time. For example, 10 simultaneous calls require 10 channels. To understand how many channels your business needs, calculate the maximum amount of concurrent calls you receive at any given time.
Account details – Gathering information beforehand might make your setup process more efficient. Remember that the information needed to configure cloud SIP trunks might vary between providers. When setting up SIP trunking in the cloud, you need your VoIP account credentials (user ID, SIP domain, password), VoIP phone number, provider's IP address, and your IP address.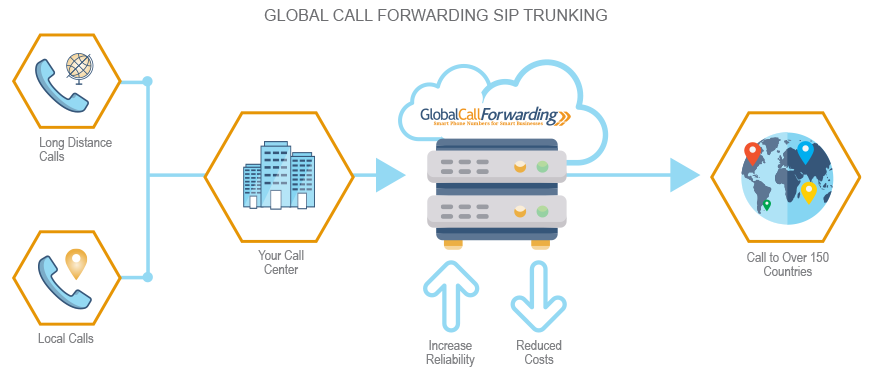 Setting Up SIP Trunks with Your PBX System
Cloud SIP trunks do not require any on-site installation, unlike traditional PSTN. Instead, you can manage your trunks through your IP-PBX or provider's online interface.
Many businesses use open-source PBX systems as they are free and fully customizable. Top open-source PBX solutions include:
Asterisk
FreePBX
Elastix
3CX
We have helped many customers connect our SIP trunking service with their own or third-party PBX software. Call us or chat with our experts to find out how!
How to Set Up SIP Trunking in the Cloud
When configuring cloud SIP trunks, things like menu options, order of steps, and required credentials all depend on what PBX software you're using. So, processes might vary from platform to platform. But, let's review some general steps:
Connecting your PBX and SIP Service
Adding Desired Number of Channels
Upgrading Legacy Systems
1. Connecting your PBX and SIP Service
In your PBX software, find and select the "add trunk" option to connect your PBX to your VoIP service. Then, name your trunk and enter your VoIP phone number. You'll also need to authenticate (sometimes referred to as a register string) your trunk by entering your VoIP account credentials. Most cloud SIP trunks will not activate until you complete this step since it secures your trunk. Additionally, your PBX might display an option to change your caller ID.
2. Adding Desired Number of Channels
Your PBX software may also require you to input the maximum number of preferred channels. Check with your VoIP provider for the number of channels they offer within a trunk (GCF: 10). You can also add channels through your provider based on your business needs.
3. Upgrading Legacy Systems
If you don't have an IP-PBX, you can purchase a VoIP gateway to enable your legacy phone system with SIP capabilities. This option demands additional hardware and setup with the help of your service provider. Additionally, you can use a softphone to make and receive calls. This option only requires you to enter your SIP credentials and set up call forwarding rules in our control panel.
Don't worry if you're still having trouble setting up your SIP trunk! Our 24/7 tech support team can help you use our SIP trunking service with your existing PBX systems and VoIP devices.
Best Practices for SIP Trunking in the Cloud
To get the most out of your cloud SIP trunking system, follow these best practices:
Prioritize voice data traffic – Quality of Service (QoS) controls the prioritization and distribution of bandwidth on your server. Giving priority to voice traffic ensures that your service operates at its full potential. It also helps reduce call quality problems like delays, latency, packet loss, and dropped calls.
Maintain software updates – Make sure your software is up-to-date and consider turning on automatic updates. Updated software increases system efficiency and sometimes gives you access to new features.
Use Ethernet – You're free to use Wi-Fi for internet access. However, Ethernet provides your network with increased internet speed and an overall more stable connection. Consider switching to Ethernet wherever possible.
Firewall restrictions – Although a firewall secures your network, it may restrict your cloud SIP trunks from functioning properly. To avoid this, whitelist your providers' IP addresses. And, make sure your firewall and PBX ports are open according to your provider's recommendations (GCF ports: 10,000 – 60,000).
Keep SIP info private – Try to keep your SIP credentials and login information secure since it provides access to your network.
Set Up Cloud SIP Trunking with Us!
While setting up SIP trunking in the cloud on your own is possible, it may be challenging for some. This is when having a dedicated and reliable provider with a responsive customer support team comes in handy. Our telecom experts can help provide you with the necessary info and support for your specific PBX system.
Contact us to help set up cloud SIP trunks at +1 (561) 908-6171 or chat with us online.