When building your business communication ecosystem, it is important to consider different options to find one that fits your needs. And while there are many pre-made communication and contact center solutions, your business may need something closer to home and tailor-made for your precise needs. That's where open-source PBX and VoIP solutions like SIP trunking come in handy.
Open-Source PBX for Business Communication
In short, open-source PBX is a free phone system available to the public. It's usually made up of Linux OS and PBX software, which allows users to program it to meet their needs and convert computers and laptops into a business phone system.
Benefits of Open-Source PBX
Businesses with a strong in-house IT team of developers and programmers might find open-source PBX more to their liking. This is because you can tailor and customize the PBX software to fit your business needs and connect your local, remote, and distributed teams with one central hub.
There are many benefits to using open-source PBX to upgrade your business communication system. These include:
Substantial cost-savings
Easier to install and manage
Highly customizable
Phone and call management
Can add different communication features and tools
Adding cloud functionality to your communication
Compatible with SIP phones, IP phones, and other devices
Top Open-Source PBX Solutions to Consider
If you want to customize your business communication and have an excellent team of in-house developers and programmers, then open-source PBX can expand and enhance your communication system. Top open-source PBX solutions include:
Asterisk
SIP Foundry
FreePBX
3CX
Elastix
FreeSWITCH
OpenPBX by Voicetronix
To learn more about these providers, check out our comparison of open-source PBX solutions.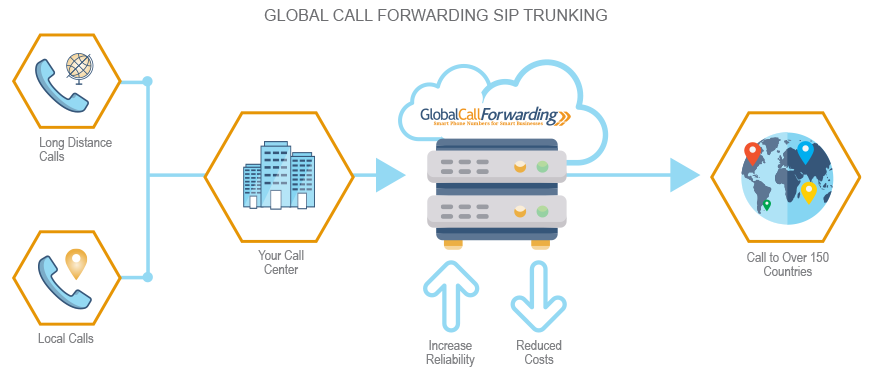 What is SIP Trunking?
SIP trunking is a telephony solution that transmits voice communication (voice calls) from one endpoint to another. Global SIP trunks hold up to 30 SIP channels, which enable simultaneous two-way connections through a VoIP provider.
Connecting SIP to your PBX system lets you bring cloud communication functionality to your phone system as well as other voice and call features.
Using SIP Trunks with Open-Source PBX
SIP trunks can be connected to an IP-PBX system or an open-source PBX software that connects incoming calls with extensions with an organization or company. And so, if your business has direct inward dialing (DID) or a bunch of DID numbers assigned to different employees and departments, you can forward incoming calls to your open-source PBX system, and then route them as needed.
Since SIP trunks can handle multiple calls at the same time, you can turn your PBX into a full-fledged business communication system by including other necessary features and tools.
Key takeaway: An open-source PBX and SIP trunking combination lets you build communication that works for your business. With such a customizable solution, you are not stuck in rigid systems with features and services that you do not fully use. Instead, you have a system designed to maximize employee productivity and efficiency while also improving customer experience.
SIP Trunks and Open-Source PBX with Global Call Forwarding
Global Call Forwarding offers a VoIP and SIP trunking service that can be easily integrated into your existing PBX system — including your open-source solution. To bring our SIP trunks into your system, you will first need to buy SIP trunks.
Then, you will enter your SIP credentials into the PBX system to configure the SIP trunks. You can even configure call routing and forwarding rules for advanced call management.
Our SIP trunking service is compatible with paid and open-source PBX solutions from Genesys, 3CX, FreePBX, Asterisk, Cisco, and more.
Example: How to Set Up a 3cx Phone With SIP Trunking
Finding the Right SIP Trunking Provider
Just like there are multiple PBX providers, you will also come across many SIP providers in your research. However, to choose the right provider, you first need to determine what you need from the service and how much you can spend on this legacy phone system upgrade.
Speak with our representatives to learn more about our SIP trunking service and how we can complement your PBX system. Chat with us online or call us at +1 (561) 908-6171.