E.164 is an international phone numbering plan for public telecommunications.
This numbering format defines a general format for international phone numbers. It ensures that calls are delivered correctly by assigning a globally unique number to each device on the PSTN.
In this post, we will look at the E.164 format and components, along with examples.
E.164 Format
The proper E.164 format is [+] [country code] [area code] [subscriber number].
This number can have a maximum of 15 digits. And there should be no brackets or parentheses when using these numbers.
E.164 Example
You might have seen US phone numbers written as +13051234567 or UK phone numbers as +442045678910. These are examples of proper E.164 formatting.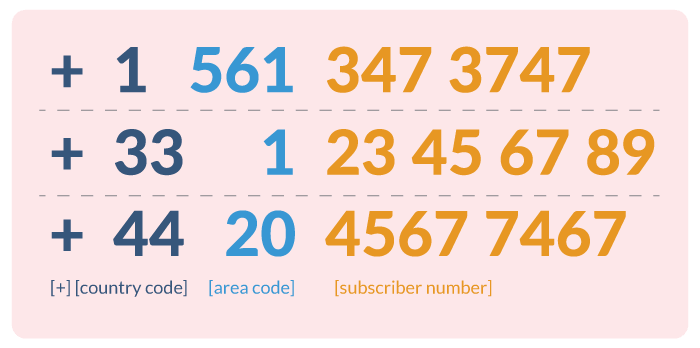 It's essential to use this formatting when dialing international phone numbers because E.164 is an international standard that carriers use to route calls.
E.164 Formatting Components
E.164 formatting consists of the following components:
Plus sign (+)
Country calling code
National destination or area code
Subscriber number.
There are an estimated 100 trillion permutations with this global numbering format.

How to Work with E.164 Formatted Numbers
If one doesn't follow the proper format, carriers won't be able to determine the destination of your call, and the call might not be completed.
Luckily, some calling tools automatically convert phone numbers to E.164 format using Javascript.
Benefits of These Numbers
This global numbering standard has many benefits for international communications:
Internationally recognized global standard
Defines telephone number formats
Helps secure the deliverability of calls
Ensures that each device has a unique phone number
Compatible with legacy technologies
Designed to support future growth.
Most importantly, these numbers ensure that you can reach any device on the PSTN and that calls are delivered properly.