In the past few years, we've had disruptions, inflation, looming recessions, and more. And businesses are questioning short-term and long-term goals and, more direly, budgets. In the middle of all the chaos and opportunities, you want sustainable solutions that promise business continuity.
After all, keeping the business running and making profits can prove challenging, every now and then.
Let's look at how to reduce costs without sacrificing service quality by outsourcing business operations with cloud telephony solutions like call forwarding solutions.
Businesses Want to Reduce Costs
Growing burdens on tech companies and, by extension, IT teams have led to drastic cost-cutting measures.
Venture funding continues to slow down; in fact, VC funding almost halved in the first half of 2023. This means that VC-funded companies need to extend their runway by adopting other measures.
And so, businesses are trying to reduce costs and achieve (or maintain) profitability by:
Consolidating services and technology,
Changing providers,
Switching to hybrid, remote models,
Finding cost-effective solutions and technology,
Laying off employees, etc.
And while this may come easy to certain businesses, not all are able to sacrifice their workforce and core business applications.
So, what realistic options are left? Outsourcing your operations.
Why Consider Outsourcing Business Processes?
There are numerous benefits to outsourcing. You can choose IT outsourcing (cloud computing, security) or business process outsourcing (sales, customer and tech support, accounting).
And through these services, you can enter new countries and establish a local presence in multiple target regions. By entering these spaces, you can benefit from new labor markets, diverse workforces, and access to new customer bases.
Furthermore, you can even find new providers that can offer you better tools and solutions at competitive rates. In fact, consolidation of communication, IT management, and support tools is a goal for about 83% of employees.
But the biggest benefit of outsourcing business processes is cost-savings. About two-thirds of businesses choose outsourcing primarily to save costs. These savings come from various sources:
Lower labor costs
Lower operational costs
No need for full-fledged local offices; remote teams, and so on.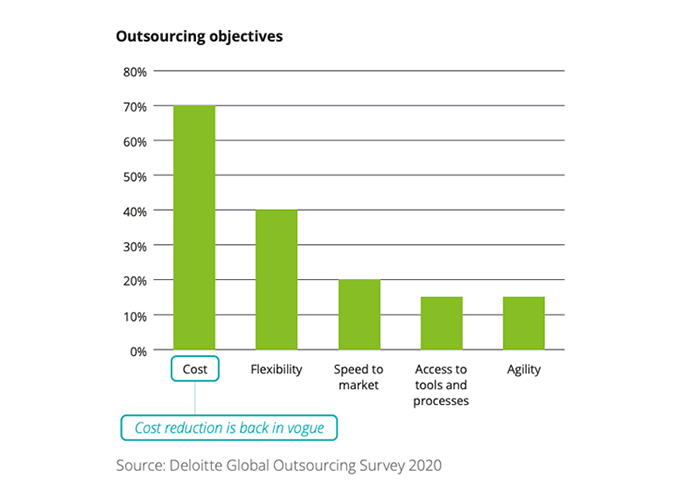 This makes outsourcing a prime opportunity for businesses wanting to cut down on operational costs without sacrificing quality and business continuity.
Outsourcing with International Call Forwarding
One way to save money is to outsource sales and support services. You can take advantage of a international call forwarding service to centralize and manage business communication globally.
How do you outsource customer communication?
1) Hire sales and support staff in different countries:
This staff can work remotely or in smaller offices. As for equipment, all they'll need to operate a cloud phone system is an IP-enabled device (computer, laptop) and reliable internet. They simply connect to your phone network and start making and receiving calls.
You can then route incoming calls to overseas people based on advanced routing rules. For example, forward calls during off-hours to staff located in different time zones. Or, route incoming calls from certain locations to remote teams closer to those callers.
This frees up your main service center to focus on other queries, hence reducing their burden. It also means you don't need to hire and train seasonal staff to manage fluctuating call volumes or holiday spikes.
Additionally, you can have your overseas people make outbound calls with your business phone number. So, instead of placing outbound calls on their own devices and having their personal phone numbers displayed as outgoing caller IDs, they can change it to display your business number. This maintains business uniformity making your company appear as a wholesome entity even when spread out.
2) Use call center outsourcing or BPOs:
These services take on your extra burden for relatively lower costs. This is especially true when compared to hiring new members in-house or a BPO in your own country. Plus, you don't have to worry about hiring and onboarding sales and support staff; the BPO takes care of it.
And they come with key cloud communication features to ensure your customers are assisted efficiently and accurately.
Related: Top Countries for Call Center Outsourcing
How Global Call Forwarding Can Help
A call forwarding service can ensure your customers reach your teams wherever they are located. And with a cloud-based service, you don't have to worry about high calling fees, even with international calls.
Our teams can set you up with the right solutions to keep all your local and distributed teams connected. We've helped countless businesses reduce communication-related costs with reliable voice solutions.
Plus, our global network of local telecom operators helps us provide global phone services without interruptions or exorbitant rates.
Want to find out more about our call forwarding service? Call us or chat with our experts today. We're here to help!