As an IT infrastructure manager or network engineer, your time on the job should be spent maximizing efficiency and reducing costs while building reliable business systems.
Do you spend too much time managing global voice services through multiple portals? Are you and your procurement team overburdened with contracts from multiple telecom vendors? There is a better solution.
Consolidating Global Voice Services
In the past, to have local phone service and numbers in different regions and countries around the world, your business would need to contract services through different legacy telecom operators.
For example, you would get UK numbers through British Telecom, India numbers through Reliance Jio, France numbers through Orange, and so on.
As you can imagine, this becomes cumbersome as your business scales and your global ambitions expand. That is why many businesses are now signing up with a single international DID provider and managing their voice services through one unified platform.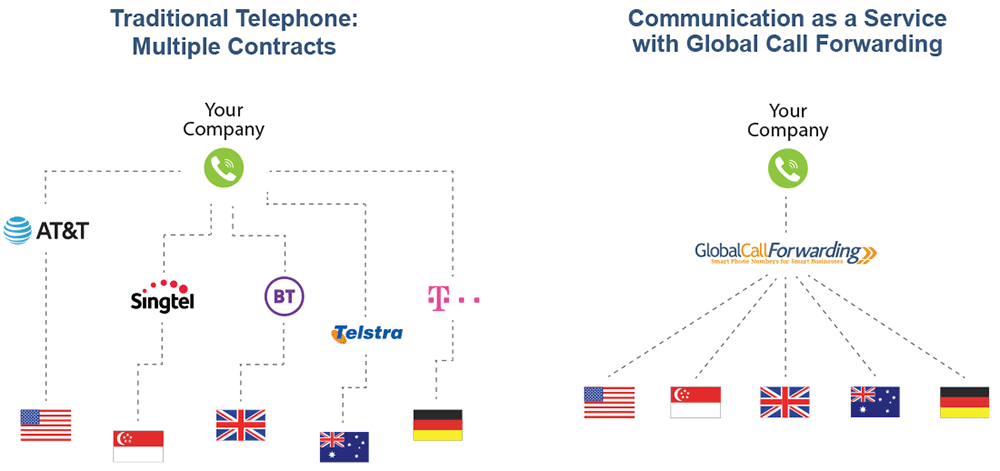 Leveraging one global telephony provider to support multiple locations can boost efficiency, add flexibility, and provide better visibility across your operations. It will also help cut costs.
1. Time Spent More Efficiently
There are many downsides to a network infrastructure that grows too sprawling.
Locating information from different providers can prove challenging.
Maintaining staff training for multiple products is costly and ineffective.
Making changes across multiple platforms happens in a time-consuming manner.
Luckily, you can manage all your global phone numbers in one place. When you contract services with a single vendor, it becomes much easier to make changes.
Manage all your voice services in one place, rather than juggling multiple platforms.
2. Easier Resolution of Issues
In the event that issues arise, coordinating with multiple vendors and systems can severely impact your resolution time. Different carriers likely also have various points of contact. Tracking down which sales and support people to reach out to can be time-consuming and requires extra organization.
When you consolidate voice services with a single vendor, troubleshooting and ticket resolution become more streamlined. You will also have a better gauge of the time-to-resolution with a single vendor.
3. Better Visibility
Ensuring total visibility and mapping all the phone numbers in your company's network can be challenging when they're sprawled across multiple vendors. Especially in case of an emergency.
By consolidating your telecom services in a single voice network, the task of mapping your phone numbers and executing changes becomes much easier.
4. More Reliablility (High-Availability)
Different providers may offer varying service levels. When you consolidate your telecom services with a single vendor, you'll know what to expect in terms of speed of resolution and support quality.
Naturally, you should choose a telecommunications provider that maintains a high-availability network and excellent voice quality.
5. Cost-Savings
When using multiple carriers to provision your phone numbers, you may find it difficult to manage expenses and keep an accurate account of your total cost of ownership. You might even need to hire someone full-time to manage invoices and track costs.
However, when your telecom services are contracted with a single vendor, it becomes easier to stay on top of billing.
For instance, we've helped companies save up to 87% on telecom expenditures by switching to our global cloud-phone service.
Whether you use an outdated legacy system or an overpriced provider, you will see cost savings by consolidating your voice services with a single telecom provider.
6. More Flexibility
When it comes to provisioning new numbers and optimizing call flows, you want to streamline this process and avoid doing so across multiple carriers. Not to mention, many telecom providers impose strict contracts that limit flexibility. By opting for number provisioning through a single carrier, you'll enjoy greater flexibility.
7. Accelerated Digital Transformation and Transition to the Cloud
If you're stuck managing number provisioning across multiple legacy carriers, now is the time to explore a transition to cloud communications. You'll see vast benefits! From using an intuitive cloud-based interface to enjoying greater reliability and peace of mind, digital transformation should remain a priority in the coming months.
Reasons to Choose Global Call Forwarding Instead of Multi-Carrier Provisioning
When it comes to global telephony, there are countless reasons to choose Global Call Forwarding. We have more than 27 years of international telecommunications experience and long-standing partnerships with local and regional operators worldwide.
We offer a global inventory of local, toll-free, mobile, and national phone numbers along with a suite of advanced features to power your business.
Stuck with a multi-carrier provisioning strategy and want to explore better alternatives? Contact us 24/7 to learn more.