Voice calls remain a vital customer service channel because customers can receive immediate, real-time, and tailored support. Phone calls allow customers to express their queries and concerns, especially complex ones, more clearly. This helps in gathering detailed information and offering accurate solutions. Using the gathered information, agents and reps can also identify opportunities to upsell relevant products and services.
But it all comes down to how calls are handled when they arrive at your business.
You can optimize the quality of customer engagement with efficient call handling. Additionally, call handling tools and practices will better equip your agents to foster deeper connections with customers. Let's discuss:
What is Call Handling?
Call handling refers to the process of managing inbound and outbound calls from start to finish.
This includes answering and transferring calls, addressing inquiries, giving pertinent information, resolving issues, etc. The benchmark of good handling is a positive customer call experience.
Caller experience is closely related to customer gratification. And if you don't already know, even a single negative encounter can make customers switch to your competitor. And so, call handling plays a crucial role in shaping customer journeys.
The complexity of handling calls varies across industries depending on factors such as nature of industry, products and services offered, and level of customer interaction involved.
But how do you handle calls efficiently? You train your employees and agents well and you invest in the right tools and techniques. More on this below.
How it Works
You can apply call handling best practices to both inbound and outbound calls. Let's look at how:
Inbound call handling
The process of handling inbound calls begins with receiving calls that come to your business phone system. Calls must arrive at the right department or agent.
Then, agents must attentively listen to the caller's needs and obtain details. This helps in providing information or problem-solving assistance, such as transferring calls to an appropriate department.
Once customers confirm that the issue has been resolved satisfactorily, agents can thank the callers and wrap up. If a caller is unhappy with any given solution, agents can escalate the call or take a request for a callback with another resolution.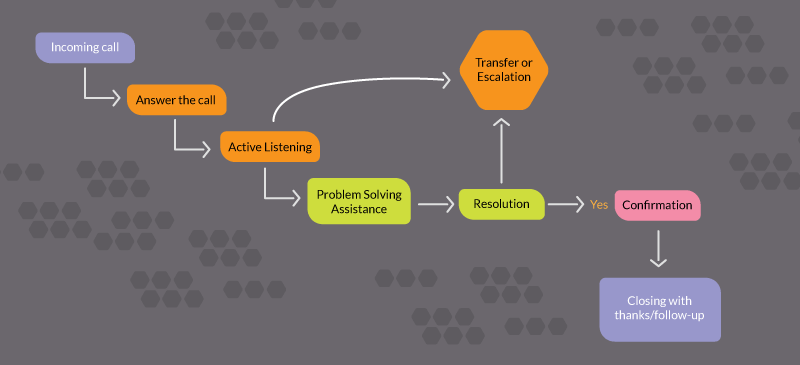 Outbound call handling
Outbound calls—such as customer service calls, cold calls, upselling or follow-up calls, etc.—are initiated by the business to customers or prospects. These calls are more proactive in nature.
Effective call handling skills assume a critical part in achieving sales conversions, lead generation, market research, and such other desired outcomes.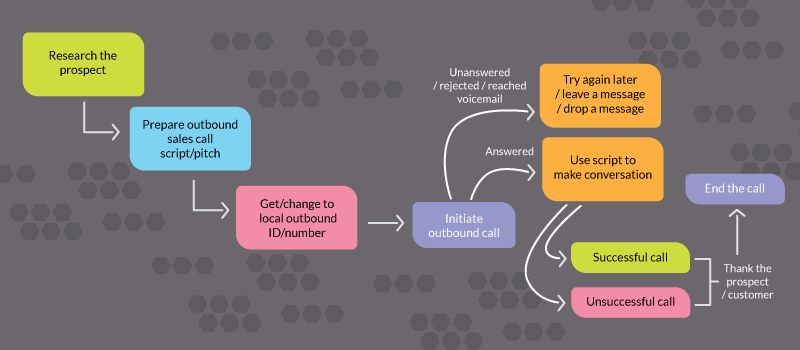 The goal of both call formats is to ensure customer satisfaction, delivery of quality service, and effective call management from the beginning till the end.
5 Key Benefits of Handling Calls Efficiently
Over 40% American customers prefer resolving issues with businesses over phone calls. So, it might be a good idea to invest in call handling tools or solutions.
Here are some benefits of handling calls efficiently to help you make the decision:
Resolve customer queries, issues, and requests, promptly and professionally
Streamline the communication process, allowing agents to handle calls smoothly
Enhance customer experience to elevate your brand image
Upsell or cross-sell products and services
Improve customer happiness and retention rates.
Essential Call Handling Skills
Positive caller experiences contribute to positive brand perception and customer loyalty, ultimately leading to business success. By mastering the below skills, your agents can ensure a clear understanding and accurate exchange of information.
So what are some of the essential call handling skills?
Customer-facing agents must actively listen to understand customer needs.
They must use clear and concise language and adjust tone while engaging in a dialogue with the caller.
Once all the information has been gathered, agents should analyze the issue and offer relevant solutions, thereby guiding customers towards resolution.
To make the call more customer-centric, agents could personalize the interaction. For instance, agents can review the customer's history, such as previous calls or purchases, and refer to them during the conversation.
For continuous improvement, you can utilize scripts, evaluate call handling approaches, undergo training, seek feedback, and implement enhancement.
Call Handling Software Businesses Can Leverage
Call handling software and skills go together in effective call delivery.
While skills help agents in communicating well, the right tools support them with necessary resources and infrastructure for communication.
Here are some key call handling software and tools with strategies that your business can leverage.
1. Standardize Call Resolution with IVR
Reduce caller wait times and provide quicker resolution with optimized IVR systems. You can design an IVR menu that aligns with common routine inquiries. This allows callers to access information and departments, and in some cases, even perform simple tasks without the need to speak with an agent.
With a well-designed IVR system, you can send callers to different locations and teams, when your primary team is occupied. This reduces and manages high call volume for routine inquiries, allowing agents to focus on more complex or critical issues.
All of this helps to optimize agent availability, boost operational efficiency, and deliver a more efficient and cost-effective call handling process.
Check out our IVR call flow templates to see what you can do with a customizable solution.
2. Optimize Call Distribution with Call Routing
Call routing is a valuable call management solution because it promptly directs callers to the right person or appropriate department. This means your customers won't experience long wait times and won't have to move through multiple agents to get assistance.
Upgrade your cloud phone system with an intelligent call routing system. It is a sophisticated technology that automatically routes your incoming calls based on predefined rules. These rules can be location-specific, time-specific, and so on. In fact, Global Call Forwarding offers intelligent call routing solutions with each of our phone number plans, and we can help you set up the right system for your business.
3. Revisit Calls with Call Recording Software
Quality assurance and performance maintenance checks will ensure that calls are handled consistently in line with predetermined criteria. With call recordings, you can evaluate calls, assess agent performance, and train them to deliver high-quality customer service.
Call recording is a reliable method of capturing and storing customer interactions. So, in the event of disputes with callers, you can use call records to verify facts and settle conflicts.
Furthermore, you can store important details discussed during calls, facilitating follow-up actions and ensuring consistency in customer interactions.
Global Call Forwarding also offers a hosted call recording feature where you can record both inbound and outbound calls.
Still Unsure About Investing in Call Handling Solutions?
Call handling directly impacts client happiness and loyalty. It ensures queries and issues are addressed and resolved in a timely manner. You can drive overall business growth by delivering an exceptional caller experience.
But call handling software and tools could seem daunting. So let us help you arrive at the decision.
Speak with our representatives and let them help your business communicate better!