If you're doing business in Australia or have lived there, you've probably seen different phone number types, including 1800 numbers, 1300 numbers, 04 mobile numbers, and local area code numbers.
1300 numbers, in particular, are popular among businesses in Australia.
But what exactly are 1300 numbers and why do businesses use them?
What Are 1300 Numbers?
1300 phone numbers in Australia are 10-digit telephone numbers that can be dialed at local call rates from in-country.
As the name suggests, they start with 1300 and are followed by 6 digits, like 1300 123 456.
This type of phone number can act as a single point of contact for your business in Australia. For example, you can publish a 1300 number on your website or on other marketing materials.
This phone number type can give your business a professional appearance and encourage people to call your business.
Difference Between 1800 and 1300 Numbers
1800 and 1300 phone numbers are commonly used by businesses in Australia. However, while both number types are popular, there is one main difference in the way incoming calls are charged.
For calls made to 1300 numbers, both the caller and the number subscriber share the costs.
Calls made to 1800 numbers, on the other hand, are completely free for the caller. The costs are borne by the number subscriber or the business that owns the numbers.
1300 Number Features
1300 numbers come equipped with many features that make them a preferred choice among Australian businesses. With these numbers, subscribers can easily set up advanced features like voicemail, IVR, advanced routing, and call recording.
1300 number subscribers also give access to call activity reports to see how many calls were received in a given time period and where the calls originated.
Do 1300 Numbers Work Internationally?
Yes, for the most part, 1300 numbers are accessible internationally. However, the caller needs to have international dialing enabled.
The caller just needs to enter Australia's country code (+61) before making the call, followed by the subscriber number. The caller will be charged international tariffs for making the call.
Does the United States Have 1300 Numbers?
There's no such thing as a 1300 Number for the United States.
In the past, many phone plans were metered, meaning that subscribers had a fixed number of minutes they could use each month. Subscribers also paid for making long-distance calls domestically.
However, that is no longer the case. A majority of people have unlimited phone plans, so it doesn't matter where they're calling in the US – it's all included in their phone package.
The United States has local phone numbers, mobile phone numbers, and toll-free numbers. The number type that you get is simply a matter of preference. Hyper-localized campaigns tend to favor local area code numbers, while other businesses tend to prefer a toll-free number.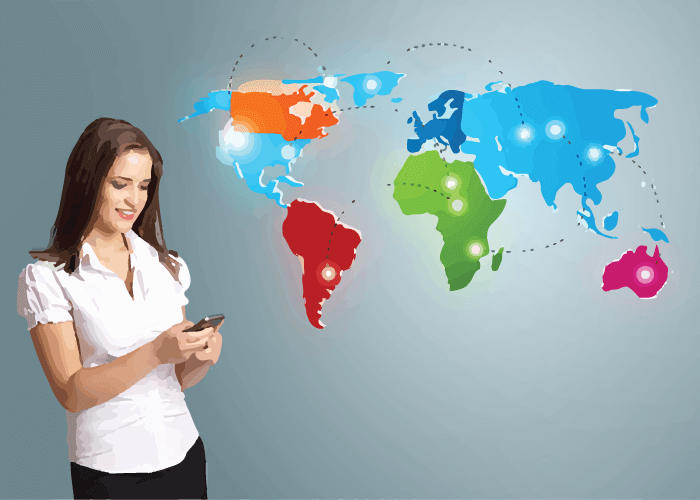 How to Buy a 1300 Number in Australia?
It's easy to get a 1300 number in Australia. In fact, your business doesn't even need to be based in Australia to buy a 1300 number. You just need to find the best 1300 number provider and sign up.
In most cases, the activation process can take as little as 1 business day.
1300 Number Providers
There are numerous 1300 number providers in Australia. When choosing the best provider, you'll want to evaluate several factors:
Monthly recurring cost of subscribing to the number
Initial setup costs
Per-minute charges
Additional costs for optional features
In general, we've found that Global Call Forwarding, Alltel, Zintel, Koala Calling, and Arrow Voice & Data are the best 1300 number providers in Australia.
Learn how to pick the right phone number provider in our guide to global telephony providers.
How Much Does a 1300 Number Cost?
Let's break down the costs associated with these numbers. We'll cover the costs of getting a 1300 number and the costs of dialing a 1300 number from Australia.
How Much Does It Cost to Get a 1300 Number?
There are a few costs associated with getting a 1300 number. As a business subscriber, you'll need to consider the monthly costs, initial setup costs, volume-based charges, and optional features.
In general, 1300 numbers start at 20 AUD per month plus setup costs.
However, these costs will vary among providers. When getting a 1300 number, you never want to sacrifice quality for a lower cost. Since you will use this number for your business, you don't want customers to form a negative opinion of your business because you tried to save a few dollars.
How Much Does It Cost to Call a 1300 Number?
Call charges and tariffs to a 1300 number depend on whether the caller calls from a mobile phone or a landline. When people dial 1300 numbers from landlines, they pay a local call rate. On the other hand, charges for people calling from a mobile phone will depend on the caller's phone service provider.
How Do 1300 Numbers Work?
1300 numbers work as inbound phone numbers that can be used to receive incoming calls.
You can forward calls coming to your number to any mobile phone, landline, or PBX globally. For example, when someone in Australia dials your 1300 number, you can choose to receive the call on your cell phone.
1300 numbers from a cloud-based provider offer tremendous flexibility over how inbound calls are managed. These numbers can be managed through an online portal and the calls are terminated over the PSTN.
1300 Numbers Use Cases
Businesses can use an Australia 1300 number in many ways. Here are the most common use cases:
As a main business number (for Australian businesses)
As a local contact number for Australian clients
As a dedicated phone number to track various marketing campaigns
Whether you're an established business or just starting out, your business can benefit from having a 1300 number.
Why Global Call Forwarding is the Best 1300 Number Provider in Australia
One of the factors making Global Call Forwarding the best 1300 number provider is our reliable network with multiple PoPs worldwide, including in APAC. We also have more than 27 years of telecommunications experience – founded in 1996 – and are available 24/7.
Interested in getting a 1300 number for your business? Look no further! Simply sign up online or chat with us today. We're here to help.