Inbound phone numbers are versatile business tools. They can help with everything from establishing a local presence in a foreign country to modernizing your current phone system.
But, what exactly are they? And how do they work? We'll answer these questions and more in this article. So, let's jump right in.
What are Inbound Phone Numbers?
An inbound phone number is a cloud-based number that allows you to receive inbound calls and forward them to any device or location.
These numbers go by many names including:
VoIP numbers
Cloud phone numbers
Hosted phone numbers
Virtual numbers
SIP numbers and so on.
So, what's the difference between regular phone numbers and cloud-based ones? The answer lies mainly in the way they transmit calls.
Regular phone numbers rely on traditional telecom networks and physical connections to deliver calls. And they are assigned to a fixed device or phone line, meaning they are typically tied to one location.
On the other hand, virtual inbound phone numbers use VoIP technology and the internet to connect calls worldwide. And instead of being assigned to one device or line, they are linked to a user's account. This means they are not confined to one specific geographical location or device. So, you can handle calls from anywhere.
How Do These Numbers Work?
In addition to using VoIP technology and an IP network, inbound phone numbers also rely on call forwarding capabilities to transmit voice calls globally. With this capability, incoming calls are automatically rerouted to one or multiple destinations.
This can include:
Alternate phone numbers
Phone extensions
SIP addresses
PBX systems
Specific devices (deskphones, mobile phones, etc.)
Remote teams
Voicemails and so on.
And you can set up advanced rules to forward calls based on the time of day, the day of the week, caller ID, and more.
Here's a quick glimpse into how routing calls can improve operational efficiency:
Now, let's review how the international forwarding process works.
When someone dials your inbound phone number, the call first connects to your provider's network. Once your number is identified, the provider automatically routes the call according to your configured forwarding rules and settings.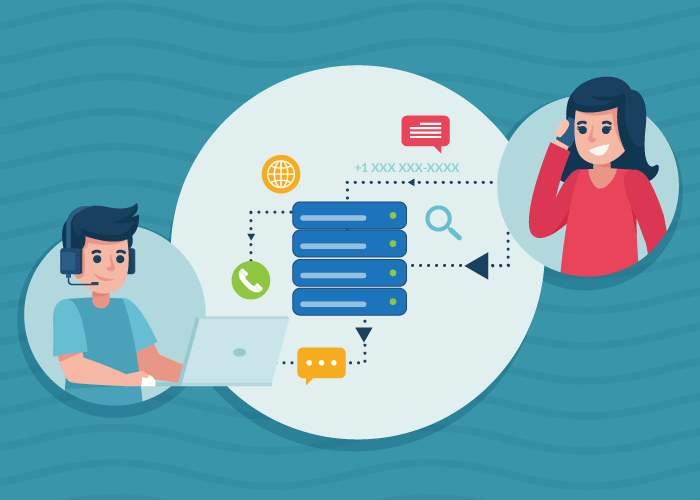 This allows you to receive incoming calls from customers all around the world – including places where you're not physically present.
Here's an example of international call forwarding:
Let's say your business is located in the US, but you have a growing customer base in APAC. You could get an inbound phone number from Japan and forward all incoming calls to this number to your US headquarters. So when your local customers in Japan call your Japan inbound number, the call will automatically reroute to your US branch.
This not only allows your business to easily establish a local presence in foreign countries, but also boosts your accessibility and availability to international customers.
Types of Inbound Phone Numbers
When looking for a cloud-based number, it's important to note that there are different types of inbound phone numbers available on the market. And this is because each type of number serves a specific purpose.
To ensure you choose the right inbound number type for your communication needs, let's break down each one.
Local / geographic numbers
Assigned to specific cities and geographical locations in a country
Includes the region's local area code
Can be reached from outside the country
Charged at local calling rates
More recognizable among locals
Good for – Establishing a local presence in another country or city, increasing connection and response rates, and localization marketing strategies.
International toll-free numbers
Reachable from within a specific country
Free for callers to dial from within the origin country
Recipient (your business) pays for calls
Includes regional toll-free prefixes
Good for – Sales and support teams, help desk hotlines, boosting your accessibility, encouraging consumers to contact you, and adding credibility to your business.
National / non-geographic numbers
Tied to a specific country or nation instead of a specific city
Reachable worldwide
Charged the same as local numbers (local calling rates)
Good for – Developing a nationwide presence instead of a citywide one and avoiding strict documentation associated with local numbers.
Mobile numbers
Known as cell phone numbers
Reachable from anywhere in the world
May come with incoming SMS capabilities
Good for – Employee's direct phone numbers and including in outreach materials to encourage customers to contact you.
Why Get Inbound Phone Numbers for Your Business? [12 Benefits]
VoIP technology and hosted phone numbers have revolutionized the way businesses communicate with their customers and prospects. And this is because cloud communication solutions, like inbound numbers, offer a wide range of benefits to users. So, let's take a look at the top 12 benefits of investing in inbound phone numbers.
Save big on international and long-distance calling fees
Experience higher-quality voice calls
Effectively handle inbound calls with access to call management features
Receive calls at any location and on any device
Maintain business continuity with improved reliability and redundancy
Expand to new target markets cost-effectively and with minimal risk
Easily scale your cloud phone service to reflect business needs
Increase functionality and modernize existing systems, including legacy and on-premise
Connect international, remote, and distributed teams
Forward calls anywhere in the world
Increase connection rates and inbound sales
Simple setup with no additional hardware required
Advanced Business Calling Features
Most VoIP providers, like Global Call Forwarding, offer add-on services and advanced features with their communication solutions. These additional cloud tools work to maximize the functionality of your inbound phone numbers and help businesses better manage their calls.
Here are some key features to look for when browsing cloud number plans:
Advanced IVR – automatically handle and route incoming calls using prompts and rules
Outbound Calling – place outbound calls using your inbound line
Softphones / Web Phones – make and receive calls from any location or device
Caller ID Management – customize your outbound caller ID by hiding or masking it
Call Routing – route calls based on time of day, caller ID, number dialed, holidays, etc.
Call Recording – record all calls and easily play back recordings
Failover Forwarding – forward calls to backup destinations if first location is unavailable
Greetings & Voicemails – personalize your phone system to fit your brand identity
VoIP Integrations – connect your PBX or CRM to your inbound phone numbers.
How to Buy Inbound Phone Numbers?
By now, you're probably wondering how to buy inbound phone numbers for your business. The great news is that the solution is intuitive, making it easy to get started.
Let's break it down into 4 simple steps.
Step 1: Identify target countries
Consider what countries, regions, or markets you need and want phone numbers for.
Step 2: Select a phone number type
Review types of inbound phone numbers available and their differences (listed above). Then, compare those options to your business communication needs and goals.
Step 3: Find a reliable provider
This is the most important step when purchasing inbound phone numbers, as not all cloud services are created equal. The provider you choose will directly affect the quality and reliability of your global inbound phone service. And since there are many options available on the market, this step requires in-depth research to ensure you select the best solution for your needs.
So, look at each provider's offerings carefully. Specifically, consider:
Pricing plans
Setup charges and hidden fees
Available services, features, and add-ons
Country coverage
Network reliability, failover strategies, and uptime guarantee
Activation times
Documentation and setup requirements
Long-term commitments or contracts
Compatibility with existing equipment and third-party applications
Customer and technical support services
Years of telecom experience and so on.
Then, select the provider that can support your communication goals and criteria.
Step 4: Sign up for your inbound phone numbers
Typically, you can sign up for hosted numbers online through your provider's website. Simply select your desired countries, number types, and prefixes. Then, sign up for your inbound numbers and wait for your service to be activated.
Get Inbound Phone Numbers with Global Call Forwarding
Global Call Forwarding provides local, international toll-free, national, and mobile inbound phone numbers from over 160+ countries worldwide. And with over 5 pricing plans to choose from, businesses of all sizes and industries can select the one that works best for them.
With our inbound phone service, we offer all users:
Access to 20+ advanced cloud communication features
Dedicated account managers and 24/7 support options
A 99.999% uptime guarantee and a highly redundant network
Fast activation times, provisioning, and setup
Over 25 years of telecom experience and more!
Get started today by signing up online. Or learn more about inbound phone numbers by either speaking with our team of experts at (561) 908-6171 or chatting with us online!