The global economy is much broader and more lucrative. So, expanding to new markets is in your business's best interest.
Advanced technology makes it easier than ever to expand your business internationally without increasing overhead costs. And with the rise in cost-effective telecom solutions, businesses are able to enter markets where numbers and phone services are generally harder to get.
That's where global telephony providers like Global Call Forwarding come into the picture. We can help you add global coverage to your business phone system with international phone numbers and advanced call features.
Building a Global Communication System
Global telephony providers offer cloud communication solutions such as voice, messaging, phone numbers, and call management tools. And since these services work over the internet, businesses can use them to communicate with customers in different countries and regions worldwide.
In most cases, your business does not even need to open a new office or physical location in these countries. You simply forward calls internationally or communicate via web apps.
So, how do you add global voice coverage to your business phone system without dramatically increasing overhead costs?
Purchase international phone numbers for target countries.
Work closely with your phone service provider to manage phone service in hard-to-reach countries.
Set up international call forwarding to have incoming calls routed to the right department and office anywhere in the world.
Use outbound calling with caller ID management when making outgoing calls to customers in target countries.

Increasing Global Phone Coverage with Global Call Forwarding
Limited global coverage and documentation restrictions are the main obstacles corporations face when expanding. So, how can your business get around this problem? Work with a global telephony provider that offers high-quality voice service and has an extensive network of local telecom partners.
United World Telecom (our parent company) has long-term relationships with trusted Tier 1 Carriers worldwide. This allows us to provide our customers with one of the widest offerings available on the market.
New players in this space do not specialize in this area of the telecom industry. So, the numbers they provide may be more limited, come with stricter documentation requirements, or take longer to activate.
Due to our positive reputation in the industry and the trusted relationships built with our providers, we offer our customers phone numbers with fewer documentation requirements than other providers and at competitive rates. And we provide added flexibility with our month-to-month billing and no long-term commitments – which our customers prefer over the strict contracts required by many telecom providers.
Using Our Service with Other Providers
Since some global phone providers have limited coverage and require stricter documentation for most originations, they may be harder to work with. But that does not mean you need to find a new phone service if your communication system is already built with other providers. You can simply integrate our services and rare or hard-to-reach international numbers with other providers like Zoom Phone, Amazon Connect, Aircall, and so on.
Global Call Forwarding (run by United World Telecom) has an extensive inventory of phone numbers from over 160 countries around the world. And we can provide phone service in hard-to-reach countries as well. So, your business can use our service to add global voice coverage to your existing phone system reliably.
View the available countries we offer service for on our Country Coverage page.
Adding Global Coverage with Global Call Forwarding
1. Add global coverage with BYOC
BYOC lets you forward calls directly to SIP. This is the best option for businesses that want to add numbers to an existing PBX system and/or have limited minutes. You can simply buy numbers from us and forward calls to your PBX. Here's how:
Buy desired numbers from Global Call Forwarding and activate your service.
Contact your PBX or phone service provider.
Give them your list of phone numbers and our list of IP addresses. Your provider has to whitelist these IP addresses so you can receive calls.
Your PBX provider will then create a special SIP domain for each number
Add this SIP domain in your control panel under Forward all calls to, so we can forward calls to the right domains.
Note: We support G.711/μ-law and G.711/a-law codec for sending calls.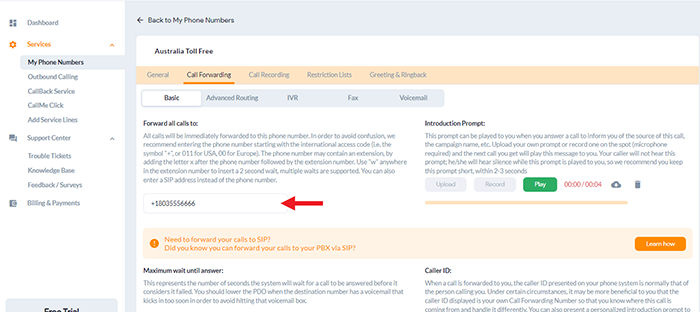 2. Add global coverage by forwarding directly to the number
Alternatively, if you already have local numbers with another telecom provider but need additional global coverage, you can buy international numbers from those countries with Global Call Forwarding. Then, you can simply forward incoming calls to your local number. This is the best option if you have an unmetered plan with your local phone number provider. And you avoid the hassle of dealing with SIP domains and whitelisting IP addresses. You can do this on our Pricing page.
Challenges to Keep in Mind
Most global phone service providers offer international phone numbers and various cloud communication features. But, they may come with limitations that can impede your business' global expansion plans:
Limited global coverage
Worldwide coverage is typically limited to just Western Europe and the Americas. This means that providers may not have a strong presence in the Middle East, Latin America, or Africa. So, if you have customers in these regions or want to expand, you will need an additional phone service provider.
For instance: Zoom Phone offers phone numbers in 45 countries and toll-free service in only 29 countries (of which some are inbound-only).
Amazon Connect offers phone numbers and inbound calling from about 80 countries, DID and toll-free numbers in nearly 20 countries, and outbound calling for 200 countries.
Stricter documentation
Additionally, new players in the telecom space may require stricter documentation for most originations. This could be a result of short-term experience, smaller networks, different business models, and so on. But it can add more roadblocks to your international expansion plans.
Note: Information mentioned in this article is accurate at the time of publishing and may be subject to changes.
Finding the Right Global Phone Service Provider
While there are countless global inbound phone services available, you need to find one that works best for your business communication needs. Here are some questions to consider when looking for a global telephony provider:
Which countries do you need coverage for (regions you want to expand)?
What is your overall voice communication budget?
What communication tools or features can improve the way your business communicates with international customers?
Do you need phone service in hard-to-reach countries or countries with political instability?
And finally, can this provider offer reliable coverage for those countries with your desired features and within your budget?
Keeping all of this in mind, you can determine which global telephony provider for your business communication needs.
Ready to add global voice coverage to your phone system? Call us at +1 (561) 908-6171 or chat with our experts online!