You're probably wondering – aren't toll-free numbers obsolete in today's technology-driven business environment? While toll-free numbers have existed for decades, they are still relevant to this day. In fact, most businesses use different types of cloud-based toll-free numbers as tools for marketing efforts or to expand their services globally.
But the trick is to find the right type of toll-free business phone number.
Yes – there are different types of toll-free numbers. And while they may appear similar (or even the exact same in some cases), each serves its purpose. In this article, we'll compare domestic vs international toll-free numbers. This way, you can make an informed decision when building your business communication network.
Choosing Between Domestic vs International Toll-Free Numbers
Domestic and international toll-free numbers are two of many toll-free options on the market. It's important to understand the difference between these options, as they offer businesses different functionalities. Let's get started!
Domestic Toll-Free Numbers
Domestic toll-free numbers, or DTFs, feature the classic 800 code associated with most toll-free services. These numbers are country-specific. In other words, they only work for callers within the same country as the phone number's original location. Domestic toll-free numbers are also free for callers in the same region to dial.
For example: Callers in the United States can use your US toll-free number to contact your business free of charge. But, domestic toll-free numbers aren't typically accessible to foreign callers. So, the US toll-free number wouldn't be accessible to your customers in Japan.
Domestic toll-free numbers are a great solution for those looking to grow their business and customer-base nationwide. Additionally, DTFs convey to customers that your business is reliable and well-established. This encourages consumers to reach out and interact with your business, increasing both sales and customer satisfaction along the way.
International Toll-Free Numbers
International toll-free numbers, or ITFNs, provide a contact method to callers outside your business' country. These numbers are also country-specific and can be forwarded to any location.
For example: If your business is US-based, you can get international toll-free numbers for different countries like Japan or Brazil. Callers in Japan and Brazil can dial these international toll-free numbers at no cost. Then, you can route these inbound calls to your headquarters in the US or even to your home office using international call forwarding.
International toll-free numbers provide businesses with a quick and cost-effective way to expand to new global markets. They use an international toll-free service (ITFS) to help you establish a local presence without needing physical offices in that specific country. You can enter and even test your target countries' markets without increasing overhead costs. And with a cloud telephony provider, you save money on excessive international and long-distance calling fees.
Comparing Domestic vs International Toll-Free Numbers
Now that we know the purpose of these numbers, it's time to compare domestic vs international toll-free numbers.
Similarities Between These Types of Toll-Free Numbers
These services are quite similar at face value. So, let's start with the similarities.
Availability – Most countries support both domestic and international toll-free number services. So, country availability depends on the service provider you choose. Make sure your chosen provider offers toll-free number services in your desired countries.
Country-Specific – Both types of toll-free numbers are country-specific. This means you need a different toll-free phone number for each of your target countries.
Access to Cloud Features – Cloud toll-free numbers, like DTFs and ITFNs, come with access to advanced call features. Some of these cloud communication tools include advanced IVR, customized greetings, and intelligent routing capabilities.
Caller Accessibility – Both of these numbers are free to dial. In this case, the phone number owner gets charged instead of the caller. This encourages customers to get in touch with your business at no cost.
Device Accessibility – Both numbers allow you to make and answer calls from any device, including PCs, tablets, and mobile devices.

Differences: Domestic vs International Toll-Free Numbers
So, what type of business toll-free number should you choose? This depends on a few factors such as country coverage, customers' locations, communication budget, and more.
Key differences between domestic vs international toll-free numbers include:
Service nature
Forwarding capabilities
Restrictions
Cost
Let's take a deeper look, so you can make an informed decision.
Service Nature – The major difference is that domestic toll-free numbers are generally used for calling within your country of origin. And, international toll-free numbers are used for calling outside your location. You cannot use a domestic toll-free number for international calling and vice versa.
Forwarding Capabilities – While ITFNs allow you to forward your calls to any location, domestic toll-free numbers limit your forwarding capabilities. For example, you can forward calls to your US domestic toll-free number to any location within the United States. But, you can't forward those calls to anywhere outside the US.
Restrictions – It's important to note that there are restrictions sometimes included with these numbers. These restrictions vary depending on the country and provider you use. You may encounter limitations like mobile constraints, partial country coverage, fluctuating telecom regulations, and so on. But, domestic toll-free numbers usually have fewer restrictions associated with them. Work with your international toll-free number provider to find the best solution for your communication needs.
Cost – Domestic toll-free numbers typically have lower monthly fees than international toll-free numbers. On the other hand, ITFNs can help you save on international calling costs. Either way, both types of cloud numbers are more affordable than legacy phone systems.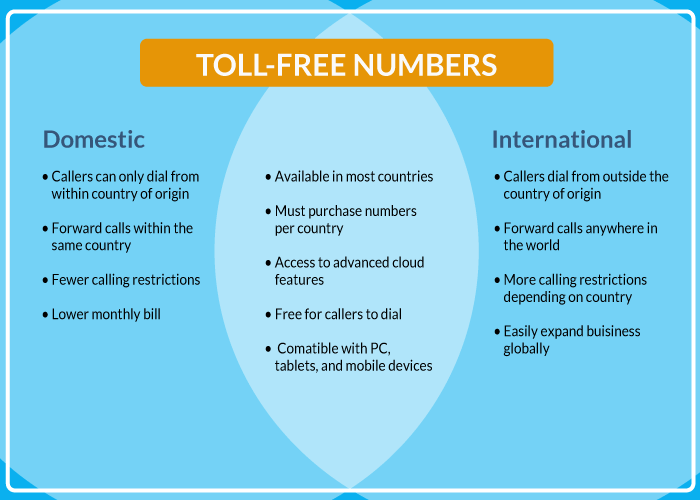 Deciding What's Best for Your Business
It's hard to decide whether your business needs a domestic or international toll-free number. They share similarities while supporting unique functionalities. To make the best choice for your business, ask yourself these questions:
1. What are your business communication goals?
Do you want to test new markets? Or nurture your current customer base? Outlining your specific goals clarifies your business needs. Then, you'll be able to decide what solution is best for your company.
2. What is your business communication budget?
It's always a good idea to analyze your budget! When upgrading your business communication stack, consider your IT budget to determine what's financially suitable for your business.
3. What would your domestic or international toll-free number plan look like?
Visualize what these phone numbers would look like for your business. What countries or cities would you want access to? And if you plan on forwarding calls, where do you want them to forward to – your desk, home office, or remote call center? Picturing your business phone network might give you a better idea of what you want out of your toll-free service.
Still Can't Decide? We Got You Covered
Still struggling to decide if domestic vs international toll-free numbers are right for you? We have been advising international corporate customers on this topic for more than 20 years and want to help you find the best toll-free number provider. Speak with our representatives today at +1 (561) 908-6171 for a free consultation to determine what toll-free number service is right for your business.