We live in a highly-connected and online-obsessed economy, leading to the expectation that individuals and businesses should always be available. So what happens when your business suffers an outage or gets stuck in the middle of a storm? Thanks to cloud computing, you can plan for these disasters by creating easy-to-implement disaster recovery plans. Geo-redundancy is one way to maintain business continuity, even in a disaster.
Geo-Redundancy for Business Continuity
When organizations separate or spread servers across multiple data centers, they increase the chances of business continuity during outages, catastrophic events, and natural disasters. Implementing geo-redundancy between data centers ensures that critical business applications and data remains secure and accessible. It does so by replicating essential data as well as IT and VoIP infrastructure. Then, it stores it in these different centers for safekeeping.
Let's look at how VoIP geo-redundancy can help businesses continue communicating in the face of disaster.
What is VoIP Geo-Redundancy?
Geo-redundancy is the distribution of important components or infrastructures across multiple centers in different locations. If your primary location (headquarter) fails, geo-redundancy provides a safety net.
VoIP geo-redundancy (also known as VoIP failover) does this for your business VoIP phone system. It acts as a backup in case your primary location endures a disaster or outage that impacts business continuity.
So, what is the purpose of VoIP geo-redundancy?
VoIP geo-redundancy can help maintain business continuity and keep your business phone system running, even in a disaster. If your main phone system fails due to hardware, networking, power, or other issues, calls can failover or forward to another location.
This way, your business can continue communicating with customers and vendors while keeping your data and systems safe.
How to Set Up VoIP Geo-Redundancy?
There are a few ways to set up VoIP geo-redundancy for your business phone system:
Build redundancy into your network and its elements (routers, switches, access points, and so on).
Support your LAN infrastructure with appropriate backup power along with secondary and tertiary internet connections.
Include legacy connections like PRIs or modern phone connections like SIP trunks in your disaster recovery plan.
Get a highly-redundant VoIP service provider with 99.999% uptime who can continue providing service.
Set incoming calls to automatically forward to a different location or team if your main office is unavailable.
As you can see, there are a few different ways you can include geo-redundancy with your VoIP systems. And businesses that use cloud phone systems will have an easier time implementing these strategies than on-premise systems.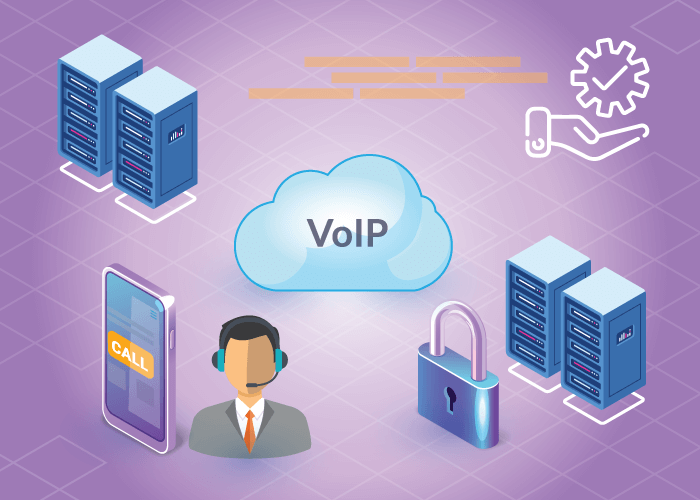 Top 7 Benefits of VoIP Geo-Redundancy
VoIP geo-redundancy is a top business priority, especially in this digital age, because of the countless benefits it can bring to businesses:
1. High Availability Services
High-availability phone service can guarantee 99.99% uptime. This way, you can continue to operate your business with little to no downtime or recovery time while ensuring data integrity. Want to know more about our highly redundant service? Learn more about the Global Call Forwarding network.
2. Multiple Redundancy Use Cases
Here are some common VoIP geo-redundancy use cases:
Network — Install additional network devices and phone lines, increasing network availability.
Power — Support your IT infrastructure with a backup power supply, including UPS devices and generators.
Colocation — Have geographical distance between two physical locations so that operations can be failed over to the other location to maintain business continuity.
3. Plan for Disaster Recovery
Whether affected by natural disasters, power outages, or a sudden war, you can keep your business running by planning ahead. Re-route services to a functional data center or backup distributed teams.
4. Maintain Business Continuity
When you use services with high availability and plan for disaster recovery, you create a structured approach for unplanned circumstances. This ensures that critical data and applications remain safe while your business operates efficiently.
5. Improved User Latency
You can even have data centers or points of presence (POPs) located near your end-users to reduce delays and improve response times. And since the distance between servers and users decreases, you can increase and maintain high call quality, improving the caller experience.
6. Build Efficient Systems
With geo-redundancy, you can build an efficient business phone system with advanced call management and other UC capabilities. Control and manage call traffic to achieve maximum performance with the highest voice quality.
7. Affordable and Scalable
More importantly, VoIP redundancy brings affordability and scalability to your business. Using a system like this allows you to upgrade and add new software or applications without risking downtime. You can even use geo-redundancy to support your remote and distributed teams, making physical distance less of a hurdle. The best part? These upgrades come with little to no costs as your teams and operations grow.
Related: Modernizing Legacy Phone Systems: How and Why to Upgrade?
VoIP Redundancy with Global Call Forwarding
VoIP geo-redundancy is essential to protecting your cloud phone system. It not only ensures your business remains "active" and "available" at all times but also safeguards data and applications. It's not too late to get started.
High call quality and network reliability drives our global voice service – enabling businesses to connect with customers no matter their location. We also have multiple POPs across the Americas and APAC and an in-house-built secure voice communication app compatible with all platforms. Additionally, we can help you set up failover plans for your business phone system via advanced call routing, intelligent IVR, international call forwarding, and more.
Want to know how we can support your redundancy plans? Speak with our telecom experts today; call us at +1 (561) 908-6171 or chat with us online!