An in-depth guide to VoIP infrastructure for business communication. Learn how an efficient VoIP architecture can set your business up for success by making voice calling reliable, crystal-clear, and cost-effective. We will cover:
Optimizing Your VoIP Infrastructure
When adding VoIP functionality to your virtual phone system, you need to consider the best way to design your communication infrastructure to increase reliability, reduce costs, and maintain high call quality. Optimizing VoIP infrastructure means preparing your phone system for success and giving your employees the right tools to do their jobs effectively.
What is VoIP?
To understand VoIP infrastructure, we must first understand voice over IP (VoIP) and how it works. Voice over IP is a common and popular technology that enables communication between two parties over the internet instead of traditional phone lines. With traditional lines, voice traveled via electrical signals and copper wires; this meant the farther the voice traveled, the more you paid.
On the other hand, VoIP converts voice into digital signals and transmits voice messages over the internet instead of traditional copper lines. And so, you can place long-distance and international calls without paying high calling rates. Additionally, since these calls run over the internet, the voice quality is high and reliable. All of this makes VoIP a solid communication solution for businesses that want to expand their services worldwide.
So, what is VoIP infrastructure?
VoIP infrastructure is the setup of your backend voice infrastructure and how calls will move between a business, its offices, and customers. It refers to the connection, bandwidth, software, hardware, phone equipment, VoIP phone service, softphones, internal connections, and external connections that will make up your business communication system.
What to Consider for a VoIP Infrastructure?
When planning out your VoIP phone system, you need to consider different layers of VoIP infrastructure to determine your needs. These are the main VoIP requirements to pay attention to:
1. VoIP Phone Service
First, you need a reliable VoIP phone service that will give you the features, services, and coverage you need. Peruse and compare different VoIP providers so that you understand what they offer and how they can help you build a robust and cost-effective phone system.
2. Business Phone Numbers
You might even need to purchase cloud phone numbers or port your existing VoIP number to your new service. Most VoIP providers offer business phone numbers such as toll-free, local, and international numbers from different countries worldwide. These numbers come with international call forwarding so that you can forward them to your team's location anywhere in the world. You can buy multiple numbers for target countries and forward incoming calls to your main office, regional and remote teams, or call center.
3. Hardware Phones and Equipment
Based on your communication needs and business setup, you may require some hardware and equipment. This usually includes physical desk phones that work with VoIP such as Grandstream or Polycom, computers and laptops, headsets and microphones, etc.
4. Software and Softphones
You can also go the other route and use a cloud-based softphone. Softphones let users make and receive calls from devices such as computers, laptops, tablets, smartphones. You can use a softphone from a web browser or as a computer or smartphone app. They provide more flexibility and mobility as users can connect from any location or device, and they don't need a desk phone at all times. Most VoIP providers offer a softphone with their service but make sure you check when finding a new provider.
5. IP-PBX System & SIP Trunking
If you already have a VoIP-enabled phone or an IP-PBX system (3CX, FreePBX, Cisco, etc.), then you can simply connect your VoIP phone solution to your existing phone system. This means you do not have to plan out or re-adjust your VoIP infrastructure for a new service.
You can also integrate SIP trunking within your cloud PBX or IP-PBX system. Bring Your Own Carrier (BYOC) is a service where you bring your own VoIP or SIP trunking carrier and plug it into your existing phone system. This way, you get to choose and control what carrier and service quality you want for your phone system.
6. VoIP Bandwidth
To make VoIP work, you need a VoIP service and an internet connection with a suitable bandwidth to handle your business' call volume. This makes VoIP bandwidth an essential part of your VoIP infrastructure. When finding a new provider, check with them how much bandwidth will be required to manage your call volume. This is usually determined by the number of phone lines needed, how many calls occur simultaneously, and other applications using the internet.
7. Internal and External Connectivity
Call management is crucial to operating a business efficiently. VoIP can span across different locations and teams, connecting them all together via one centralized hub. And so, you need to determine how your teams will communicate internally and externally what VoIP features will help manage this communication. In other words, how will your teams communicate amongst themselves and with your customers and vendors?
Small businesses might handle all communication within one office and use phone, chat, and email to collaborate. But they may have to manage incoming calls from customers in other regions and countries. Similarly, medium-sized businesses might have teams spread across key target markets and need to regularly manage incoming calls from global customers. In these cases, you will need to consider how your VoIP phone system will handle these calls and route them effectively to the right department or agent.
8. VoIP Security
Lastly, you want to understand how secure your VoIP network is and how to maintain security across the whole system. Have a conversation with your provider; ask them how their service is encrypted and what ensures network security. Additionally, ask how you and your teams can keep your systems safe. If you manage remote teams, make sure you have a BYOD policy in place so that employees know how to keep their devices and, by extension, your business information secure.
5 Common VoIP Network Diagrams
When you choose to switch over to a VoIP system, you want to design a high-performance, low-cost one that meets your business needs and infrastructure. And so, we've listed down some common VoIP diagrams to illustrate visually how a VoIP phone system is set up.
Here are some examples of VoIP network architecture:
1. Cloud-Based Phone System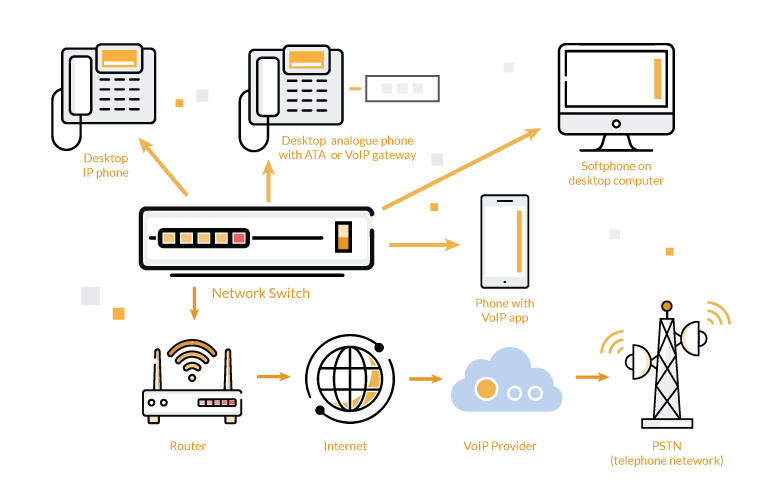 A cloud-based VoIP phone system runs over the internet and connects across different locations and countries. Most cloud or hosted VoIP systems are hosted by the provider. In other words, your VoIP provider hosts or manages the servers and technology. This means that your business does not need to worry about operating and maintaining servers. You only need a deskphone and an internet setup to make your VoIP phone system work.
This is what a standard VoIP architecture looks like:
The business will likely have one VoIP service provider and an internet service provider (ISP) offering cable internet, DSL, or fiber working through a router.
Each workstation or desk will have one Ethernet network drop and a network switch.
The switch then connects to all necessary devices such as your deskphone, computer, softphone, etc.
2. IP-PBX System With SIP Trunking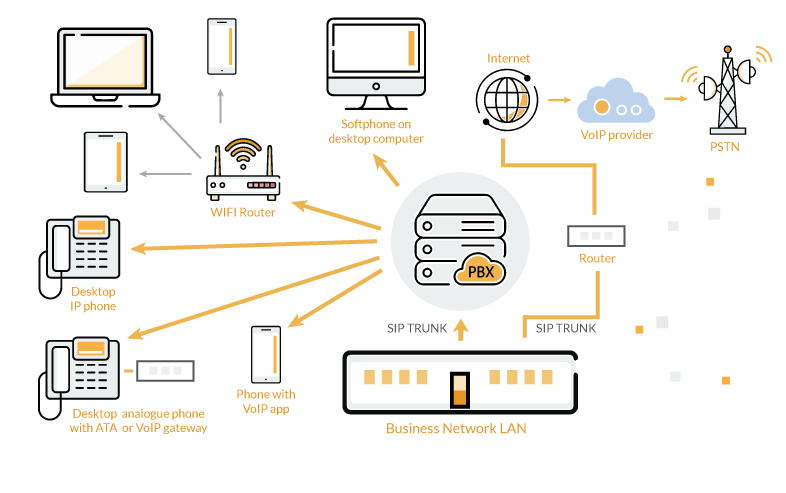 Most businesses might already have a PBX system installed for their communication needs. In this case, switching to a VoIP infrastructure is relatively easy as you simply need to integrate it with your IP-PBX system.
A PBX is a private phone network connecting all phones within a business. You can connect this PBX to your PSTN lines, foreign exchange office (FXO) ports, or SIP trunks. A common combination is using SIP trunks within an IP-PBX system. SIP trunking allows your teams to make and place calls simultaneously without the need for physical lines connecting to the system. Since PSTN is becoming increasingly outdated, SIP trunking is often a PSTN replacement solution.
This is what an IP-PBX with SIP trunking VoIP system looks like:
The business will likely have one ISP offering cable internet, DSL, or fiber working through a router.
They will also subscribe to a SIP trunking service.
Users will then have to plug in their SIP credentials into their PBX system, which connects to other phones, computers, softphones, etc.
3. Single Office Location

This VoIP architecture is for small-to-medium-sized businesses that primarily operate from one location.
The business will likely have one internet service provider (ISP) offering cable internet, DSL, or fiber.
Each workstation or desk will have one Ethernet network drop and a Power over Ethernet (PoE-enabled) switch for VoIP implementation.
Connect VoIP phones to the network drop.
If you opt for softphones, connect computers or laptops to the network drop instead.
4. Multiple Office Locations (Global Offices)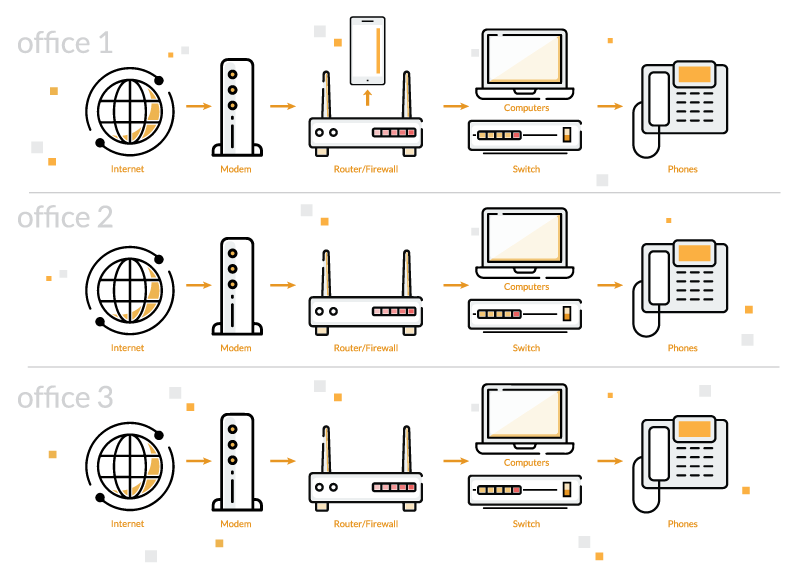 Medium-to-large-sized businesses with multiple locations will need a more complex VoIP architecture setup.
The business will likely have more than one ISPs offering cable internet, DSL, or fiber.
Each workstation or desk will have one Ethernet network drop and a Power over Ethernet (PoE-enabled) switch for VoIP implementation.
Connect VoIP phones to the network drop.
If you opt for softphones, connect computers or laptops to the network drop instead.
VLAN tagging will limit network congestion.
Connect offices to each other via business phone numbers and call forwarding. Example: You can automatically forward calls from one office to another during certain hours or set up failover forwarding in case of an emergency or disaster.
5. Remote Employees

Businesses with remote employees or employees spread across different regions can use this VoIP architecture to maintain business continuity through one central hub. Since employees will have different providers and network equipment, this setup is more complex but also flexible.
VoIP infrastructure for remote employees:
Hosted VoIP phone systems make it possible for users to connect from any location as long as they have an internet connection.
You can send employees deskphones and computers to use for business purposes.
Alternatively, you can have them use VoIP softphones which they can download on their computer, laptop, or softphone.
Connect remote employees to each other via business phone numbers and VoIP forwarding.
A crucial element to keeping remote VoIP calling secure is to educate your employees about keeping their internet and devices safe. Create a technology policy that details how they should use business-related technology and what best practices to follow.
Add VoIP for Better Call Quality
Want to bring VoIP functionality to your phone system? Learn more about business VoIP solutions offered by speaking with our experts.
Call us at +1 (561) 908-6171 or request a demo today!