Want to improve your office's communication system? Consider VoIP technology that uses the internet to provide you with a reliable and stable connection. Expand your company's reach, enter new local markets, and grow your business globally with this technology.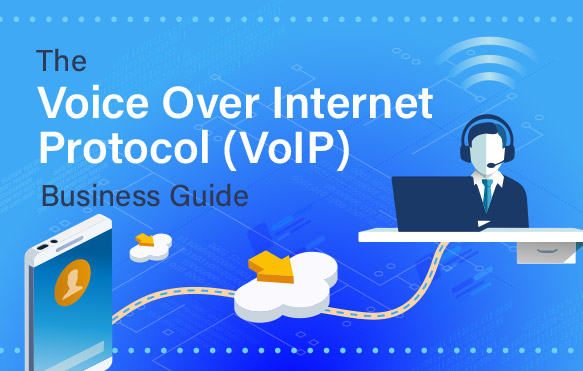 Quick Navigation
In this guide, you can explore voice over internet protocol (VoIP) for business and how it can enhance your business and make it more productive. Continue reading or choose the section that's most relevant to you.
VoIP for Business
So, why are more and more businesses across the board switching to VoIP or cloud phone systems? VoIP stands for voice over internet protocol. This is a type of telephony technology that uses the internet and internet protocol to connect two distant parties together via voice and video.
VoIP makes it possible for two individuals to indulge in conversation over a distance through their devices. And it does so by converting voice signals into digital signals and transmitting them over IP networks. This way, voice can travel with high quality through devices and across distances. So, a cloud phone system essentially allows your business to send voice and video messages, text messages, email, and other unified communications over the internet, allowing two or more parties to communicate quickly.
Cloud-Based Business Phone Solutions
Businesses use such cloud-based communication systems to be better in touch with not only their employees but their customers as well. VoIP phone solutions make it possible to:
Connect with local, international, and remote networks,
Maintain strong relationships through multichannel communication,
Expand your company's reach to neighboring or target countries and regions,
Create virtual local presences in different markets across the globe,
Test your product or service within diverse demographics,
Improve your inbound and outbound customer service with virtual communication tools, and more.
---
Inbound and Outbound Communication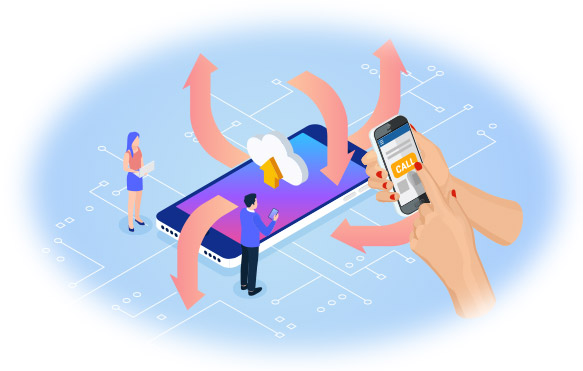 A cloud phone system helps maintain good internal and external communication. Internal communication refers to communication that occurs within the office or company. That is, between teams, departments, employees, partners, investors, stakeholders, etc. External refers to communication between the company and its customers or clients. This would be sales and appointment setting calls, customer service or support calls, customer success calls, etc. Here, we have inbound and outbound communication. Inbound refers to incoming calls (customer to company) while outbound refers to outgoing calls (company to customer).
VoIP systems offer you the necessary tools and support you need to create and design an ideal business phone solution. One that assists you in efficiently handling and managing your calling needs. Whether your company leans more towards sales calls or mainly towards internal calls, you can get only the tools you need to ensure your employees perform well.
Get a strong and reliable internal private branch exchange (PBX) system with extensions to connect with your office effectively. Or, get an outbound calling service to support your sales teams on their outbound calls. A cloud system comes with various features to give your company the ability to serve its customers better.
Industries Using Cloud Phone Systems
So, what business or industries can best take advantage of cloud-based phone systems? Any company:
that has a high inbound or outbound (or both) call volume and wants to improve or maintain strong customer relations, or
that wants to increase internal office productivity and efficiency should consider switching to a VoIP phone system. Some of these businesses or industries include:
Customer support and success teams
Call centers and answering services
Lead generation services
Telecommunications
Customer and appointment setting services
Hotels, timeshares, and resorts
Software and tech companies
E-commerce
Pharmaceutical services
Insurance and claim management
Therapy and rehabilitation
Manufacturing
Advantages of Cloud Phone Systems
A VoIP business phone system has multiple advantages. Here we will look at some of the main reasons why small businesses, multinational companies, international corporations, and more are choosing cloud-based office phone systems:
Features Involved
VoIP phone systems come packed with features and resources that can enhance your communications. Whether it is getting your employees within the office network better connected or providing the capability to forming virtual connections with customers in neighboring countries. Here are some of the features Global Call Forwarding offers:
Call recording software: to record and document incoming and outgoing business calls
Call forwarding: to forward or route incoming calls to different phone numbers or lines
Time/country-based routing: forwarding or directing calls based on the time or location the call if coming from
Interactive voice response (IVR system): automated response to answer calls and assist callers
Call transfer and extensions: to transfer calls within the office or across different departments
Outbound calling: supports outgoing call volumes and provides you the ability to customize your outgoing caller ID
CallMe Click: website widget that allows your web-visitors to fill a contact form and receive a call instantly from your business
SMS plans: receive text messages from customers in your inbox, offering them yet another way to connect with your business.


These tools make it easy for your employees to handle call volumes by organizing and distributing them. They also give your business the opportunity to reach out to more customer bases, local and international.
Additionally, they also help you cater to different customer preferences. For example, with an inbound SMS plan, your business becomes appealing to customers who prefer texting a business instead of calling it. Or, customers who cannot call during office hours would appreciate interacting with and receiving customer support from an IVR during off-hours.
Virtual Business Numbers
VoIP technology works alongside virtual business numbers. These are numbers that connect calls over the internet and not over traditional phone lines. Because of this ability, they can cross physical and geographical boundaries at reasonable calling rates. This way, you can use virtual numbers to connect with long-distance and international customers as well.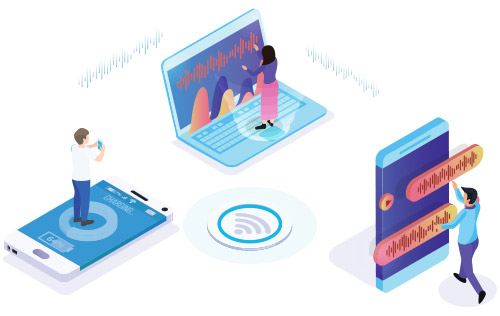 Most virtual phone number providers like Global Call Forwarding will offer you the following numbers:
Toll free numbers
Universal international freephone numbers (UIFN)
Local phone / Geographic numbers
National numbers
Mobile numbers
Vanity numbers.
Additionally, depending on certain number types, you may even be able to add an SMS plan to your virtual number plan.
Customizable Options
Most VoIP providers will offer you a highly customizable phone system where you can choose what services and features you want.
Add custom greetings and voicemail messages with company information
Create, map out, and design your own IVR system
Have calls forwarded to numbers, phone lines, or devices of your choice
Direct and reroute calls based on time and location
Open and manage virtual offices in different cities, states, countries.
With customizations and personalizations, your company will appear more professional and concrete. Additionally, once your calls are conveniently and efficiently organized, you will be able to provide better customer support and service. This will, in turn, increase your customer satisfaction or CSAT scores.
Easy on the Pocket
More importantly, business owners find cloud phone systems attractive because it is affordable. Due to its usability over the internet, you save on communication costs considerably. This is mainly because cloud-based phone systems and business numbers let you connect with international customers without paying high long-distance calling fees. When you subscribe to virtual or VoIP providers, you pay according to your monthly or annual plan, nothing extra.
For example, Global Call Forwarding offers 5 different plans for businesses with different requirements and needs. Additionally, you can include premium and advanced add-on features. The bigger the plan, the higher the discount you receive, and the more you save.
Portability and Versatility
VoIP systems are quick and easy to set up. Furthermore, if you need to close up shop and move or relocate, you can take your VoIP system with you without worrying about re-installing and buying new numbers, or losing connectivity, etc. Cloud-based phone systems are useful for:
Small businesses looking to expand to neighboring cities or states
Large corporations with offices and customers in countries across the globe
Companies with remote employees and offices
Businesses with traveling salespeople or individuals who travel for business
Companies wanting to offer well-rounded 24/7 customer service and support
Call centers or sales-focused businesses running outbound calling campaigns
Enterprises that are customer-centric, therefore, focusing on customer success and care, etc.
A VoIP phone system takes care fo your communication needs so that your company can focus on being productive and efficient and bringing more profit and sales.
Switch to VoIP with Global Call Forwarding
Keep costs down, improve office communications, enhance customer service and interaction, and watch your business reach for the stars. VoIP or cloud-based phone systems can assist your business in doing this and more. Stay connected, stay active, stay working.
To upgrade your phone system with Global Call Forwarding, call us at 1 (888) 908 6171. Or, sign up for a virtual business number on our homepage and start building your VoIP phone system. Need more information? Talk to an expert today.