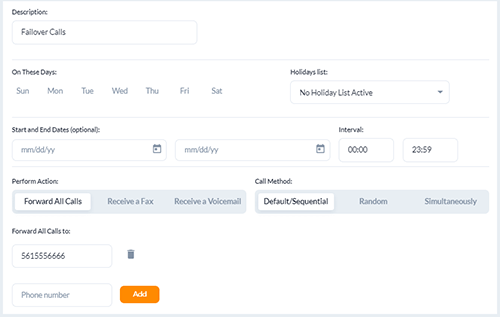 What is Failover Forwarding?
The failover forwarding feature from Global Call Forwarding enables businesses to have backup routing. This helps ensure that all incoming calls get connected, even if the first SIP account or phone number cannot answer the call.
How Does Failover Forwarding Work?
Users can program multiple SIP accounts or phone numbers using several layers of Tier-1 carriers. The failover forwarding system is prearranged to connect the call to each number in line to make sure someone answers. So, if the first person in the line appears busy, the call automatically 'fails over' or forwards to the next person in line.
The service is designed to find the best carrier for optimum connection and to successfully handle and minimize failover issues that one may not otherwise detect.
Key Factors of Failover Routing & Why it is Essential for Businesses
So, why should your business consider failover forwarding? This feature:
Ensures optimal connectivity for high call volumes
Enables automatic call failover to a number of lines
Lessens incidences of lost or dropped calls due to long wait times
Ensures quick response rates to avoid frustration on behalf of customers
Maximizes productivity
How to Get and Set Up Forwarding with Your Virtual Number?
Global Call Forwarding offers a free failover forwarding feature with all our virtual phone number plans. Users can customize this feature based on their needs through our online Control Panel.
Advantages of a Failover Routing Service

So, how can your business benefit from failover forwarding? With this feature, you can experience the following:
Efficient and convenient call connection rates
Minimal failover issues since all lines that work with the service are connected and arranged ahead of time.
Automatic backups that kick in when certain lines are bus
How Does This Work with PSTN Lines?
PSTN is a standard landline number and you can program PSTN lines to use failover forwarding with Global Call Forwarding. When your primary PSTN does not pick up incoming calls, our failover forwarding system will automatically forward them to the next line. In the event of timeouts or errors detected when your number gets dialed, the failover forwarding system will react by sending calls to the backup numbers pre-set in the system.
Failover Forwarding with SIP
This is another available, customizable call routing feature that enables additional convenience. Failover forwarding works in conjunction with an add-on feature that can program SIP accounts too. If the primary SIP account cannot answer calls for any particular reason, calls will automatically forward to the next SIP destination listed.