Call centers could experience many different emergency situations, including environmental crises, pandemics, hardware failures, human errors, hacking, and more. These disasters often occur without warning and can impact your business in destructive ways, especially when unprepared.
It's less expensive to prepare for a disaster than it is to repair your business' infrastructure and image. So, in this guide, we will cover how to create and implement a call center disaster recovery plan for your business. We'll look at:
Why Do You Need a Call Center Disaster Recovery Plan?
Your business is vulnerable without a proper call center disaster recovery plan in place. Downtimes caused by natural or human-made disasters have immediate and long-term effects on your operations, including:
Inflated call volumes and hold times (once your system is back up)
Diminished customer experience and loss of consumer trust
Reduced sales and revenue
A call center recovery plan can help your business bounce back quicker – lowering downtime and maintaining business continuity.
Business Disaster Recovery Plan 101
A disaster recovery plan is a procedural document outlining specific precautions and steps to take after a disaster strikes. A good recovery plan aims to reduce a disaster's effect on your operations.
These plans typically minimize disruptions to your business' core functions and customers. This way, you can quickly resume critical business functions and stay afloat.
Creating a Call Center Recovery Plan
Developing a call center disaster recovery plan is no easy task. Your plan's design, application, and execution must be carefully developed and well-defined. Mapping out an in-depth procedure ensures that your business and teams are prepared when it counts.
It's also important to note that even the best plans need regular modifications to fit your business' evolving needs. For this reason, consider dedicating a position or team to creating and maintaining your call center's disaster recovery plan, if possible.
When creating your own disaster recovery plan, you may feel like you don't know where to begin. So, let's take a look at a few steps to help you get started.
1. Identify Risks to Your Business Continuity
Before you put pen to paper, you need to consider your business' potential risks and the possible outcomes. Identifying risks and their consequences allows you to incorporate specific solutions and backup strategies in your plan. It also helps determine your business' critical functions and your unique continuity needs.
Many teams use business impact analyses to identify and assess their company's vulnerabilities. This type of risk assessment reveals the potential causes of downtime and how this disruption affects your business – immediately and in the long run.
For example: If you run a Florida-based call center, hurricanes are a potential risk to your operation. A possible outcome of this scenario is customers being unable to reach your business due to a power outage. If left unsolved, this will lead to an unsatisfactory caller experience and customer loss.
Knowing your businesses' vulnerabilities and their consequences makes it easier to develop effective solutions in your call center disaster recovery plan. So, your business and teams are always prepared for different crisis scenarios.
2. Look at Examples of Call Center Disaster Recovery Plans
Once you've conducted an impact analysis, look at your competitors or other similar businesses. Ask yourself – what have they included in their call center recovery plans? This is just to give you an idea of what works and what doesn't.
Additionally, take a look at businesses that suffered a crisis situation. How did they handle it? Did it go well, or should they have done things differently? It's hard to understand the full scope and consequences of a disaster if you've never experienced one. And, this makes preparing for an emergency situation even trickier.
To develop a well-informed and thorough plan, research lessons learned by others in your market. This is great for those who don't know where to start. But, keep in mind, that what works for others might not be the best option for your business. Draw from their experience and tailor your call center recovery plan to your needs.
3. Determine Business Communication Backup Options
Now that you've gathered the necessary information, it's time to explore your call center's backup options. These solutions should kick in as soon as your business experiences a disruption.
A good backup solution happens seamlessly – meaning customers shouldn't notice a change in service quality. Use your risk analysis to help you get started with backup solutions most relevant to you. And since a call center's main function is communication, you should focus mainly on preparing communication backup solutions in case of downtime. Here are some communication backup options for your call center:
Outsource your communication processes to an offshore call center or BPO.
Protect your data (like call recordings and customer info) by storing it in the cloud.
Get a second internet provider, in case your primary one falters.
Use an alternate power supply like a generator or an uninterruptible power supply (UPS).
Replace your on-premise phone system with a VoIP network and forward your calls anywhere in the world.
4. Run Through a Call Center Recovery Plan Checklist
Planning for your call center's disaster recovery is a complex process involving many moving parts. Enter: a checklist. Outlining basic steps and objectives for your disaster recovery plan can help streamline the process.
Here's a short call center disaster recovery checklist of what you should include at a basic level:
Conduct risk assessment and business impact analysis
Determine your business' essential processes and continuity needs
Establish recovery objectives
Outline specific strategies, tactics, and backup solutions to achieve your objectives
Create a crisis communication plan for your teams, customers, vendors, and backup teams.
Assign disaster recovery roles and responsibilities to every department or appoint a specific disaster recovery team
Back up critical documents and data in the cloud or store copies at a remote location.
Catalog information systems essential to business continuity
Put hardware on backup power supplies or establish equipment needs
Test your call center disaster recovery plan and update it regularly.
Download this call center disaster plan checklist to get started.
Include VoIP in Your Call Center Disaster Recovery Plan
With an on-premise communication system, a call center's only backup option is to create another identical on-premise infrastructure. Not only is this expensive, but there is no guarantee that this system will be accessible in an emergency scenario.
A cloud-based communication network like VoIP is not tied to any specific geographic location like your office building. It is accessible from anywhere in the world and from any IP-enabled device. Simply connect to the internet and start managing your incoming calls immediately. And, in case of emergency, you re-route calls to another location. Opting for VoIP over an on-premise network grants your call center flexibility and boosts your call center's redundancy.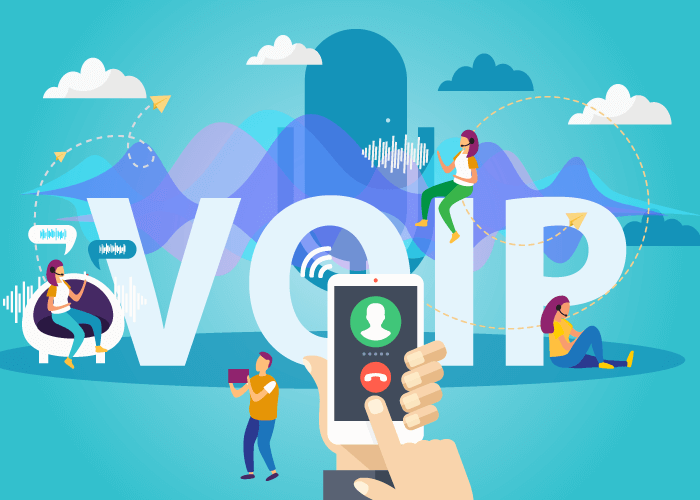 How VoIP Helps Maintain Business Continuity
Although you will find many VoIP providers on the market, selecting a quality service that offers cloud failover options is important. This way, if your primary system fails, your call center has a failsafe. When choosing a VoIP system to include in your call center recovery plan, make sure they offer the following:
• VoIP Geo-Redundancy (VoIP to VoIP Failover) – If your primary location experiences a disruption, VoIP geo-redundancy forwards unanswered calls to any alternate VoIP destination.
• Flexible Call Routing Capabilities – Depending on your situation, you might need to modify your routing rules and make quick changes to your call flow.
• VoIP Redundancy with PSTN Failover – Instead of rerouting calls to another VoIP location with VoIP geo-redundancy, your provider can forward calls to a PSTN phone number.
• 24/7 Responsive Support – Disasters don't wait and neither should you. Evaluate your provider's customer support. They should deliver responsive assistance at any time.
• Failover Forwarding – If a call isn't answered at the first destination, it's automatically forwarded to the next phone number or ring group on your preset list.
• 99.999% Uptime – You can have all the failover strategies and redundancy features in the world. But, it doesn't matter if your VoIP service is down amidst your own emergency. Pick a provider that offers a 99.999% uptime guarantee.
Best Practices for Maximum Preparedness
Now you know what goes into creating a call center disaster recovery plan. But, what happens after that? Here are some things to keep in mind once you've compiled a disaster recovery plan for your call center:
Make the final plan accessible to your entire team
Schedule routine disaster recovery training and drills
Keep a hard copy of your call center recovery plan
Test your plan under realistic conditions
Prepare detailed post-test reports and make necessary changes
Inform staff of any changes made to your plan.
Quality Disaster Recovery Solutions and Redundancy for your Call Center
A comprehensive call center recovery plan ensures your business remains functional and consistent during a crisis. With a good disaster recovery plan and communication system in place, your call center is ready for any emergency scenario.
Incorporating VoIP into your business disaster recovery plan is a great way to keep your communication channels open to customers – no matter the situation.
Global Call Forwarding provides call centers with a high-availability service and a 99.99% uptime guarantee. We can help you configure VoIP failover and redundancy plans within your business phone system through intelligent call routing, failover forwarding, advanced IVR, and more. We also offer 24/7 customer support, so we can address your needs as they come up.
To learn more about how we can support your call center disaster recovery plan, speak with our dedicated account managers today! Call us at +1 (561) 908-6171 or chat with us online!
Downloadable Template + Guidebook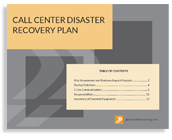 Download Your Call Center Disaster Recovery Plan Template Here
There's nothing more important than communication in an emergency situation. You need to communicate not only with your team, but also with your customers and vendors. Build your call center recovery plan now!
Disater Recovery Checklist