Customer service expectations have increased in the past decade, with more and more businesses being "forever accessible." Many companies offer 24/7 support, while others are reachable via multiple communication channels. And some use customer service automation like chatbots and AI support to be ever-present when customers need them.
Because of these expectations and thanks to technological advancement — it is easier than ever to be there for your customers. Businesses like yours rely on having a constant stream of data and connectivity. So, what happens if your systems fail?
Specifically, what will happen if your business phone system fails and customers cannot contact their account managers? Or, interested prospects are not able to finalize purchases? They will simply go to a competitor who is easy to contact and more reliable. This is where building a fully redundant communication infrastructure becomes important.
In this guide to incoming business voice redundancy, we will look at why and how you must prepare your business to succeed and remain accessible at all times.
Using Voice Redundancy to Create a Seamless Caller Experience
Even with the growth of new support channels, conversations via email and phone account for about 81% of inbound communications. This means that most customers try to contact your company via phone.
Many businesses have redundancy and backup systems in place for different applications. But few make their voice or phone system redundant as well. It is essential to incorporate redundancy within your VoIP and network infrastructure to secure communication continuity in the event of disaster or outages. This ensures your employees continue communicating with each other and customers, even in a crisis.
In this guide, we'll cover:
What is Voice Redundancy?
Voice redundancy is the process of implementing failover and redundancy by including backup systems within your network.
In other words, you integrate additional or alternate instances of devices, equipment, communication channels, routing strategies, and more within your VoIP infrastructure.
The purpose of redundancy in VoIP networks is to provide an alternative when your original network setup fails. So if your main phone system goes down, you automatically switch to the backup. This way, your business does not have to worry about downtime.
Most telephony providers offer increased reliability and new capabilities with their PBXs, VoIP systems, and call center software. These capabilities are often customizable – allowing you to create failover solutions that work best for your business.
Voice redundancy is also known as VoIP redundancy, failover redundancy, and VoIP failover, among other terms.
Understanding Voice Failover and Redundancy
One thing to understand is that failover and redundancy work alongside each other. And you can use different forms of redundancy to achieve VoIP failover in your phone system. But what does all this really mean? Let's break it down.
Failover is the backup operation that activates your secondary setup when the primary system fails. Cloud phone service providers offer VoIP failover options customizable to each user's needs. Failover is achieved by having redundancy built into your phone system.
Example of a failover solution — If your main SIP or PSTN devices cannot receive incoming calls, you can route calls to another destination.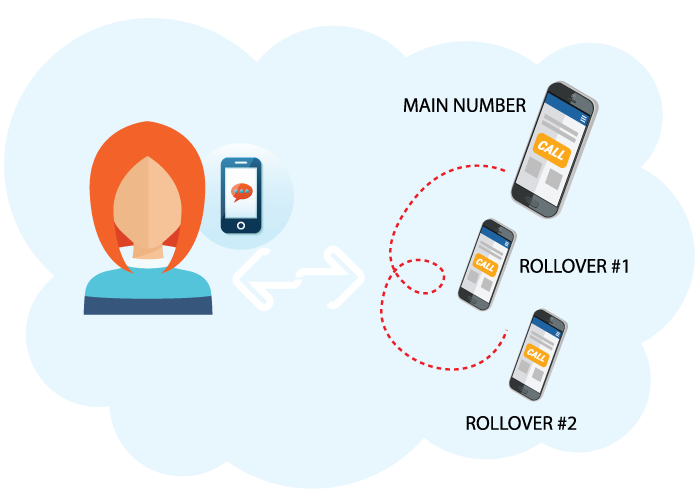 Redundancy is how you set up your secondary system. Redundancy improves your phone system's reliability by providing alternative, independent paths through which calls reroute. This works best when your provider has redundancy built into their systems as well. And providers achieve this by having multiple data centers in different locations and working with other carriers.
Example of redundancy — Your VoIP provider works with a global network of local and regional carriers across different service areas.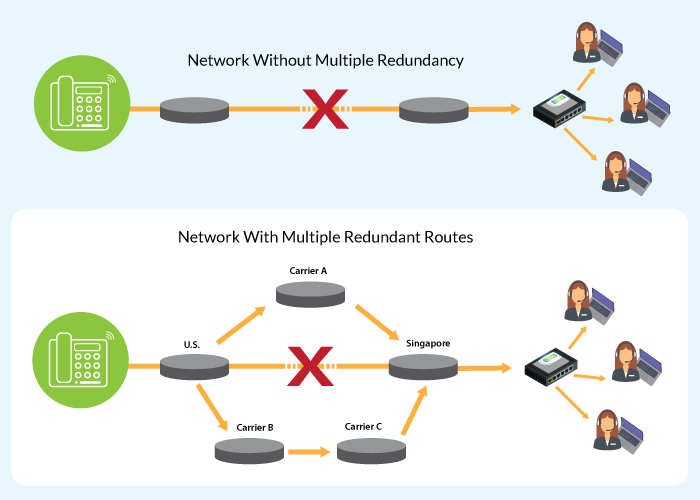 Together, failover and redundancy ensure
Access to a resilient proxy for 24/7 accessibility
Fewer interruptions for your business and your customers.
Types of VoIP Networks Redundancy
There are a few types of voice redundancy and different ways to implement it within your network. Let's look at the top methods — high-availability vs fault-tolerant redundant systems:
High-availability works by using clusters of servers that monitor each other. These servers have failover protocols in place. If one server fails or stops working, backup servers activate and restart applications running on the failed server. This strategy does not need extravagant infrastructure, but may experience little downtime as the backup server starts up.
Fault-tolerant redundant systems utilize full hardware redundancy, where multiple physical systems mirror applications simultaneously. If one system fails, the other systems take over with no downtime. However, these systems are more complex and expensive.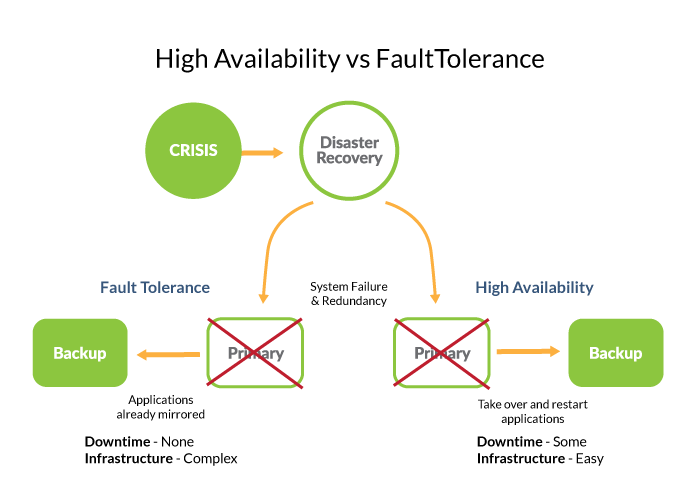 Choosing between high-availability and fault-tolerant systems depends on a few factors:
Business communication infrastructure,
Communication and IT budget, and
How much downtime you can afford.
Why is Incoming Voice Redundancy So Important?
In the early days of SIP and VoIP, technology was not developed enough for reliability and redundancy. Voice quality was relatively low and failover options weren't easily accessible. So when a crisis struck, systems would go down and stay down. Needless to say, uptime was a major concern
It is no secret that businesses need to ensure that the phones are working and available at all times. In the time it takes to get your systems back up and running, you may miss out on calls from customers and prospects. And as a business, you know the costs that come with losing out on opportunities and not being able to support your customers.
This is what makes VoIP geo-redundancy important. And thanks to advancements in telecommunications, cloud telephony providers today have multiple layers of redundancy and offer various failover solutions.
Consequences of Business Phone System Failure
Every large enterprise or small business should aim for call continuity along with other business continuity strategies. System architects and operations managers know the importance of managing internal and external communications.
If your phone stops working and you experience significant downtime, you stand to lose valuable business opportunities. Communication is entirely halted. Employees are unable to complete their responsibilities. Customers cannot contact your business for assistance. Sales slow down. And using private phones to call customers may further damage your business's professional image.
Recovery can take longer depending on your disaster and backup plans. This is why planning and preparing in advance helps your business navigate crises more effectively.
Business voice redundancy provides fail-safe solutions on different levels such as backup servers, multiple phone lines, automated and advanced call routing, and more.

Benefits of a Fully Redundant Phone System
When you set up VoIP redundancy and failover, you get
Reliable phone service with high uptime
Ability to failover to any internet connection and device
Uninterrupted service and business continuity
Protection against network disruptions and disasters
Managed voice continuity (MVC)
A fully redundant architecture
You can also enjoy these benefits when using a high-availability phone service provider.
Voice Redundancy Solutions & Best Practices
Redundancy is the key to failover and keeping your systems functioning at all times. Here are the 3 most important redundancy best practices and solutions to help you build a reliable phone system:
Let's look at them individually.
1. Prevention: How to Add Voice Redundancy
You can include business voice redundancy within your phone network on two levels:
1. Provider-level: Find a provider with high-availability or multiple layers of redundancy built into their systems. Ask about their network and how they provide reliability. Do they have multiple points of presence (POPs) and data centers? What failover capabilities do they offer with their service and can you customize them? How do they prevent network interruptions? Does their voice traffic automatically failover to another carrier if one carrier or route goes down? And so on.
2. Features-level: Use failover capabilities to create custom backup solutions for your network. Use your IT and operation teams to create and manage backup systems in-house. This might include setting up additional hardware and equipment. You can also organize teams and call groups to function as backups.
Then, create automated routing strategies with your phone service provider's failover features. Use advanced routing features so calls forward or ring on other devices or numbers if the first destination is inactive. Top features include VoIP failover, sequential ring, and simultaneous ring.
2. Monitoring: Keep an Eye on Your Systems and Services
Next, proactively monitor your network, phone numbers, service lines, and call quality. When you monitor, you'll know if a number or service line stops working. Then, you can troubleshoot and implement failover options such as
Changing the destination
Switching to a backup phone number
Investigating the routing path
Your provider should be able to monitor their service and network, including your numbers. When finding a provider, it's good to ask how they safeguard their network and call quality. Additionally, you want a provider who is responsive and easy to contact when you need support or troubleshooting help.
You can also monitor call quality on your own with a voice assurance solution like Spearline's. This way, you are alerted to potential problems before they get out of hand and affect your business.
3. Disaster Recovery: How to Get Your System Back Up and Running
The last step is to recover when disaster strikes. And of course, this depends on the type of crises you face: natural disasters, network outages, data breaches, and so on. Create a disaster recovery plan beforehand that you can implement when the time comes.
With a natural disaster, your options may be limited and safety should be the top priority. If you have failover set up already, calls can route through different paths to different devices and locations.
With network or internet outages, you may need to change locations or devices. For example, you can access the Global Call Forwarding control panel online from any device. This way, if your primary phone setup fails, login to your account from your smartphone and make the necessary changes.
Add a new message to your IVR indicating slow service. Or, forward incoming calls to employees' private devices. You can even enable employees to make outbound calls from their personal phones using the business phone number as the caller ID. This way, you maintain call continuity even if your primary setup stops working. Alternatively, you can outsource calls to a call center listed in your recovery plan.
If your phone system was hacked, leverage your incident response team to reduce the cost of a data breach. Once you have identified the threat, inform users on your network. Disconnect any devices and systems on the network. Contact your VoIP provider for support and crisis assistance.
Depending on the extent of the breach, you may be able to send calls to a different location. Otherwise, it may be better to halt service to ensure that customer and company data are not further compromised. When the time is right, inform customers about the breach so that they can take the proper steps to protect themselves.
How Does Global Call Forwarding Offer Business Voice Redundancy?
We know that outages and downtime can hurt your business. So, our voice redundancy solutions are designed to keep your business running smoothly.
Global Call Forwarding has a wide global network of reliable Tier-1 carriers with multiple POPs across the Americas and APAC. This enables us to provide high-availability solutions with multiple layers of redundancy as well as hard-to-reach phone service across the globe.
We also have an in-house-built secure voice communication app working on all platforms. And our control panel is accessible online through web and mobile devices. This way, you can stay connected from any part of the world and through any device.
More importantly, we utilize the highest quality voice termination to give you high quality and value.
All this lets us offer you reliable service with 99.999% uptime. Work closely with our dedicated account managers to find the right solution for your business phone system.
Call us today at +1 (561) 908-6171 or chat with us online!
Want to see our service in action? Read about how we helped EaseMyTrip provide uninterrupted support to international clients.