Dropped calls, inaccessibility, and high calling costs are unacceptable when it comes to enterprise communications. Without high-quality voice, your business will have a hard time connecting with essential customers and vendors. The answer to this problem is simple. Your business requires a phone service provider that can support your communication needs and traffic. And that's where VoIP termination comes in.
In this post, we'll go over what VoIP termination and origination services are and how to find the right provider for your business.
Understand VoIP and Voice Termination
Think of VoIP calls as having two endpoints. The origination end is where calls are placed, while the termination end is where receivers are being called.
In reality, making and receiving voice calls are two separate services, even if you use one device for both. And since they are different services, your VoIP origination and VoIP termination providers don't have to be the same.
To fully understand how VoIP calling works, we must first understand how VoIP calls are connected and terminated. Once you get the basics down, you can determine which termination or origination providers best suit your needs.
What is VoIP Origination?
VoIP origination refers to incoming calling. The term 'VoIP origination' simply refers to the process of handling the originating call (incoming call) and delivering it to the receiver (your business). In other words, it focuses on how a phone call is placed and how it travels to the receiver.
So — even though the wording is confusing — your business is not actually placing or originating the call. Instead, your provider receives the call and routes it to your business phone number without any obstacles. This means, you need a valid and functioning phone number to facilitate voice origination services and receive calls.
What is VoIP Termination?
In short, VoIP termination is outbound calling. VoIP call termination is the process of routing phone calls from one provider (usually a VoIP network) to another provider (PSTN or VoIP networks) until the recipient receives them. It is the process of delivering outgoing calls to the numbers dialed. While you do not need a phone number to send or terminate calls, you need a voice termination service.
VoIP termination is also called voice termination and call termination. And providers offering this service are called VoIP termination providers or voice termination providers.
How to Choose the Best VoIP Termination Provider
A VoIP termination provider or termination carrier is a telecom provider that offers voice and call termination services — the ability to place outbound voice calls to your receiver's phone numbers.
Since origination and termination are different services, the providers are not always the same. There are plenty of providers out there. So, it is important to understand what each provider offers and how their services can help you build an efficient phone system. Most VoIP termination providers deliver the following:
High-quality voice calls
Security and redundancy
Centralized call management
When choosing a VoIP termination provider, you need to keep a few factors in mind.
1. Cost and Value
In most cases, your call termination provider decides how to route your calls, pays for that service, and charges you a markup. So, they can decide to use least cost routing (LCR) for a more cost-effective service while still charging you high calling rates. Low-cost routes lead to low-quality audio – which causes dropped calls, muffled audio, delays, and more. Opt for a provider that is transparent about their services and networks.
2. Infrastructure and Network
Additionally, your provider may use network partners to route calls outside their own VoIP infrastructure, especially for long-distance and international calling. But if they work with low-grade carriers instead of reliable routes, that can also impact call quality.
On top of that, routing calls over multiple layers can also affect call quality and security. So, it's important to understand what carriers they work with and how they route their calls.
3. Access and Controls
Ideally, your voice termination provider gives you full admin privileges to route and manage calls when you receive them. Different providers offer different levels of access control. So, it is important to understand if your provider can accommodate your routing needs.
You can always reach out to your provider's tech support team to understand what this will look like for your business. With Global Call Forwarding, you can manage advanced routing for different numbers, phone lines, and offices, all through an intuitive, online control panel.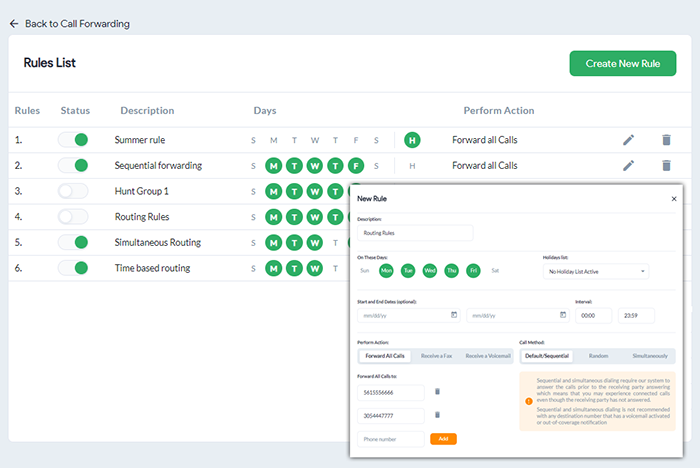 4. Availability
You also want to find a provider with high redundancy and failover support. This way, you have backups set up in case your primary system fails due to outages, server failures, natural disasters, and so on. With VoIP geo-redundancy, you can get your phone system back up and running quickly, with little to no downtime.
5. Features and Flexibility
Each provider offers different features and functionalities with their phone service. Now, you may not need all of these features, but some essential features include:
Advanced routing
Local, toll-free, and international phone numbers
Caller ID management and local caller ID
Softphone for outbound calls
So, it is a good idea to list down core features needed and filter through to find providers who can support your needs.
VoIP Termination with Global Call Forwarding
Global Call Forwarding offers VoIP termination through our Outbound Calling service. We provide high-quality termination to PSTN, VoIP, and mobile networks or GSM. Our diverse and highly-available voice network of local and international providers enables us to offer local, toll-free, and international calling at competitive rates.
With our geo-redundant network paired with Tier-1 carriers, you can experience high-quality calls with fewer hops. This creates a better call experience for all users.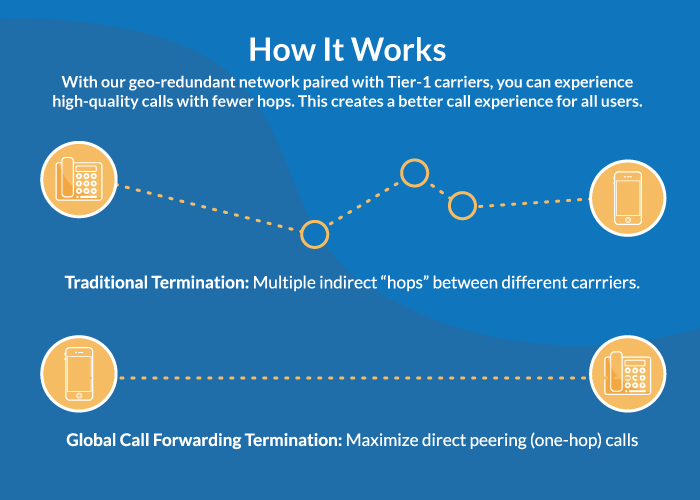 Why Your Business Needs Call Termination?
Voice termination lets you place high-quality outbound calls from any location or device. You can even customize your outgoing caller ID to display specific phone numbers. This lets you personalize the way you reach out to different customers and vendors around the globe and increase response rates.
So, why do you need VoIP termination and what do you get with the service?
Global Call Forwarding offers the following with our Outbound Calling service:
Termination of local, interstate, and international calls
Full geo-redundancy with multiple data centers and POPs
Caller ID management
Receive calls back on desired numbers
Integrate with your existing phone system
Access to our Softphone
Consolidate all voice services into one global telephony platform
24/7 responsive customer support
Dedicated account management
Multiple pricing plans starting at $25/month
Scale Globally with Global Voice Termination
From small businesses to large enterprises, every type of business requires inbound and outbound voice calling for their corporate and satellite offices spread across the globe. Use our service to add global voice coverage to your business phone system.
Chat with our telecom experts to find a suitable solution for your business communication needs. Call us at +1 (561) 908-6171 or request a demo.