4th Generation technology (4G) is what we've all become most familiar with as we use our cell phones to send text messages, download information, and search the web. 5G (5th Generation) technology will take 4G to a new level. The infrastructure of 5G is modeled around software, which limits the interruptions that tend to affect 4G connectivity, such as dead zones and wifi interruptions. This is good news for business owners who prefer mobility to a traditional office space. As the number of virtual businesses continues to increase, working on-the-go is becoming the new normal, which means an interruption in mobile connection can negatively impact companies and professional relationships.
Technology excites us because it's constantly evolving and introducing us to new concepts. Looking back over the past five years, technologies now exist that we would have never thought possible. These innovative systems are changing the way we work and live on a daily basis. 5G is one of those technologies that will make the unimaginable tangible and easily accessible.
So, 5G is coming, what does that mean for you? Most of us are working with mobile technologies as we run businesses and hire team members within our company. We know what 5G can do for the general consumer, but 5G will also change the world of business. With 5G, workers can get more done. 5G will also serve as a competitive tool that increases productivity and opens the door for new employment and business opportunities.
What 5G means for your business
Almost everyone has a cell phone to make phone calls, handle work-related tasks, and also download apps, games, and music. As mobile technology continues to improve and connect more networks, our devices are already operating at a speed that may have seemed impossible in the past.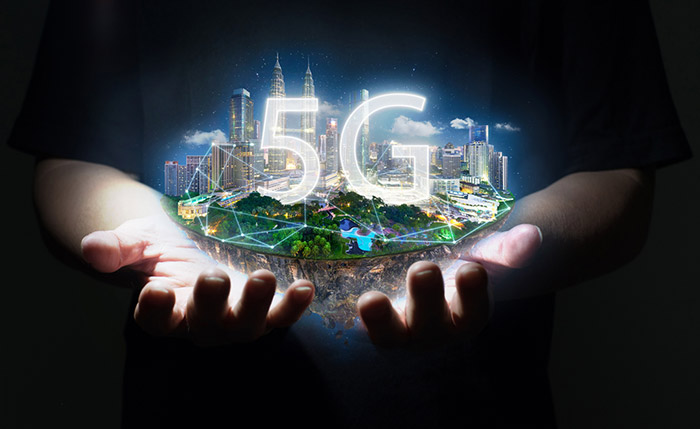 Here are some points to consider:
If you download a movie or large files, how long does it take? For many people, the answer to this would be a few minutes or maybe even an hour. 5G technology is 10 times faster than 4G, meaning that data transfers in seconds instead of minutes. With 5G, large downloads could take about 5 seconds.
Unlike 4G technology, 5G has been built around the concept of software instead of hardware. Therefore, 5G is less expensive to use and update. 5G technology pairs perfectly with virtual phone systems because virtual phone numbers are also based on software and online connectivity, instead of hardware that has to be replaced every time changes occur within the system or upgrades are needed.
5G is Coming. What does that mean for your customers?
Consider the fact that we are all consumers living in a world where we are constantly introduced to more technology. These technologies are smart and the response times continue to get shorter. As a business owner, you can't remain competitive if you don't offer immediate solutions and customer service.
If you are an entrepreneur using a virtual phone number to provide customer service, the amount of time it takes you or your team members to assist customers will have a direct impact on your number of sales and loyal customers. The amount of time modern consumers are willing to wait continues to shorten, but the instant transfer of information with 5G means information will be available at our fingertips almost instantly.
5G is Coming – What does that mean for your employees?
You can expect customers to call your virtual phone number in need of assistance. To properly assist them, you will need to have their information and product guides readily available when needed. Today, pulling up information during a call means sifting through multiple files and online databases. With the introduction of 5G, software connections will be far more advanced.
5G will allow needed information to be shown instantaneously without the usual delays. This upgrade will help customer service representatives better assist callers because they will be able to diagnose and work on the issue quickly.
Working quickly brings more business because agents can handle more calls. Simultaneously, customers will feel that you are more reliable. With such a powerful increase in speed and reliability, your company can accommodate more sales and incoming calls. As agents work faster, there will also be more time for them to take breaks and handle other important tasks.
5G is Coming – What does that mean for your metrics?
Sharing current information with everyone at the call center is one of the best ways to analyze strategies and create new approaches. One of the main details to track is the reason why callers are exiting phone calls. Were they on hold too long? Did they find the answers they needed?
While some companies receive customer reports and other key metrics on a weekly basis, 5G will allow companies to generate and update reports in real time. This high level of transparency will naturally motivate everyone to do their best. With 5G, you can expect higher levels of productivity and healthy competition as a result.