As a call center manager, understanding attrition rates and how it may affect your business is of utmost importance. Attrition rate refers to employee turnover, that is the hiring and letting go of employees. And the call center industry outdoes other industries with one of the highest rates of employees coming and going. So, why are employees fleeing customer service and how can you, as the manager, calculate and improve attrition rates?
Why is the Attrition Rate High for Call Centers?
It is no surprise that customer service is a difficult and stressful job. Agents have to deal with making and answering calls all day, repeating the same script over and over, and unpleasant customers. If appointment setters ― who initiate contact with customers and set them up for a later appointment with a salesperson ― don't make appointments, the company they represent suffers. Therefore, a lot is banking on call center employees doing their best. High attrition rates can negatively affect these services.
Reasons for High Turnover
Here are some reasons why employees end up quitting their call center job for something more fulfilling and better paying:
Repetitive work: referring to the monotonous nature of work.
Lack of professional development/ advancement: no path to climb or ability to go higher.
Insufficient compensation: most call centers pay an average of 10-12% per hour.
Poor team culture: no opportunity to build relations.
Job content: employees are more likely to stick with a job they are interested in or enjoy.
Low employee satisfaction: all of the above can lead to low satisfaction which results in an employee trying to find another job.
How is Attrition Calculated for Call Centers?
To calculate and keep track of your call center's attrition rate, it is important to make a note of the number of employees at the beginning and end of each month or year. Then, use the below formula to calculate the attrition rate:
Number of Attritions (no. of employees who left) ÷ Average no. of employees × 100
For example, if you had 28 employees leave in a year and your average number of employees is 220, then your attrition rate will be 12.7%. Using this formula, you can calculate attrition rates on a monthly or annual basis and note when or why employees are leaving.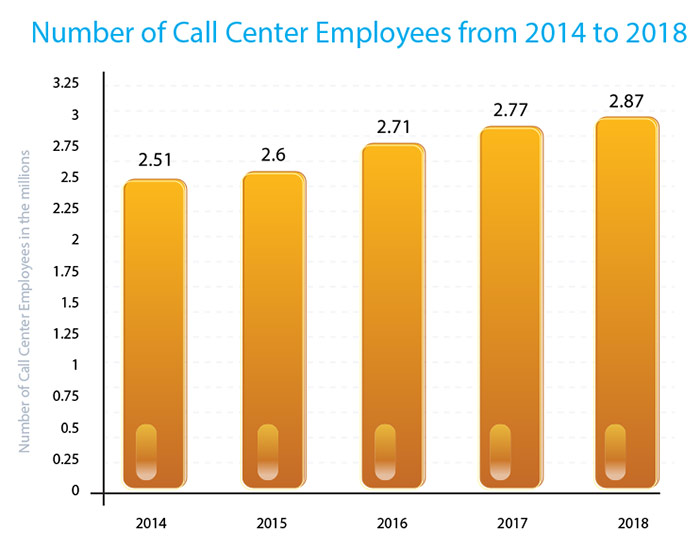 How Can You Make Your Employees Stay?
Now that you know what causes high attrition rates in call centers, let's look at some ways managers can reduce the rates by creating better work environments for their employees.
Invest in their Wellbeing
Keeping your employees happy and satisfied is extremely important to ensure they do their job well. Research shows that a strong employee experience (EX) leads to better results. Key aspects that improve EX reflect the employees' mindset and goals. That is, having the ability to achieve one's potential, opportunities for growth, a connection with the company's purpose, and trust in leadership. Improvement in these areas will generally increase EX.
Motivate and Educate with Training
Provide your employees with a variety of opportunities to learn and better their skills. Training can be used to refresh old routines and goals. They can also help an employee advance and develop in their field. Think webinars, workshops, textbooks, on-going conferences. The more they learn, the more they are motivated to do better.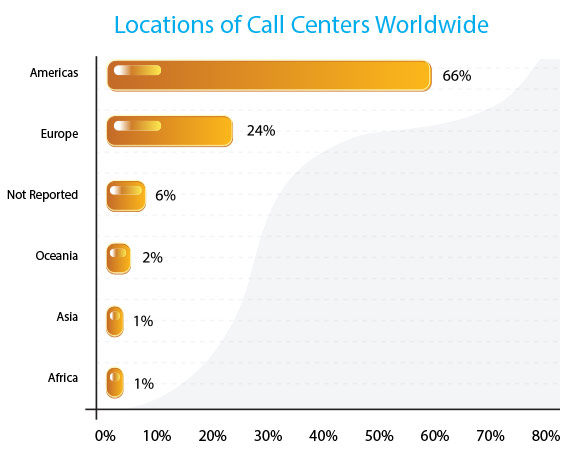 Focus on Recognition and Provide Constructive Feedback
Spend time appreciating good employee behavior and providing helpful feedback for behavior that needs improvement. Well-designed compensation and reward systems can reinforce the desired employee behavior and help them focus better on the company's goals. This also helps with improving team culture. Peer recognition and teamwork build self-esteem. Feeling appreciated by your superiors and also your peers leads to great team culture.
Happy Employees, Happy Company
High attrition rates cause instability within the company as employees come and go unpredictably. It is difficult to keep track of tasks and develop strong relations in this case. It is, therefore, important to pay attention to your employees and encourage them. You will definitely see the results in their work and by extension, in your business.
Global Call Forwarding is a phone service provider offering virtual phone numbers designed for call centers. We provide unlimited extensions, international call forwarding, simultaneous ringing, call recording, and more, to help you create a strong network for your call center. You can forward calls, have them ring at multiple lines, and record calls for future reference. Have a look at our features and rates or reach out to us at +1-800-908-6171 for more information.