Good communication skills not only improve your interactions with your peers and colleagues, but they also strengthen your relationships and help you gain the respect of those you interact with. Successful communication entails more than just talking to someone. If your conversation skills are lacking, don't worry, there are things you can do to improve them.
Better Communication Makes for Better Relationships
If you come across as being cold and distant, arrogant, or lacking in empathy, the person you are talking to will be tense and may not communicate the information you need or may not want to talk to you at all. Whatever your role in the workplace, building patient relationships should be an ongoing practice from the outset, and the way to do this is through improved conversation skills.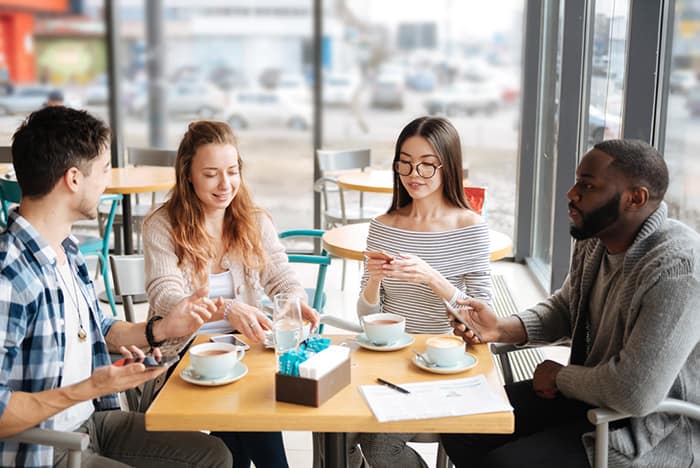 Tips for Improving Conversation Skills
Pay attention to how you communicate with others. Be honest with yourself and ask yourself if there are areas in which you could improve your conversation skills. Here are some tips to help you:
Establish Rapport: When you talk to a co-worker or employer, make them feel comfortable. Open the conversation by asking them how their day is going. By giving them a chance to relax at the outset, you are setting up a healthy relationship. This means they will feel at ease conversing with you. Don't be tempted to interrupt or rush them along when they speak. Give them time to explain what they want to say in their own way and listen carefully. Do not interrupt them. In this way, you will get to know your team members and how you can work together.
Use Polite Language: Avoid judgmental or insulting language. The last thing you want to do during a conversation is to offend or hurt the person you are talking to. This will cause communication to break down and may lead to aggression. Be aware of any language barriers you may have with your co-workers and act accordingly.
Be Aware of Your Nonverbal Communication: When you are having a conversation, be aware of your body language. Don't look around the room, stare at your computer screen or phone, or fold your arms across your chest. Make eye contact and show the person you're speaking to that you are being attentive and open, otherwise, you will convey negative messages.
Collaborate with Your Team Members: Ask your coworkers what they need from you and explain what you can do to help. Determine how they feel about the joint project you're working on, and if they agree with the way it's moving along.
Be Flexible: Don't have a rigid conversation style: what works for your close friends won't necessarily work for your co-workers or your boss. Learn to judge a situation so you can use your conversation skills to your best ability.
Be Concise: If someone asks you for some information, don't tell them things they don't want to know. Focus on their question and keep your response pertinent. Otherwise, they will think that you have not been listening to them.
Be Empathetic: When you are having a conversation, the other person or persons should always feel comfortable expressing their opinions and concerns and they should feel confident that they will receive understanding and helpful advice. By expressing empathy, you are showing that you understand what your co-workers are feeling.
Be Aware of the Details: Someone with good conversation skills notices the little things that the average person fails to see. When you bring such details to the conversation, by pointing out interesting things, it impresses the person with whom you are talking.
Eliminate Negative Thoughts: When you're about to talk to someone, don't think negatively. Avoid telling yourself that you're bothering the person, or that you will mess up if you try to start a conversation.
Emphasize Similarities: This doesn't mean that you have to mimic everything the other person says or does, it simply means that pointing out commonalities can help you make a firm connection with another person and start the foundation of a healthy relationship.
Get the Other Person Talking: A surefire way to start a good conversation is to get the other person to talk about something that interests them. Make sure you listen intently, and you will get to know a lot about the person.
Maintain a Balance: If you want to keep a conversation going, don't try to dominate it. Give the person plenty of space to talk. On the other hand, you don't want to be a non-contributor, either.
Improving Your Ability to Communicate
No two people are the same, and there is always room for improvement in your communication skills. Be mindful in your communications and observe not only those you are communicating with but also how you interact with them. This will give you valuable insights for enhancing your conversation skills and improving relationships.