Global Call Forwarding launches a new Voicemail Transcription feature that enables customers to receive and view voicemail transcripts in their email inbox.
DELRAY BEACH, FL, June 2023
This feature expands on the company's Voicemail-to-Email feature where voicemails are automatically forwarded as audio files to the email addresses configured in the Control Panel. Once activated, the new Voicemail Transcription feature will also send voicemail transcripts in the body of those emails. Customers can also view and download these transcripts directly from the Control Panel.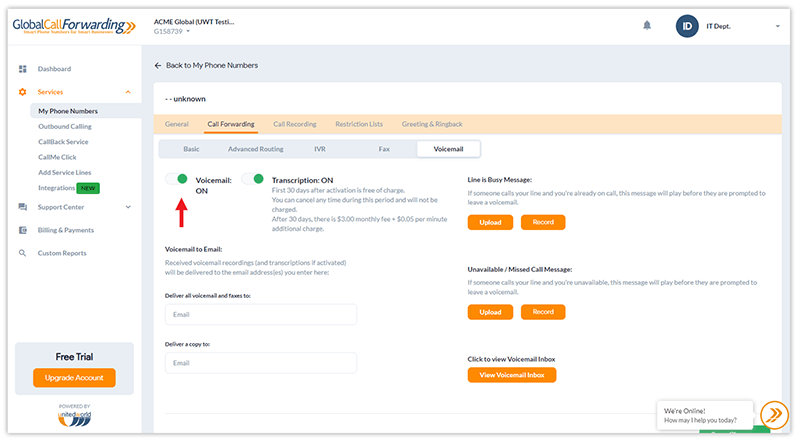 Interested customers can turn this feature on from within the Call Forwarding settings for each phone line in the Control Panel. With these transcripts, customers can:
Quickly scan through text in emails instead of listening to all audio files
Streamline their outbound calling efforts by prioritizing which calls to return first
Download and view transcripts on preferred platforms
Share voicemails and collaborate with relevant team members
By leveraging AI and machine learning, the new Voicemail Transcription feature has an accuracy level of over 90% in terms of detecting and transcribing various languages and accents. Compatible languages include:
Afrikaans, Arabic, Armenian, Azerbaijani, Belarusian, Bosnian, Bulgarian, Catalan, Chinese, Croatian, Czech, Danish, Dutch, English, Estonian, Finnish, French, Galician, German, Greek, Hebrew, Hindi, Hungarian, Icelandic, Indonesian, Italian, Japanese, Kannada, Kazakh, Korean, Latvian, Lithuanian, Macedonian, Malay, Marathi, Maori, Nepali, Norwegian, Persian, Polish, Portuguese, Romanian, Russian, Serbian, Slovak, Slovenian, Spanish, Swahili, Swedish, Tagalog, Tamil, Thai, Turkish, Ukrainian, Urdu, Vietnamese, and Welsh.
The cost of this premium feature is $4.95/month + $0.05/minute per line. However, upon launch, interested customers will have access to two months of free voicemail transcriptions, till August 31, 2023, to test this new feature.
About Global Call Forwarding
Global Call Forwarding is the leading telecom provider of virtual phone numbers for business, serving thousands of contact centers around the world. GCF was launched in 2007 as an exclusive brand of United World Telecom (UWT). UWT was founded in 1996 in Delray Beach, Florida, as a global telecommunications provider.
The company has a physical presence in the United States, Asia-Pacific, and Latin America and serves SMB and enterprise clients worldwide.
Contact: Luke Genoyer
Phone: +1 (561) 908-6171
Email: luke@unitedworldtelecom.com