What can you do to gain loyal customers, expand your business, and increase your earning potential? Upgrade your customer service. A skilled customer service team knows how to engage with their customers, problem-solve, and is empathetic to others' queries.
Customer service is one of the most critical pieces of your business as a whole because your customer service team makes up the face of your company. They are the ones that you are trusting to interact with your customers face-to-face, over the phone, and online. Many loyal customers are created through positive customer service interaction. Therefore, your agents need to be trained in the best ways to serve your clients.
Top businesses know this to be true, and your business can compete with others by following these tips.
1. Humanizing Traits
Your customers want to speak to another human that can listen and answer their questions, but the humans that you hire as your representatives need to embody many skills. Empathy and patience are necessary skills to have when a customer is angry. Your agents must also be able to adapt to every customer, and they should be able to handle your clients' varying moods, questions, compliments, and complaints.
2. Good Communication
The overarching skill that representatives need is communication skills. This means that your agents can express clearly and intelligently what they want to say. They should stay positive, but not overly so. All customer service agents need to understand what they are selling. If your agents do not understand the product on day one, there should not be a day 2 in their future without further training.
3. Strong Work Ethic
Your agents should be confident in their abilities, embody time management skills, and be able to focus on multiple things at once. A strong customer service agent is also aware of how long they have been on the phone with one customer when they have others waiting. Prioritizing is a top skill you need to look for in your representatives.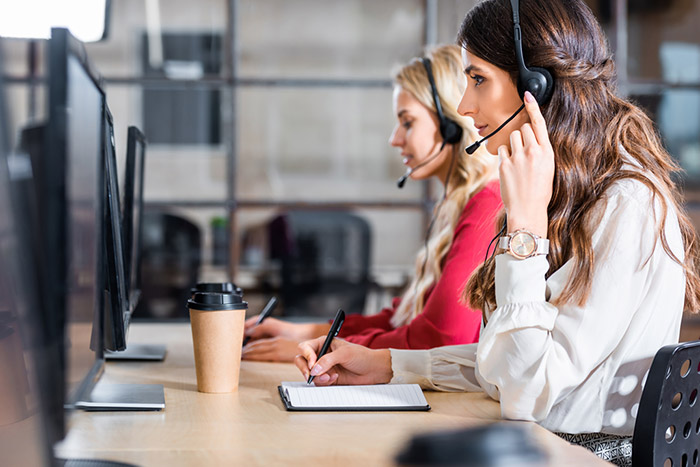 4. Handling Criticism
Unfortunately, a big part of the job is dealing with negative customers. Many times, a customer is so frustrated with a product or wait time, that by the time they get to speak to an agent they are fired up and ready to attack. Your agents should have thick skin and be aware that the customer's anger has nothing to do with them.
5. Record Calls
The best way to train your team is to show them exactly how a call should go, and should not go. Call recording is a useful feature that Global Call Forwarding offers and it can help your business to ensure that the right skills are exhibited on every phone call.
6. Relate to Customers
Your representatives should be able to find common ground with every customer that they come into contact with. A great way to do this is for your agents to engage in active listening, that way they can truly understand where a customer is coming from and sympathize with their situation.
7. Follow-Up
A useful trick in customer service is to follow up after a query has been resolved. It ensures that your customer was indeed helped, and if they weren't, they can now get the help that they need. Additionally, this can be done to let your customer know that their issue was important to your company and you are happy to see that they are happy and things are resolved. You can do this through a quick email or by reaching out with a feedback survey.
8. Personalize the Experience
If your company deals with several of the same clients, be sure to assign a customer service agent to each one so that they can get used to each other and form a bond. Treat your top customers and clients like they are important to you by sending them gifts or personalized emails. Also, invite your customers to trade shows, host webinars, and always interact with them on social media. Opening up this dialogue is also a way to learn what your customers would like to see from your business.