As a global business, maintaining regulatory compliance can be a major challenge; especially when it comes to telecommunications.
Most businesses are unsure where to start and how to navigate the ever-changing regulatory landscape. Some may even wonder if it is their responsibility or their provider's. And although providers and carriers are well-versed in global telecom compliance and regulations, it helps to know what you need to use your phone service securely.
While understanding and managing telecommunications compliance can seem like a daunting task, this article will help you understand the core concepts you need to know. Let's have a look!
Understanding the Basics of Telecom Compliance
Whether you're buying international phone numbers, global SIP trunks, or local calling from a carrier, it is important to understand what regulations go into creating a safe and reliable service. This is especially critical for global communications as international laws can often interfere with your service.
Phone number regulatory compliance and telecom regulations are designed to protect voice and data transmissions and, by extension, safeguard your business. But, if somehow, you end up on the side of non-compliance, your business will experience service interruptions, downtime, and even legal issues.
Keeping this in mind, let's look at the basics of telecom compliance:
Know Your Customer (KYC) Requirements
Number Activation Requirements
International Emergency Regulations
Lawful Interceptions
General Data Protection Regulation (GDPR) and the EU
Federal and State Laws
1. Know Your Customer (KYC) Documents and Requirements
KYC information helps your telephony provider validate and verify your business. For this reason, they will require documents proving your identity, such as:
Proof of identification — This includes your legal IDs, such as a passport, driver's license, government- or state-issued ID, and documentation related to company authorization.
Proof of business address — Official document with company name and address. Information should relate to the company and not the individual person. In other words, your personal address won't work. You may even be asked to provide business registration and ownership documents.
You can find out what specific documentation you will need to provide from your provider.
2. Number Activation Requirements
Next, different phone number types from various countries will have varying requirements for activation. It helps to research before purchasing a phone number, so you know what to expect. You can also ask your new provider's sales representative how long it takes them to activate your desired phone number.
Learn more in our international number ordering requirements guide.
3. International Emergency Regulations
Governments around the world require phone service providers (even virtual number providers) to have the ability to make emergency calls to respective emergency services. In other words, every in-country number should allow users to call local emergency services.
Examples of emergency numbers include 911 in the US, 100 or 112 in India, 110 for police or 112 for ambulance/fire in Germany, and so on.
So, as part of global telecom compliance, virtual telephony numbers must be configured in the in-country database with the correct user identification and physical address. This emergency service access ensures employees in a business can find help during a crisis.
Now, every country will have different requirements to activate emergency services for their numbers. Most carriers will bundle emergency calling along with number provisioning during your number activation phase to make this process easier.
This is what the general process looks like —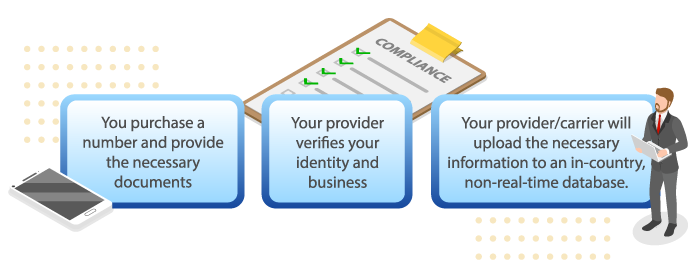 You purchase a number and provide the necessary documents > Your provider verifies your identity and business > Your provider/carrier will upload the necessary information to an in-country, non-real-time database.
4. Lawful Interception (LI)
Lawful interception is legally sanctioned access to voice, email, and chat conversations for police or security purposes. This security process requires carriers to provide law enforcement agencies access to individual or business communications. To comply with this, businesses using cloud communication solutions across workspaces and locations must ensure their carrier can support LI requirements in their target countries.
5. General Data Protection Regulation (GDPR) and the EU
Another key telecom compliance regulation is the GDPR. Put into effect in 2018, the GDPR is a data security and protection regulation that charges fines against companies and institutions that violate its privacy and security standards. According to the GDPR Article 5.12, its core principles are lawfulness, transparency, data minimization, storage limitation, accuracy, confidentiality, and accountability.
Whether your company resides in the EU or does business with EU citizens and residents, the GDPR applies to you. So, any business that is a data controller or collector must show that they are GDPR compliant.
6. State and Federal Laws
In addition to the above, you'll also want to be aware of the necessary national (federal) and state laws your business must follow with regard to telecommunications. This will differ from country to country and also from industry to industry.
You can find this information with a simple Google search for "[country] telecom regulations." However, it is a good idea to speak with your legal counsel and look at business resources to help you fully understand what compliances are essential to run your business.
Be Proactive About Regulatory Compliance
Don't let telecom compliance be an afterthought. Set your business up for success by considering and preparing for critical and necessary regulations. Do your due diligence to ensure your business is not lacking in any way. This will not only protect it from liability and non-compliance but also build credibility and trust among your customers.
Prepare for the PSTN and ISDN Phase-Out
While the world relied on PSTN's ability to help us communicate effectively across continents, we're now heading towards newer, more reliable technology. With the advent of advanced cloud communication solutions, PSTN and ISDN tech is becoming less and less relevant.
In fact, Europe is on the path to completely replacing the PSTN by 2025, while other global nations plan to phase out PSTN by 2030. This phasing out of outdated communication technologies means we'll see a growing migration to IP networks and cloud communications.
And businesses switching to new technologies — with advanced services and features — will need to re-evaluate their compliance regulations. This is because new tech and solutions, like VoIP, come with new regulations.
Regulatory Compliance Checklist
When evaluating your company's compliance with telecommunications regulations, there are a few things to keep in mind:
Take time to research and learn about telecom compliance regulations (specifically for VoIP) in countries you operate in or want to expand to.
Understand compliance requirements for your specific business type, industry (Dodd-Frank or MiFID), and data collection and submission.
Make KYC information easily available to your provider/carrier.
Choose a provider/carrier that understands telecom compliance requirements and can help you comply accurately.
Speak with your legal team to better understand how these regulations can affect your business.
Set up emergency service access as required by each country you operate in or plan to expand to.
Work with a Provider that Understands Telecom Regulations
The best way to ensure your business maintains telecom compliance in the US and globally is to work with a provider that knows the importance of regulations. You can then lean on this provider to stay in compliance and use your phone service without any hiccups.
As part of finding the right provider, ask them how their service complies with global and local regulations and how they can support your business. To learn how Global Call Forwarding works, call us or chat with our global telephony experts today!