What makes a data center amazing? It could be size or whether the data center has an environmentally friendly, green design. Aesthetics like beauty, uniqueness, or coolness could make it amazing.  Amazing is in the mind of the beholder. However, this article will begin with size.
World's Largest Data Centers
On August 30, 2017, Hannah Williams reported on the 10 largest data centers by square footage in COMPUTERWORLDUK. The following table lists the centers and their sizes.
Largest Data Centers in the World by Square Footage
Data Center
Location
Size (sq ft)
Data Center
Location
Size (sq ft)

The Citadel

Reno, NV, USA

7.2 million

Utah

Bluffdale, UT, USA

1.5 million

Kolos

Ballangen, Norway

6.5 million

Microsoft

West Des Moines, IA, USA

1.2 million

Range Int'l

Langfang, China

6.3 million

Lakeside Tech Center

Chicago, IL, USA

1.1 million

Switch SuperNAP

Las Vegas, NV, USA

3.5 million

Tulip

Bangalore, India

1.0 million

DuPont Fabros Tech

Ashburn, VA, USA

2.1 million

QTS

Atlanta-Metro

Atlanta, GA, USA

990,000
The Citadel
The global technology company Switch owns the Citadel. The Citadel's connection time to Los Angeles is 9 msecs via the Switch Superloop. Then, from LA to the Core Campus takes an additional 7 msecs via fiber link. The Campus, including all data centers, has a design capacity of 650 megawatts of power. It also delivers 100% renewable energy, making it the largest and greenest data center in the world.
Kolos
Kolos is located north of the Arctic Circle. It will have computing power capacity of 1,000 megawatts, which will get electricity from Norway's abundant hydropower capability. It will have a unique hyperscale data center designed with sustainability and security in mind. The site will open in the fourth quarter of 2018, will full completion by 2027.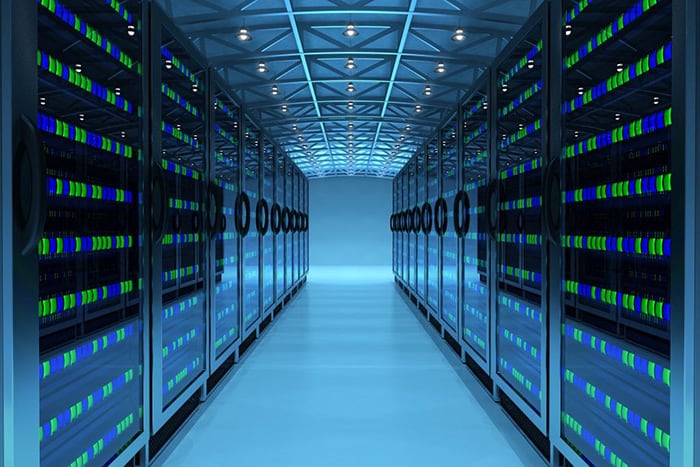 Range International Information Group
Public and private funds financed this data center that services the IT sectors of private enterprises and the Chinese government. Construction began in 2013 and finished in 2016. IBM provided design services, technology, business applications, training, and support as needed.
Switch SuperNAP
The Switch SuperNAP site delivers data to Reno in 7 msecs, which allows 50 million people to access data within 14 msecs. This site has planned expansions in 2020 and 2025.
DuPont Fabros Technology
DuPont Fabros Technology consists of 7 buildings in Ashburn, Virginia that operate as a data center campus. The size of the campus is 160 acres. Each of the data center elements accommodates 10,500 servers. The campus total critical load is 208 megawatts operating with a medium voltage distribution system. It also uses isolated parallel power supply topology. During the latter part of 2017, Digital Realty acquired DuPont Fabros Technology, which ceased operations on September 14, 2017.
Utah
This site is a data center for the National Security Agency (NSA). It has a power capacity of 65 megawatts at an annual cost of $40 million. Its Tier 3 data center occupies 100,000 sq ft, administration and technical support, 900,000 sq ft, and the total campus, 1.5 million sq ft. Utah uses 1.7 million gallons of water per day, and its near-term data storage is between 3 and 12 exabytes. (An exabyte equals 1018 bytes.).
Microsoft
The facility occupies 200 acres at a projected cost of $2 billion. This is Microsoft's largest data center. It will employ 133 persons. The data center is situated in 3 West Des Moines, Iowa locations to reduce the risk from natural disasters like tornadoes.
Lakeside Technology Center
Digital Realty Trust owns Lakeside Technology Center. It used by IBM, CenturyLink, and Facebook, among others. The data center has three electric power feeds to provide 100 megawatts of power, and there are 53 power backup generators. It uses 8.5 million gallons of cooling water per year. Its infrastructure space has four fiber vaults.
Tulip Data Center
Tulip is India's largest data center. Tulip Telecom owns the site, and IBM assisted with the design of power, cooling, rack layout, and technology. There are 12,000 server racks back up by 100 megawatts of power. Tulip meets Leadership in Energy and Environmental Design (LEED) gold standards and is an Uptime Institute Tier IV facility.
QTS Atlanta-Metro
Quality Technology Services (QTS) owns and operates this data center, which has an on-site Georgia Power substation and fiber access to several carriers. QTS offers its clients flexible solutions, secure facilities, real-time visibility, and expert support. The ATS Atlanta-Metro site features ample office space with suites, cages, and rack cabinets, along with dedicated servers, virtual servers, and remote hands.
Greenest Data Centers
The Information and Communications Technology (ICT) sector accounts for 2% of global carbon emissions including 0.3% from data centers. US data centers consume 1.5% of the country's electricity. Therefore, many data centers feature designs to maximize energy efficiency and minimize environmental impact. A list of five of the greenest data centers in the world follows.
Green Mountain Data Center –

There are two Green Mountain Data Centers in Norway; one in Stavanger and the other in Telemark. Both have achieved ISO 9001, ISO 14001, and Uptime Institute Tier 3 certifications. Stavanger is located deep inside a mountain at a former NATO site, and Telemark is near multiple hydropower plants. The data center serves finance, IT, government, health, O&G (a heavy civil construction firm), and others.
Verne Global Keflavik Facility –

This carrier neutral, colocation data center is in Keflavik, Iceland. The site uses 100% carbon neutral power and natural cooling. Verne Global offers scalable solutions to address power requirements. Their clients include BMW, VW, DeepL, and the Earlham Institute.
HP's Wynyard, England Data Center –

This site was a conversion of an existing 30,000 sq ft warehouse. A design goal was to increase energy efficiency without sacrificing quality and reliability. This data center has a pressure free cooling system with minimum use of chillers. This required wider operating conditions for the IT equipment. Air plenums, to permit large volumes of low-velocity air to cool the equipment, sit below the data halls. The cooling fans use less than 5% of the total facility load.
General Electric's Louisville Facility –

The GE data center, built in 2011, has a LEED Platinum certification. The data center is 34% more efficient than similar facilities. High-density servers reduced space by 50%, and ultra-low-flow fixtures reduced water consumption by 42%.
Apple's Maiden, NC & Prineville, OR Facilities –

Apple's data center in Maiden, NC is a 500,000 sq ft facility. It uses 100% renewable energy from its 300-acre site containing three solar farms and a 10-megawatt fuel cell installation.

In April 2017, Apple disclosed a deal to buy 200 megawatts of power for its Prineville, OR data center from the Montague Wind Power Project in Gilliam County. It also purchases power from a 56-megawatt project called Solar Star Oregon II and it generates hydroelectric power from a project on the Deschutes River. In addition, Apple uses treated water from the Prineville sewage system to cool equipment.
Beautiful Data Centers
Datacenter Dynamics listed these beautiful data centers in its February/March issue of DCD Magazine.
The Switch Pyramid near Grand Rapids, Michigan occupies a building the former Steelcase design center. The 225,000 sq ft data center uses the lower two floors.

The Bahnhof data center in Stockholm is in a former nuclear bunker. It features waterfalls, a saltwater fish tank, and live plants. Submarine diesel engines generate backup power.

The Barcelona Supercomputing Center occupies a 19th century church, the Torre Girona. It houses the MareNostrum supercomputer, an IBM project with the Spanish government.

Located in Google, Oklahoma, this data center has murals on the outside walls. The murals represent data center activities and images from Google Maps. Jerry Odell was the concept artist who worked with 15 painters to create this marvelous project.

Naver is South Korea's leading web portal. The data center is at the foot of Mount Gubong in Chuncheon, Gangwon Province.

Green Mountain, Norway – The data center listed above is both beautiful and environmentally efficient.

The NGD Newport data center is in a former LG semiconductor plant in Wales. Electricity from the Dinorwig hydroelectric facility powers the site.

Digital Reality owns the Amsterdam Data Tower in The Netherlands. Rosbach Architects of the Netherlands designed the building.

AQL built its headquarters and data center in the 18th century Salem Chapel in Leeds, UK. The data center has a glass ceiling, and it occupies the ground floor of the chapel.

The LuxConnect data center in Bissen, Luxembourg has grass on its roof to minimize environmental impact. Steel mesh walls act as a Faraday cage for security.
Coolest Data Centers
Some of the coolest data centers in the world include the following:
Google's Floating Data Center

Ozark's Data Center in the Missouri Mountains

Sun Microsystem Data Center Bat Cave

The Bahnhof data center is extremely attractive

The Barcelona Supercomputing Center is a marvel of design