Improving call center productivity will require knowing your employees and customers on a deeper level. You may have customer service employees on payroll, but are they well-trained? Maybe they are, but their experience may be in a field completely unrelated to your business. At the same time, some team members might want additional training and input, but may be afraid to ask directly.
Whatever the case may be, business owners can use call recording to break the ice with employees while helping them to better assist customers. Caller behavior can also be complex, but it's equally important to understand caller preferences.
Consider these four additional benefits as you focus on maximizing your productivity and achieving set goals at your call center.
Motivate Employees
Make call recording part of the training process and review calls with employees on an individual basis. As you discuss methods of improvement, acknowledge their strengths and contributions. This will inspire confidence and paint a clearer picture of how to communicate with customers.
There's another benefit that's often forgotten when you improve your call center productivity with call recording. As employees strive to be better, knowing that their calls are being recorded encourages staff to give it their all and do a commendable job.
Micromanagement tends to have a negative impact on employees, but when call recording is part of the supervisory process, it eliminates the tension that can build when managers are directly questioning and overseeing employees.
Learn More About Your Callers
How do customers respond when asked specific questions? What is their reason for choosing specific products more frequently than others? These are the types of questions to consider as you perfect your business strategy because you'll want to ensure that you're attracting your target callers and properly connecting with them over the phone.
If you want to improve call center productivity with call recording, use the recordings to compile data that will answer a lot of the questions that will help you to set future sales goals and craft more efficient approaches when speaking on the phone.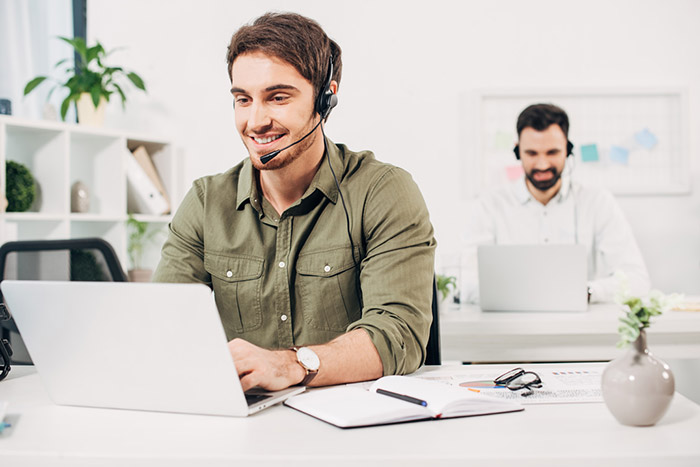 Answer Frequently Asked Questions
You can improve your call center productivity with call recording because the recordings can be used to create customized greetings and voice menus that give callers the answers they need.
There are frequently asked questions at every call center. Knowing what those questions are in advance will increase productivity by saving time. Use the playback from recorded calls to find the most frequently asked questions. Then, find the best way to answer those questions automatically.
Responses to frequently asked questions can be posted as information on your website and answered in customized messages that customers will hear while on hold. However, these aren't the only options. Another approach would be to have an interactive voice menu that allows callers to select a number to hear the answers to frequently asked question such as operating hours and extension information to reach specific departments.
Know that as you work to improve your call center productivity with call recording, setting up an automated system isn't complicated when using virtual phone numbers. Much of the process can be self-guided. Your virtual phone number provider can also walk you through the setup process from start to finish if you need assistance, or the process can be completed for you upon request.
While some business owners believe that pre-recorded menus are too impersonal, the contrary is often true. Automated options and responses are valued by customers because many callers don't want to wait to connect with someone just to ask a basic question.
Note The Length of Calls
One of the biggest things call center supervisors must recognize when analyzing call center productivity is how long it takes before the call ends favorably. This information is critical because it will help employees who may be struggling to build relationships with callers. When you improve your call center productivity with call recording, it removes much of the guesswork involved with selling techniques and interacting with customers.
As most call center professionals know, working at a call center does not mean simply taking phone calls. There are other strategies that employees should be implementing to ensure that their time is utilized wisely during their shift. Decreasing the amount of time it takes to end a phone call with positive results gives employees the time they need to handle other tasks.
In Conclusion
Using virtual phone numbers to operate and grow your business will provide numerous advantages for internal business operations and callers. Furthermore, you can vastly improve your call center productivity with call recording.
Managing or working at a call center isn't an easy task, but it doesn't have to be difficult if you use the right tools. Knowing the right ways to improve call center productivity while having a well-organized business structure can make the job easier for managers and employees.
Call centers operate for a variety of reasons, but their common focus is attracting new callers and maintaining customer loyalty. By increasing productivity, callers will have a more favorable experience when dialing into your caller center without a long wait or confusing process.