Dubai is part of the United Arab Emirates. It is situated on the Persian Gulf coast and is bordered by Oman in the southeast, Abu Dhabi in the south, and Sharjah in the northeast. Often called "The City of Gold," Dubai is known for its luxury shopping, opulent skyscrapers, and offshore artificial islands.
Expanding your Business to Dubai
New businesses are welcomed in Dubai. Newly established companies are very attractive to investors because of the city's economic stability in the global market. Current economic trends offer a wealth of opportunities for foreign investors to make the most of imports and exports and increasing tourist traffic in the area, which means you will have plenty of new and recurring customers passing through.
It's important to be informed of all the necessary details needed for business start-ups in Dubai, that way you can avoid any issues or complications. If you're setting up a physical location in Dubai, one thing you will need to do is to connect with a local sponsor. This person must be a UAE national and must be your partner with a 51 percent share in your business. You must pay your sponsor an annual fee which you will negotiate at the outset.
If you prefer to own your own business completely, then you will have to locate your business in one of Dubai's free zones. While this is a viable solution for some types of business, it won't work if your company needs to be directly a part of the city markets, for example, in the event you own a retail store or restaurant.
Selecting the most suitable location for your business is as important in Dubai as anywhere else. The most crucial thing to remember is that even if you set up a profitable company in the heart of the business district, it still isn't going to work well for you if your customers are unable to reach you.
The Easy Way to Extend Your Business to Dubai
If this is all starting to sound a little complicated, fear not, there is a way that you can enter the Dubai marketplace without even having to have a physical presence in the country, simply by using a virtual phone number. Here's an example of how your company can reap the benefits of virtual phone numbers in Dubai with a company such as Global Call Forwarding.
Let's say you have a small business in the U.S. and you would like to develop a client base in Dubai. All you need to do is sign up with the service provider, and they will assign you one or more local or toll-free numbers in Dubai. You then pass these numbers on to your clients in that region. When they wish to call you, they dial the local number, and Global Call Forwarding redirects the calls to the number of your choice; this can be your landline, office number, cell phone, or customer service call center.
Having a Dubai virtual phone number is great for boosting customer confidence in your business. Market research studies have shown that customers are much more likely to call a local number for assistance because they prefer to do business with companies in their vicinity. With a Dubai virtual phone number, you can establish a presence in the United Arab Emirates without having to travel there. Additionally, your customers don't have to pay for expensive international calls, nor do they have to deal will confusing international dialing codes.
If you're considering opening a business in Dubai, virtual numbers present a way to do so that is efficient and cost-effective. You don't have to pay for a dedicated phone line, additional phone equipment or expensive software; you simply use the resources you already have. It's an affordable way for your colleagues and clients in Dubai to reach you. Not only that, even if you have a small business which you run from your home office, it gives your company international status.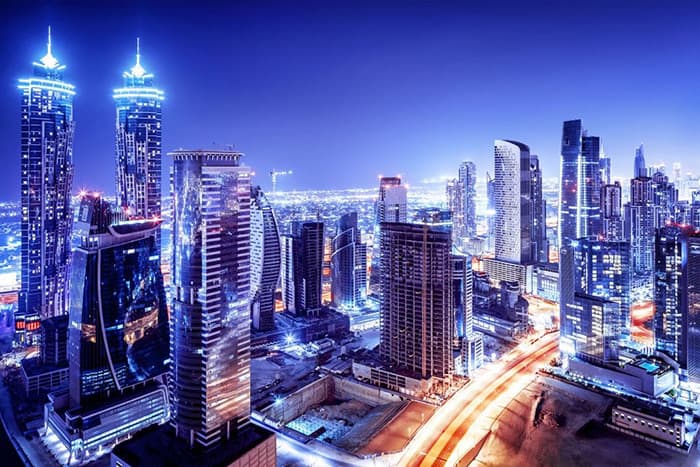 Other Advantages of Dubai Toll-free Numbers
Boosting your brand: International toll-free numbers increase the reach and reputation of your brand by giving you access to untapped international markets.
Increasing your response rate: Studied show that adding toll-free numbers to your advertising campaigns increase your response rate by a significant percentage.
Tracking your marketing campaigns: Because there's no limit to the number of virtual phone numbers you can use, you can add a different one to each of your websites, newsletters, TV ads, and ads in local papers. It makes it a cinch to see which of your marketing strategies are the most effective and which ones you need to improve.
Keeping your personal and business calls separate: There's no need to put your cell phone number on your website, business cards, or ads, and no need to get an additional phone. You can use the same phone for personal and business calls while keeping them both separate.
Other Features of Virtual International Numbers
When you sign up with a company such as Global Call Forwarding, you also have the benefit of a suite of additional features.
Black and whitelisting: You'll never have to answer unwanted calls, and you won't miss a call from an important client.
Failover forwarding: This feature enables you to program your account with several different phone numbers so that if the first number is busy or does not answer, the system will automatically redirect the call to the next number in the queue, ensuring that calls are not dropped.
Fax to email: You will be able to send and receive faxes via your virtual number. Each fax is received as an email attachment, and you can read it or print it with ease.
If you're considering opening a business in Dubai, it pays to use international virtual call forwarding. Your business will increase, you will gain more customers, and your employees will be able to work from wherever they are, even when they are not in the office.