You may have heard the term — virtual phone numbers or hosted phone numbers — and wondered if it is a communication system you should have. But like any major decision you make in your life, it helps to gain a thorough knowledge of the product in mind. Current advancements in communication technology have made it easier for people to stay in touch and maintain long-distance relationships through a device as small as your smartphone. Businesses, too, are looking at channels that can provide a more wholesome and personal way to communicate with their clients and employees. And this is where virtual phone numbers come in.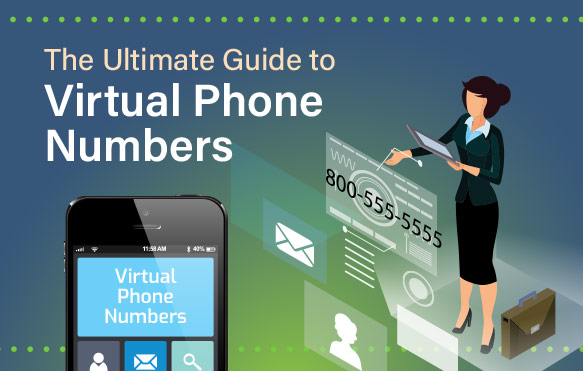 Quick Navigation
In this guide, you can explore what virtual phone numbers are and how they can make running a business more efficient and productive. Continue reading or choose the section that's most relevant to you.
What is a Virtual Phone Number and How Do They Work?
This is the age of cloud computing and digital communication. Cloud computing and communication is becoming increasingly popular for its ability to store data and correspond over the internet instead of by downloading large applications and files to your device. And this can be done by utilizing a hosted phone system instead of a traditional one.
Virtual Numbers: The Inner Workings
Virtual phone numbers are like regular phone numbers, except that they route calls over the internet instead of traditional phone lines. Virtual numbers work with voice over internet protocol (VoIP) systems that take voice signals, convert them to digital signals, and send them over internet lines. This makes it possible to send audio and video over the internet. To make hosted phone numbers work, you need a good and reliable internet or WiFi connection. Then, you can make and answer calls from anywhere in the world and through any device. You can use your laptop or smartphone or forward calls to your hotel room when traveling. And you control and customize all of this through your provider's control panel.
History of Virtual Communications and Phone Numbers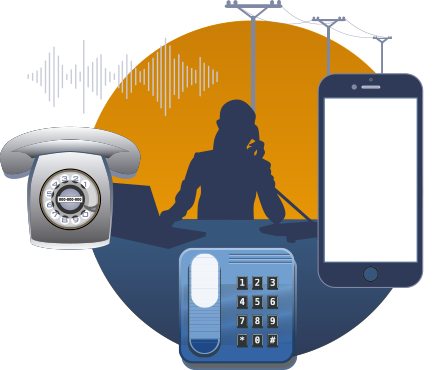 When telephones were first created, there were no numbers at all. Telephones were sold in pairs, instead. On turning a crank, electricity would generate and ring a bell on the other end of the telephone line. This was then modified and operators were introduced to connect person to person. And slowly, telephone numbers became a necessary invention. That was the origin of AT&T, a company that still exists. Each digit on the phone from 2 to 9 was assigned three letters. And the first two digits indicated which town the number was for.
Soon toll free dialing became possible but this, too, was done manually with operators as the middle person. But in 1967, AT&T developed "automated collect dialing" that slowly grew to what we now know of toll free numbers.
By the 1980s, business networking developed a need for better communication systems. And with the revolutionary invention of the personal computer (PC) and internet service (ISP), it was only a matter of time before the birth of voice over internet protocol (VoIP). VocalTech developed VoIP in 1995 as a way to reduce long-distance calling fees. Using the same software, one user could call another and talk at reasonable rates. This would connect people via computer-to-telephone and telephone-to-telephone.
Gradually, telecom engineers and specialists capitalized on this technology to enhance the way we communicate with others by adding video and file-sharing capabilities. Now, with VoIP and virtual phone numbers, users can call over the internet, evade international calling charges, and manage a virtual office from anywhere. Staying in touch has never been easier.
Variety of Virtual Numbers
Different types of virtual numbers accomplish different tasks. You can get virtual phone numbers as a toll free, international, or local number. For example, Global Call Forwarding offers:
Toll free phone numbers
International toll free service numbers (ITFS)
Universal International Freephone Numbers (UIFN)
Local numbers with specific area codes
Vanity numbers
And so, you have the option to pick a number and phone line that is perfect for your needs. You can either set one up that facilitates your local connections or one that lets you tap into nearby or international markets. Let's have a look at what these different virtual phone numbers can do.
Toll Free Numbers
Toll free numbers are the long 1-800 numbers you've seen on billboards and commercial ads. Most large corporations will have a 1-800 number that demonstrates their size and credibility. Toll free numbers are virtual phone numbers with a set three-digit-code at the beginning. This code can be 800, 833, 844, 855, 866, 877, or 888.
The best part of having a toll free number is the convenience factor. Toll free numbers charge the receiver and not the caller. And so, customers or clients calling you from anywhere in the world are not charged for your call. And because your hosted number works over the internet, you too, are not charged high long-distance calling fees. Using an ITFS or UIFN number will ensure that callers only pay their local calling rates and not exorbitant phone charges.
Local Access Numbers
In the 1940s, the Bell System created the North American Numbering Plan (NANP) to allow automated dialing of long-distance calls. And this gave birth to area codes, which were assigned to different cities and states. For example, the state of New York has 12 area codes for different regions. It has 718 and 212 for New York City, and then others for other parts of the state.
Now, you can get local numbers as virtual phone numbers for specific countries, cities, or states. To do this, you simply need to purchase numbers with specific area codes. And virtual phone service providers offer this in order to make long-distance calling inexpensive for companies targeting different markets. With a local number, you can develop a digital presence in a state or city away from your own. And you can gain entry into its markets and economy easily.
Vanity Phone Numbers

Vanity numbers are another option that can be explored when looking to purchase a virtual number. These numbers have letters or patterns inserted to make them memorable and unique. Think: 1-800-FLOWERS for a flower shop or 855-DONUTSS for a donut/coffee shop. Or, 833-288-2888. The purpose of such numbers is to bring creativity into play and make your business number stand out against the competition. Customers driving by billboards or scrolling through social media posts will come across this number and they will pay attention to it for its quirkiness. That attention will keep your company on their minds, and make your number easier to remember than ordinary ones.
Why You Should Consider Investing in a Virtual Phone System
Virtual phone numbers, if used effectively, can really boost your business' communication system. It is simple; these numbers work over the internet and everyone is connected through the internet. So, wherever you go and whatever device you use, you can easily hook your business number to it and stay in touch with your loyal customers. Let's look at some ways virtual numbers can have a positive impact on businesses.
Resourceful Features That Enhance the Way We Communicate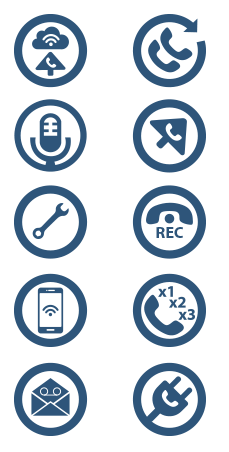 The most attractive reason for switching to a number hosting service, however, is the added benefits you can make use of. The basic and free set of features that a provider should offer include:
Call forwarding: forward or redirect calls to alternate numbers when traveling and more
Customized greetings: callers will hear a greeting with information about your company
Account Management: to ensure you run into no problems when using their service
Outbound Calling: make outgoing calls with local caller IDs purchased from your provider
Voicemail: to return missed calls
Sequential Forwarding: deliver calls down a list of predetermined phone numbers
Call transfer: manually transfer calls to team members
Call recording: record calls for quality assurance, performance analysis, and record-keeping
Extensions: for different departments and office locations
Interactive Voice Response (IVR): an automated response that guides callers through a menu of options to resolve their issue or complete their task.

But this is not all. Providers will offer you additional benefits, based on the plan that you select. You can stack add-ons on top of that to create a plan customized for your needs. For example, you can add Rollover Minutes, video conferencing, or click to call features, and so on. These are meant to help you develop a phone system you and your team are most comfortable with.
Virtual Phone System: A Small Business' Communication Tool
Say, you are starting a small business that employs around 10-20 people, handling different essential tasks. The core team may just be five-six people dealing with the planning, marketing, and execution of your product. Others work towards the sales of your product. Now, you can recruit salespeople in your location and have an office in your own city. Or, you can go virtual and hire remote employees in different states and cities to expand your product's reach. This way, you have more geographic mobility. Read our article about outbound calling for small businesses to see how you can manage calls with a virtual number.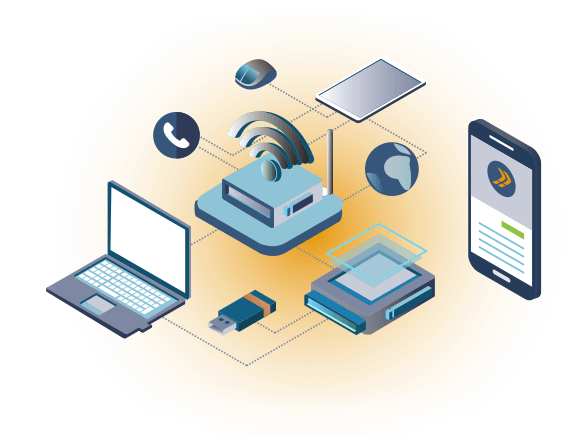 Or, say, you run a one-person shop from your home, but want to have access to clients the world over. To do this effectively, you need to be in constant and convenient communication with clients or prospects. Flexibility and multi-channel communication are essential for such work environments. Virtual numbers give you that opportunity to handle it all.
For your business number, you can get a hosted toll free number or a local number for specific cities or states. Forward incoming calls on these numbers to your personal or office phone. And so, you will have access to calls wherever you are, even when traveling. Additionally, you can answer these calls on any device. And with the range of features available with virtual numbers, set up a customized greeting that will enhance your company's professional image. Transfer calls to different departments. Redirect incoming calls during certain times of day to your remote team members in a different country. Or, record calls for better organization and record-keeping. There are many different ways to customize your interaction with customers and employees with virtual numbers. And due to their affordability, your overall business expenses will remain manageable.
Get Ready To Transform The Way You Interact With Your Customers
If after reading this, you think that your business could benefit from virtual phone numbers and a digital office system, you're in luck! It's easy to get a virtual number. Sign up on Global Call Forwarding's homepage or call us at 1 (888) 908 6171 to learn more.