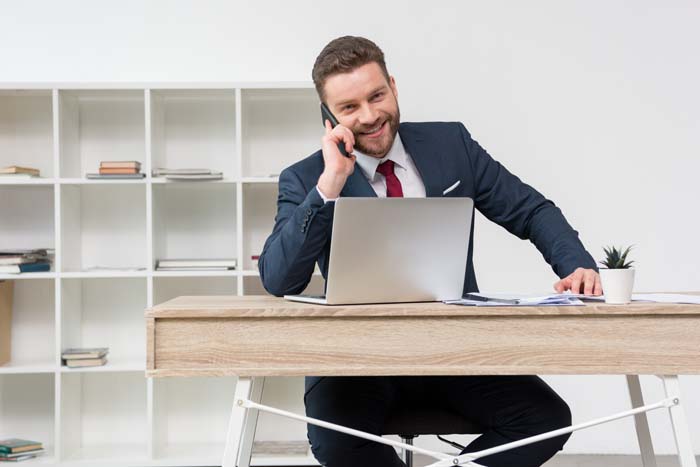 When you have business phone numbers, you have the distinct advantage of reaching your customers easily from anywhere the world over without any hassles. In other words, you eliminate geographical barriers and time zones, making your business perpetually reachable, regardless of location or time. Moreover, by having the right business phone solutions, you can operate your business from any location.
Types of Business Phone Numbers
Business phone numbers make your business reachable from over 70 countries worldwide. Additionally, cloud phone service providers like Global Call Forwarding have a large inventory or database of phone numbers for business from countries across the world, so you can select the numbers of your choice. Let's look at the different types of business phone numbers available to you:
Toll Free Numbers
Toll free numbers are virtually synonymous with business phone numbers. Businesses are drawn to toll free numbers because they build your professional image and callers aren't charged for contacting your business. Instead, your business incurs the charge for toll free calls. It is this gesture that makes toll free numbers an excellent choice for small business phone service as customers are more likely to call your business for free instead of paying long-distance calling rates.
Toll free numbers seem to be a viable choice for business numbers. However, you should note that they aren't always internationally-capable, which means they don't work when callers dial from outside the country. These callers will incur long-distance fees or face blocks by their telecom service provider. And this defeats the purpose of offering toll free calling in the first place.
Thankfully, there is a workaround: Purchasing international toll free numbers (ITFS numbers) or universal international freephone numbers (UIFN). With these solutions, your business can offer toll free calling in international markets like regular phone numbers.
International Toll Free Numbers (ITFN)
ITFNs uses an international toll free service to connect with individuals across geographical boundaries. This allows your teams to contact global customers and clients without paying international charges. ITFN numbers let customers call your business internationally without incurring international calling rates. And your business can forward these calls to a location or line of your choice, located anywhere in the world.
Universal Toll Free Numbers (UIFN)
A UIFN is a single toll free number that can be used in multiple countries. Currently, you can use a UIFN to connect with customers in more than 40 countries including the US, Hong Kong, France, Germany, Australia, and more. Any customer, anywhere in the world, can easily reach a business with a UIFN contact.
Local Phone Numbers
Another aspect of creating effective business phone numbers is by using local phone numbers or geographic numbers to specifically target markets in various countries, regions, and cities around the world.
These numbers have specific area codes to represent the state or city they are assigned to. For instance, Dallas/Ft. Worth area codes include 214, 469, and 972 area codes. Businesses in this location will have a local Dallas phone number. And when customers call these businesses from the same city/state, they will incur regular local rates instead of long-distance rates.
Local phone numbers are a great way to establish a local presence in target markets and to bring in more international sales.
Vanity Phone Numbers
As you may be aware, business numbers can be used in your advertising and marketing campaigns. In fact, by using business phone numbers that have a visually appealing set of digits — vanity phone numbers — you can further expand your marketing campaigns.
Common example: You listen to a radio advertisement that uses a vanity phone number as part of its jingle, where a business phone number's digits spell out what the business provides. Other business usages of vanity numbers include billboards, social media advertisements, print ads, and so forth. Anywhere that a potential customer can hear or see your vanity phone number — that is also easy to remember — the more likely that the customer will dial your business phone number.
Benefits of Business Phone Numbers
So, how can your business benefit from buying cloud-based business numbers? Here are the top reasons to chose cloud phone numbers for business communication:
1. Cheaper Domestic Calling
This works to the great benefit of small and medium local businesses. Since businesses don't have to be present in a location to take advantage of local numbers, they can substantially reduce operational overheads and easily communicate with their associates in neighboring countries and international markets.
2. Access to Add-ons and Features
Perhaps the greatest feature of the technology behind virtual business phone numbers is the fact that you get access to various voice and call management features. With these, you can significantly change how your business functions and processes calls. Top features include:
Phone number management
Advanced call routing
International call forwarding
IVR / ACD
Call flow builder
Call recording
Outbound calling
SIP trunking
Call masking
Number porting
Softphone dialer, and more
Review all our features here.
3. Local Presence
With these numbers, you can establish a local virtual presence without actually having a physical presence in the country or region. In other words, you don't need to open a physical office and hire local employees. Instead, you simply forward incoming calls to your business' location, anywhere in the world.
4. High Response Rate
With a local access or toll free number, you are communicating with customers with toll free and area codes they recognize as local. This makes them more comfortable answering your call or calling your business to learn more.
5. Global Expansion
Gain access to new markets in different countries and regions and expand your services at your own pace. Test new markets, conduct market research, identify suppliers and vendors, all before opening up shop in these regions.
Buy Business Phone Numbers from Global Call Forwarding
Buying business phone numbers is a really simple process. Moreover, you needn't make long-term commitments and you are at liberty to cancel these numbers because of the no-risk service clause that exists between you and the service provider.
Visit our Pricing page, pick your number in real-time, and create your account. Once your account and number is active, you can log into your control panel and set up your call forwarding and routing rules, IVR, and so on — all within a few days.
Speak with our experts or request a demo to learn more!